Risk in Everything, Including Gold
Saturday, 10/23/2010 12:58
Risk metrics revisited as gold and the stock market start moving together...

YOU PROBABLY don't need me to tell you that it's pretty risky out there, says Brad Zigler at Hard Assets Investor.
The market, I mean. Which market, you may ask? Increasingly, it doesn't matter.
The zag of the gold market has come to look very much like the stock market's zig. Over the past month, the correlation between the S&P 500 and gold has shot up 60 percentage points. The fact that the coefficient is now at 38% should tell you that it's gone from a risk-neutralizing negative value to a tag-along positive.
The turnaround, too, followed a near-vertical trajectory. Not that this hasn't happened before. Over the past two years, the correlation coefficient has dropped with equal velocity, but not risen.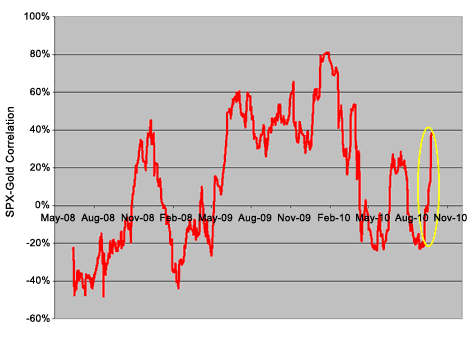 Gold Bullion and the broad US stock market have been tight traveling buddies before. In fact, earlier this year, the correlation lingered at the 80% level for two weeks.
There ought to be more than just academic interest in the heightening of the correlation coefficient. From a portfolio standpoint, it lessens gold's utility; in other words, the metal's hedge value diminishes. A persistently positive correlation makes gold less attractive to institutional money managers and hedge funds.
There's yet another worrisome risk metric. The rising cost of gold puts. Complacency about gold's unbridled price rise has been replaced by caution as traders seek insurance from bullion's downside volatility.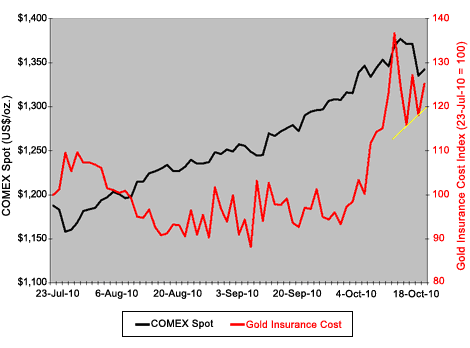 Pretty scary developments, and just in time for Hallowe'en. We'll see if this means more treats or tricks in store for gold traders.

Want to Buy Gold without leverage, without credit risk, and with zero threat of counterparty default...? Go to world No.1 BullionVault now...