Gold Conspiracy? Nope, Janet Yellen
Thursday, 7/03/2014 10:55
Real interest rates drive the gold price. Falling mine reserves help, too...
RICK MILLS
is the owner and host of
Aheadoftheherd.com
and invests in the junior resource sector. His articles have been published on over 400 websites.
Today he says juniors can't fund their projects, which means that the majors' reserves will continue to shrink. Rick Mills here tells
The Gold Report
's sister title,
The Mining Report
, that this process can have but one result: higher metals prices across the board...
The Mining Report: Last month, the price of gold rose over 3% in one day. Can we ascribe this to the conflicts in Ukraine and Iraq or the unraveling of Chinese commodity financing deals?
Rick Mills: I don't think those things had anything to do with it. The unraveling of Chinese commodity financing deals was mostly about copper. While the situation in the Middle East is certainly affecting the price of oil, I believe that Federal Reserve chair Janet Yellen has more to do with the price of gold than anything else going on in the world today.
TMR: You're referring to her press conference of June 18?
Rick Mills:
Yes. She confirmed that the tapering of bond buying will continue, but more important was her announcement that the Fed's zero interest rate policy will continue. Real interest rates are going to remain low for a while yet; that news caused gold's price to increase. Below is a chart created by
US Global Investors
. It shows in stark clarity the relationship between real interest rates and gold's price.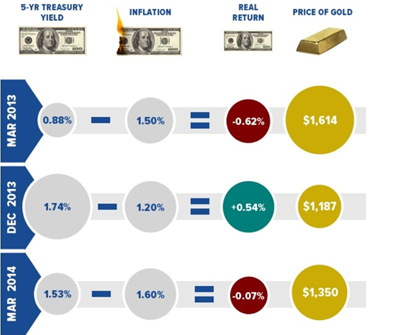 TMR: Many goldbugs believe gold and silver prices are manipulated downward by central banks. Do you agree?
Rick Mills: No, I don't. I almost wish it were true. If it were, I could sit back and play the markets knowing exactly what was going to happen next. This claim of manipulation is just an excuse for being constantly wrong. It's a business model to sell gold off your website and expensive newsletter subscriptions. Learning about sector rotation and macro events will make you a much better investor than clinging to conspiracy theories.
TMR: Do you have any thoughts on where the prices of gold and silver will go in the second half of 2014?
Rick Mills: Higher sooner rather than later. That goes for copper, nickel, tin, zinc and pretty much any mineral. It's a question of supply and demand. Junior resource companies own the world's future deposits. They buy claims from prospectors, work the projects and advance them to where they are bought by larger companies. And these mining juniors cannot get funding. So how will the majors replace their reserves? The answer is that they can't. It's just a matter of time before metals prices react to physical shortages. Think about it, when was the last time you heard of a major mining company making a discovery?
TMR: You've written at length about rising global scarcity of resources. What effects will this have on metals prices?
Rick Mills: We live on a planet with a finite resource base with a growing population. We reached 7 billion people in October 2011. The United Nations says we can probably expect upward of 10 billion people by 2050. Other reports claim that world population will reach 11.4 billion by the 2060s. Norman Borlaug, the father of the green revolution, said if we do everything that he has shown us, and there are no black swans, the earth could support 10 billion people at most.
Ecological overshoot is coming. Our freshwater aquifers, probably our most important treasure, are being sucked dry by industry and unsustainable drybelt agriculture, and poisoned at the same time through fracking. We're rushing headlong into shortages of resources and the resulting conflicts over them. The low-hanging mineral fruit has been picked. Metallurgy is becoming more complicated, energy is becoming more expensive, and labor shortages loom. The baby boomers are starting to retire en masse, and the resource-orientated talent pool is thinning out.
At the same time, massive urbanization is ongoing in Asia and Africa. As people there move into the cities, they climb the protein ladder and eat more dairy products and chicken and beef. They get cell phones and maybe a washer and dryer, air conditioning and a motorcycle. All this puts an enormous strain on supply. Metals are going to get much scarcer, and prices are going to get very dear.
TMR: You've also written about the return of economic imperialism. Do you foresee superpowers invading countries to secure resources, or will they apply pressure indirectly?
Rick Mills: I like Lenin's take on the morphing of early 19th-century imperialism that he called monopoly capitalism – an alliance between big business and banking capital that dominates the state to gain exclusive control of raw materials and control of foreign markets. And both direct and indirect pressure are being applied. Russia has applied force directly in the Crimea and is applying it directly and indirectly in Ukraine. Look at what China is doing to the other stakeholders in the China Seas and what the US did in Libya for control of both water and oil. Countries need to access secure sources of minerals, energy and just basic materials. If they don't, we can expect more Arab Springs, even in developed countries.
TMR: When we last spoke, you noted the significantly higher cost of new nickel and copper projects. Where do we stand a year later?
Rick Mills: Things have gotten worse. We have not seen the demand destruction that would facilitate a drop in prices, and we're not going to.
Even after the unraveling of Chinese commodity financing deals, copper is still over $3 a pound. If you're searching for new copper deposits, you must go farther and farther afield into dangerous country.
Nickel is the same. Indonesia, one of the biggest suppliers, has decided to stop exporting raw ore. Nickel comes increasingly from laterites, and the metallurgy just doesn't seem to work on them. As a result, cost overruns are ballooning out of control.
TMR: Do you worry that environmentalists could attempt to fence off Greenland as "the world's last great unspoiled wilderness?"
Rick Mills: You should talk to the people of Greenland and ask them what they want. That sort of talk more amuses me than anything else. It's easy to preach about freezing somebody else's economic development when you already enjoy a high standard of living. I think most Greenlanders understand that when you have natural resources, you need to exploit them responsibly for the betterment of all.
Greenland has one of the world's best reporting and permitting systems. Work is going ahead.
TMR: What effect has the new royalty/tax regime had on miners in Mexico?
Rick Mills: The cost of doing business, mining, in Mexico has risen; there's no doubt about that. So much will depend on what happens to the price of silver.
TMR: Which so-called critical or strategic metal is most interesting to you?
Rick Mills: Right now, cobalt. I think a lot of attention is being focused on this metal, and rightly so, with Tesla's "Gigafactory" talk. There's no cobalt production in the US, and I personally don't believe there will be any. Investors will have to start looking farther afield. In Russia, for instance.
TMR: Junior miners saw a big surge in share prices last winter. Then there was a big fall off. Might we see another surge this year?
Rick Mills: We're not going to stop using metal; we're not going to suddenly stop valuing gold and silver as precious. Majors do not find the worlds mines, juniors do. Juniors' share prices have to go up; the sector has to revive for majors to replace mined reserves.
TMR: Rick, thank you for your time and your insights.