Renewables' Record Growth Rate
Tuesday, 5/30/2017 09:01
Can renewable energy repeat 2016's global growth...?
GLOBAL MARKETS have steadily been adding renewables such as wind and solar to their energy mix for several years now, writes Frank Holmes at US Global Investors.
But according to a handful of new reports, 2016 might have been the tipping point. Not only did the world add a record level of renewable energy capacity last year, but it did so at a significantly lower cost compared to 2015.
In the US, wind and solar both had a knockout year, the latter of which ranked number one in terms of new capacity growth, ahead of fossil fuels.
Investors who might have overlooked this growing industry probably can't afford to do so any longer. After several years of hype and false starts, renewable energy is finally starting to hit its stride.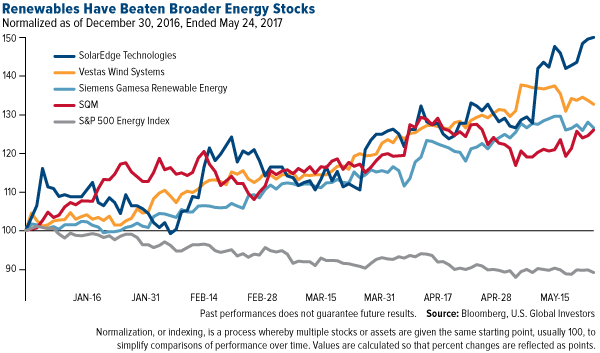 We find these companies attractive because their revenue is dependent not necessarily on new orders but on existing service agreements.
It's much like a car dealership. It may sell you a car at cost, but you must commit to allowing the dealer to service said car. This, of course, helps generate long-term revenue.
In the days following the November election, SolarEdge, Vestas and other "green" stocks contracted on fears that the incoming Donald Trump administration would heavily curtail the incentives for renewable capacity additions in the US Ben Kallo, an analyst at Robert W. Baird, warned investors on November 9 that he expected "a significant overhang on solar stocks due to negative sentiment trades and oversupply in the industry."
We saw the pullback as a prime buying opportunity, and we continued to accumulate renewables knowing that the underlying service portion of revenue is solid and stable. The bet was well-made. Our renewables allocation is now a core driver of PSPFX's performance this year, as you can see here.
It's no secret that President Trump prefers policies that favor coal and other fossil fuels – which we also invest in – but markets are demanding diversification into renewables as costs decline and battery technology improves. According to a new report commissioned by UN Environment's Economy Division, 2016 saw record installation of new renewable capacity, totaling 138.5 gigawatts (GW), up 9% from the previous year. This was achieved despite total investments falling 23% to $241.6 billion on lower costs.
Even more notable is that investment in new renewable energy capacity was double that in coal, gas and other fossil fuels during the year.
Demand is being driven not just by government-subsidized clean energy initiatives. Corporations are finding that renewables can, in many cases, be cheaper than nonrenewables. Bloomberg reported last month that 190 Fortune 500 companies collectively managed to save as much as $3.7 trillion in 2016 through emission-reducing projects.
This has led to record capacity growth in solar and wind here in the US In its 2016 review, the Solar Energy Industries Association (SEIA) reports that the country nearly doubled its capacity during the year after installing 14.8 GW of solar photovoltaic (PV) cells. A record 22 states each added more than 100 megawatts (MW), and for the first time ever, solar ranked as the number one source of new electric generating capacity at 39%, followed by natural gas (29%) and wind (26%).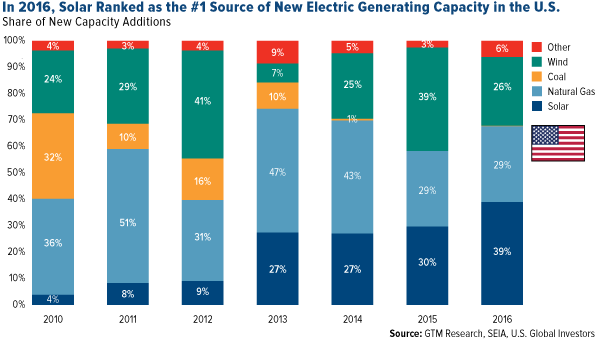 As for wind, the US added 2,000 MW in the first quarter of 2017, an incredible 385% increase from the same time last year, according to the American Wind Energy Association (AWEA).
As many as 41 states, not including Puerto Rico and Guam, now have utility-scale wind projects, with US Global Investors' home state of Texas the leader by far. The Lone Star State currently has over 21,000 MW of installed capacity – more than Canada and Australia combined – followed at a distant second by Ohio, with nearly 7,000 MW.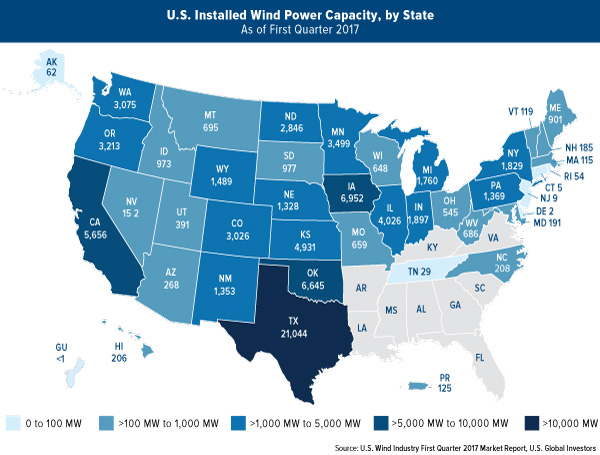 Home to parts of the Permian Basin, Eagle Ford Group and other high-density oilfields, Texas has the most proven reserves, with more than a third of all US crude oil reserves. Nevertheless, the state's wind electric generation industry employs nearly three times as many people as oil, coal and natural gas generation combined, according to data provided by the US Department of Energy.
According to the Financial Times, it's normally taken between 50 and 60 years for the world to transition from one dominant fuel source to another – think the shift from wood to coal in the 1800s.
The transition we're seeing now is different in that it's happening at a much more accelerated rate than in the past. Many experts speculate whether the 21st century will be the last one to see widespread use of coal, gas and other nonrenewables.
It's important to recognize where sentiment is headed. As costs fall and battery technology improves, more and more governments and corporations will demand that renewables make up a larger share of their energy mix.
Consider China. The Asian giant is done messing around with smog and pollution, so its capacity additions going forward look very positive. India, meanwhile, is at the start of "the largest energy transformation project in the world," as organizers of the recent Vienna Energy Forum put it. Now mostly powered by coal, India will soon be installing 50% more solar and wind capacity than the US currently has.