Gold vs. America's Record Expansion
Friday, 7/12/2019 09:01
Buy early if you think recession looks due...
IT HAS finally happened! gasps Arkadiusz Sieroń at Sunshine Profits.
The current expansion has now run for 121 months, which means that the previous record of 120 months is history. This has become the longest economic boom in US history.
Should we celebrate now? Or should we worry, as all good things come to an end, and whatever lasts long, ends even faster?
First, GDP growth shows a robust pace of 3% (red line, left axis) while the unemployment rate is at 3.6%, a 50-year low (green, right axis). It does not look like any replay of the Great Recession, does it? Actually, the rate of employment growth is exceptionally rich, much stronger that the mere GDP growth would predict.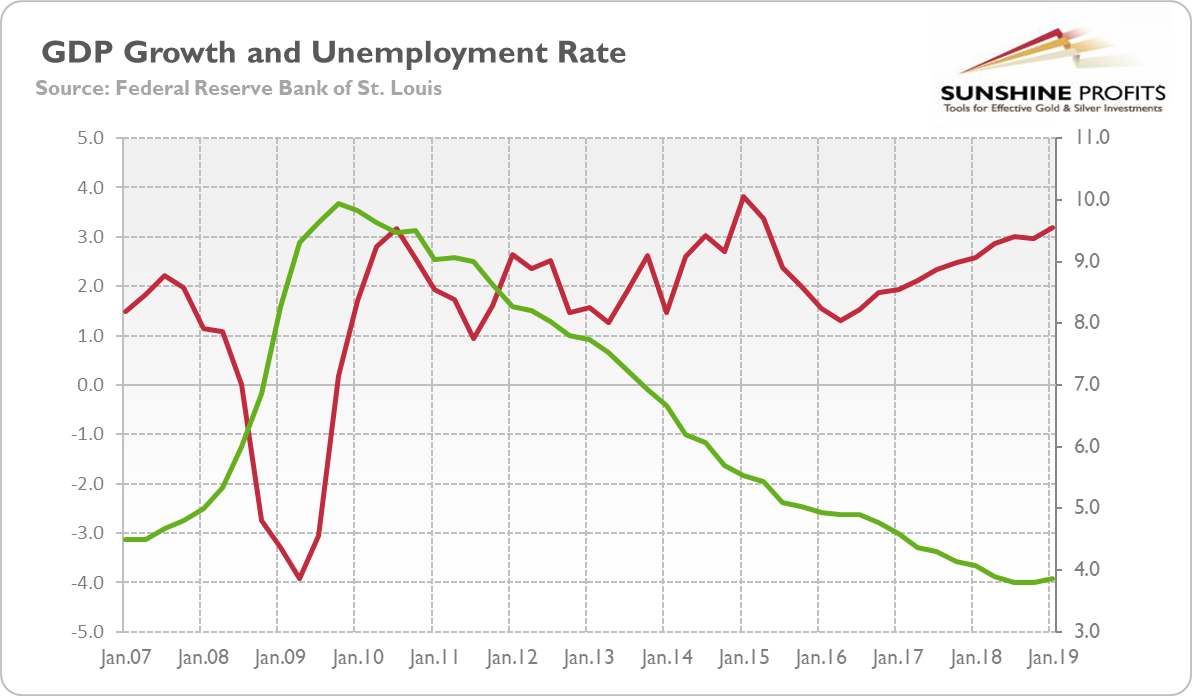 Moreover, inflation is slightly below 2% (the red line below, left axis), which is definitely not a problem for the economy, while the stock market is up by more than 50% since 2016, as the chart below shows.
Together this solid GDP growth and low inflation constitute a Goldilocks economy, welcomed by Wall Street.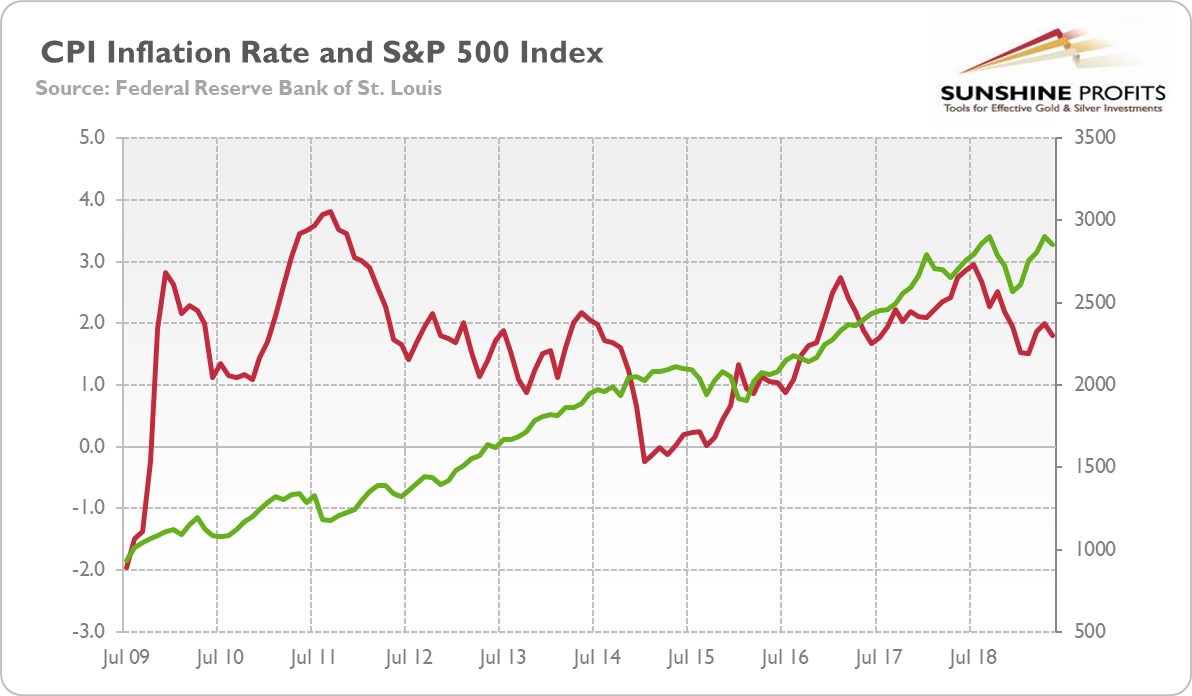 Last but not least, retail sales rebounded in May, while industrial production remained solid. As we examined in the March edition of our Market Overview, most of the recessionary indicators are not flashing red, certainly in much better shape than Japan or the Eurozone. There is no immediate danger on the horizon.
Does this mean we do not see any threats? There are three main risks.
First, the inversion of the yield curve [with longer-term bond yields falling below short-term rates, showing that the market expects short-term rates to fall in future]. Although the yield curve may indeed have lost some of its predictive power, "This time is different" was also announced recklessly just before the global financial crisis.
But we are far from panicking. Why? Because we do not see a corresponding tightening in credit conditions. Historically, the yield curve inverted because of a liquidity shortage. That happens when indebted entrepreneurs begin to sustain losses and turn so desperate for a loan to finish their investment projects that they are willing to pay more for a short-term loans than for a long-term obligation.
However, as the chart below shows, US credit conditions remain easy (the red line on the chart below remains below zero, indicating looser than average credit conditions), so the recent inversion of the yield curve (the green line, right axis, shows the spread between 10-year and 3-month Treasury yields in percentage points) does not necessarily signal an upcoming recession, at least not yet.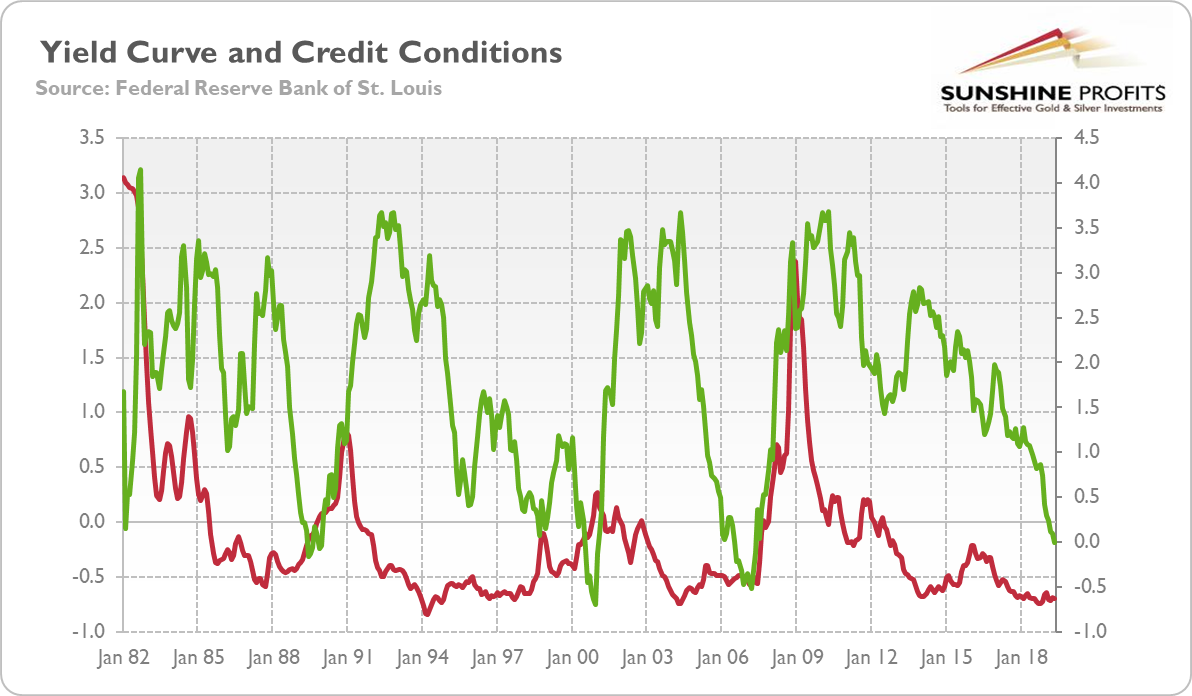 Second, the trade war. We still believe that Trump and Xi will eventually reach a deal, especially after they announced a temporary truce in June.
But should they fail to agree a ceasefire, new tariffs and other protectionist measures could significantly disrupt global supply chains, negatively affecting corporate profits and the whole economy.
Third, debt. The scale of private and public debt is dangerously outrageous, in many cases even higher than before the Great Recession. Total public and private debt in many countries is above 320% of GDP, according to the IMF. It goes without saying that this debt-driven economic expansion is not sustainable.
At current interest rates, borrowing seems to be cheap and worth loading onto a corporate balance sheet. However, today's low bond yields do not reflect low risk in general, but rather financial repression. When central banks normalize their monetary policy, the mirage of low rates will disappear.
What does this overview imply for the gold market?
The US economic picture is better than many people think. While it's not perfect, it's not as bad as widely believed. It suggests that the economy has still some room to run. Bad news for the gold bulls, we know. The consensus is that America is headed for a recession by the end of 2020. We are not yet convinced. There will be a growth slowdown; that's very likely, given that the effect of fiscal stimulus will wane. But a downturn?
However, that economic slowdown combined with fears of recession might be enough to increase safe-haven demand for gold. Many people buy the yellow metal when the economy is already in recession, but smart money flows into the precious-metal sector in advance.