Private Gold Investment Stabilizes as Prices Bounce
Tuesday, 8/06/2013 09:00
Cash savers still stuck with record-low interest rates continue to move into gold...
GOLD INVESTMENT by Western households stabilized in July according to BullionVault's Gold Investor Index as prices rallied from the hardest quarterly drop on record, writes Adrian Ash at BullionVault.
Dropping 25% over April-June 2013 to a 3-year low, the gold price in Dollars bounced more than 10% in July. The Gold Investor Index – which measures the buying and selling decisions of private investors using gold exchange BullionVault, the world's largest online bullion provider – held almost unchanged at 52.6.
July's reading was also ahead of the same month in 2012.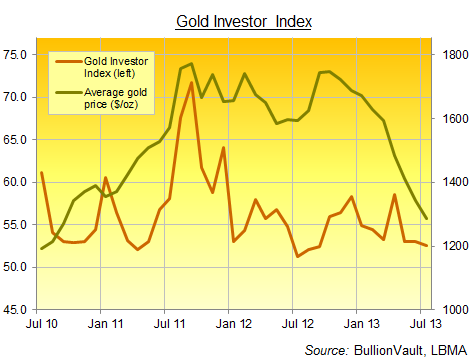 A reading above 50.0 on the Gold Investor Index shows there were more buyers than sellers. The index peaked at 71.7 in September 2011, and jumped to a 16-month high of 58.6 this April as gold investment prices began the spring's crash.
But while the number of people buying
gold for investment
outweighed the number of sellers on BullionVault between April and June, the total amount of gold held by the internet exchange's users still fell.
Client gold holdings shrank just over 1% in the second quarter from a record 33 tonnes, as some long-standing investors took profits, and some more recent buyers took a loss.
This liquidation ended, however – or at least took a pause – in July. All told, BullionVault client gold investment holdings grew for the first time since March, albeit marginally. Net demand continued as the month ended, even with US economic data leading some analysts to conclude that the Federal Reserve will indeed start reducing its quantitative easing sometime in autumn, perhaps as soon as September.
Still facing record-low interest rates on cash savings, however, the number of private households swapping out of currency and into gold investment continues to grow. As a vote against central bankers, and in favour of "hard money", the Gold Investor Index shows the appeal of bullion widening further almost six years after the global financial crisis began.