Trump's Peso Reversal
Tuesday, 10/18/2016 09:09
Betting odds say The Donald won't win. Mexico's inflation rate should reverse...
AS SOON as the first televised debate on the night of September 26 between the US presidential candidates ended, the US Dollar began to tumble against Mexico's Peso, writes Gary Dorsch at Global Money Trends.
Currency traders judged Hilary Clinton to have gotten the edge in the polls over Donald Trump. And now, with roughly sixty Republican party members calling on Trump to quit the presidential race following the release of a 2005 video in which the real-estate developer is heard talking crudely about women, the US Dollar has continued to lose ground to the Peso.
On October 10th, the US Dollar fell to below 19-Pesos. The correlation between Trump's polling numbers and the US Dollar's exchange rate against the Peso seems to be more clear to everyone by now.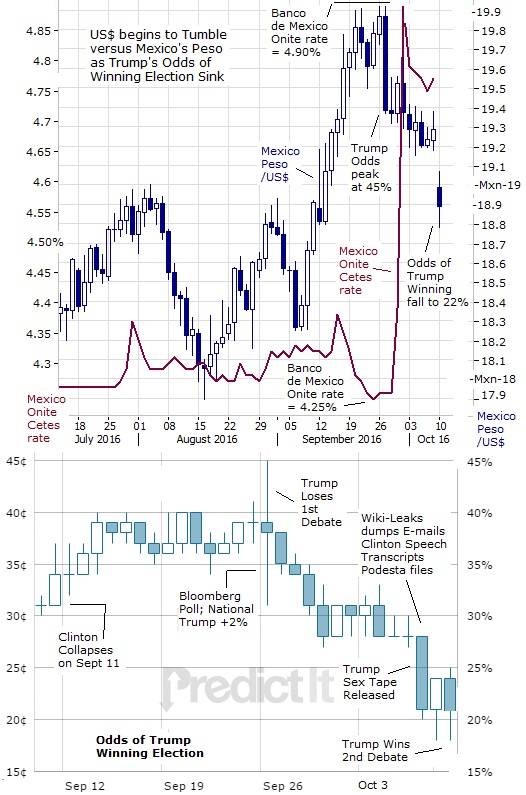 There are also bookies, based in London and Ireland, such as William Hill, Betfair and Ladbrokes, that set a daily betting line on political outcomes. Right now, the consensus among the UK bookies finds the Democrat as the clear favorite to win the White House in November with an 82% probability. Mr.Trump's odd have dwindled to 22%.
Online gamblers at the New Zealand site predictit.com closely track the betting odds in London, and the charts show Trump's odds of winning the White House have dropped in half compared with a month ago.
Aside from the British Pound, the Mexican Peso has depreciated more than any other major currency this year, mostly because Trump has proposed renegotiating or ending trade deals with Mexico and blocking remittances to force the country to pay for a wall along the US-border.
The money Mexican workers send home from the United States is Mexico's top source of foreign income and represents more than twice the value of crude oil exports, according to a new report. Remittances – which have come under fire by presumptive Republican presidential nominee Donald Trump – account for a lot of money in Mexico.
"Remittances surpassed crude oil revenues for the first time in history in December of 2014. Since then, remittances have continued to increase even to the point of representing more than twice the value of crude oil exports since December of 2015."
In the first quarter of 2016, $6.2 billion worth of remittances was sent to Mexico. During that same time frame, Mexico pulled in $2.6 billion in oil exports revenue. In 2015, according to Forbes, remittances to Mexico totaled $24.8 billion, oil exports revenues were $18.7 billion, and tourism was $17.4 billion.
After GOP presidential candidate Donald Trump threatened to cut off remittances as part of his proposal for Mexico to pay for a border wall to be constructed, a senior Mexican official told the Los Angeles Times the battle against money laundering and other financial crimes would only get harder if Trump gets his way. Central bank chief Carstens, speaking on local radio, said a Trump victory would hit his country like a hurricane, adding that the scenario for Mexico was better with a Clinton win.
Mexico is arguably the major world economy most dependent on the US. Trade between Mexico and the US has grown five fold to more than $500 billion in goods annually since Nafta took effect in 1994, making the Latin American nation the largest US-trade partner after China and Canada. While Mexico has also strengthened its trade ties with other nations and has a free-trade agreement with the EU, it still sent 73% of exports to the US in 2015, compared with 79% the year before Nafta was implemented.
The groundwork for the shift of auto production to Mexico was laid with the passage of NAFTA in 1993 by former President Bill Clinton (a fairly inconvenient fact that Hillary would prefer to forget). Since then, Mexico has been a huge beneficiary of automotive plant relocations with offsetting closures coming from the US and Canada.
Auto-industry investment in the country accelerated in the 1990's after the signing of Nafta. In the lead were Detroit car makers and parts suppliers looking to avoid high labor costs at their unionized plants in the US. Today, with an auto-production boom in high gear, those advantages are being chipped away.
Toyota Motor, BMW AG, Ford Motor and several other auto makers have committed to spend a combined $15.8 billion to build new assembly plants or expand existing factories. That is on top of the more than a dozen plants already in operation and billions more being spent by auto-parts suppliers to keep pace.
Not only does Mexico have trade deals with most other nations, labor costs are between $1,000 and $1,300 per car lower than in the US, according to people familiar with the Detroit Three's finances, due mainly to auto factories' $7.50-an-hour pay. GM's US-wage tab of $58 an hour, including benefits, is the richest in the industry and 20% higher than at Toyota Motor. Mexican manufacturers could suffer if the United States forces its NAFTA partners to renegotiate the treaty.
The decline of the Peso this year has hurt foreign that have investments in Mexican stocks and bonds. On September 30, Banco de Mexico hiked interest rates by 50-basis points to 4.75%, adding, "If necessary, we would act again."
Banco de Mexico's chief Agustin Carstens has said it was watching closely that a slide in the Peso currency does not stoke inflationary pressures. However, Trump's sinking fortunes in the polls have since knocked the US Dollar -6% lower in recent weeks, and that will help Mexican policy makers as they grapple with rising consumer prices. Inflation as measured by prices for trade-able goods such as clothes and fuel has climbed to a more than three-year high of +3% as the currency weakened almost -11% this year.