Everything Off!
Thursday, 4/05/2012 11:03
What do you do when returns don't compensate for risk...?
YOU HAVE probable heard of "risk on" and "risk off". But have you heard of "everything off"? asks Eric Fry in the Daily Reckoning.
That's the trade that seems to be underway right now. Investors are dumping everything with a ticker symbol: US stocks, foreign stocks, government bonds, corporate bonds, precious metals, crude oil and almost every other commodity.
In Wednesday's trading worldwide, not one single major stock market index moved to the upside. In fact, here in the Americas — North, South and Central — no stock market index of any kind moved to the upside. Over in Europe, the ticker tapes were equally dismal, unless you happened to be tracking the bullish action in Slovenia, Montenegro, Cyprus or Latvia.
In the commodity markets, the CRB Index of commodities stumbled 1.5% this morning, as 14 of the 19 commodities in the index slipped into the red. Only nickel and coffee managed to gain more than one percent.
The newswires blamed the worldwide downticks both on the Federal Reserve and a poor government bond auction in Spain. The Fed was to blame, said Bloomberg News, "as the Fed minutes [from the March 13 FOMC meeting] showed less urgency to add stimulus."
Meanwhile, the Spanish government struggled to sell bonds in its first auction since the country said its public debt would surge to record this year. The Spaniards, who had been hoping to sell €3.5 billion worth of government bonds, managed to knock down the gavel on only €2.6 billion worth of bonds.
The poor auction results kicked off a steep selloff in the Spanish bond market — pushing the yield on the 10-year government bond to its highest level since January, which was immediately before the ECB "solved" the Eurozone crisis.
In other words, Dear Reader, the capricious gales of bureaucratic meddling and governmental manipulations continue to buffet the financial markets. Setting a reliable course in these conditions is no easy task.
Over the long run, of course, underlying fundamentals like earnings growth and dividend yields will dictate the course of one's investments. But over the short run, the treacherous seas of interventionist governments and too-big-to-fail crony capitalism can capsize even the most seaworthy of investment strategies.
Sure, exceptional companies will still be exceptional. But when governments are actively price-fixing the cost of credit, while selectively rescuing fatally flawed governments and enterprises, rot flourishes. And when rot flourishes, healthy organisms struggle to take root and grow.
Furthermore, no one wants to build any kind of structure on a rotting foundation. So if investors, en masse, believe that the foundations underlying their investments are corrupt and rotten, they will seek to build their wealth elsewhere — either in other jurisdictions or simply in other asset classes.
They will seek to build their wealth as far away from rotten interventionist policies as possible. That could mean anything from seeking out the safest currencies to tracking down the most compelling foreign stocks or bonds to accumulating the kinds of assets that governments cannot easily corrupt — like real estate, precious metals and other hard assets.
This little introduction brings us to the latest (and most exciting) installment of what we call the Daily Reckoning Group Research Project. We will ask you, Dear Readers, to devise a "permanent portfolio." Here's the context:
A few decades ago, a guy named Harry Browne devised an investment strategy he dubbed the "Permanent Portfolio." The idea was so simple it seemed almost moronic. And yet, with the passage of time we have discovered that his idea was pure genius.
He suggested building an investment portfolio out of only four components: gold, bonds, stocks and cash.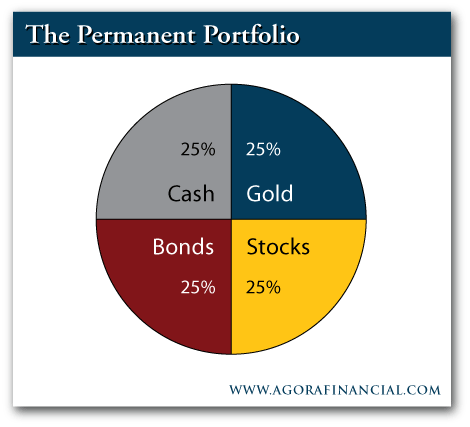 The idea was that at any given time, two or three of these four components might underperform — but the other portfolio components would perform so strongly, you'd get an overall gain that would outpace any increase in the cost of living.
Incredibly for such a simple strategy, the Permanent Portfolio has delivered some surprisingly strong investment results.
Get the safest gold at the lowest prices on BullionVault...