Pension Funds Exit Stocks
Wednesday, 9/23/2009 10:41
Pension plans are selling stocks. Headline or footnote...?
US PENSION COMPANIES have begun selling stocks, writes Eric Fry in the Rude Awakening.
Recent history suggests this little news item should be a headline. Because pension plans – like the fabled supertanker, but unlike politicians – take a lot of time to reverse direction. But once plan fiduciaries decide to proceed in a given direction, they typically continue down that path for years, if not decades.
This tendency provides the mother of all long-term indicators for the financial markets. Although pension plan fiduciaries tend to be VERY wrong at major, long-term turning points, they tend to be right – more or less – as markets transition from one extreme to the other.
Confused?
The principle is actually very simple: pension plans behave like long-term momentum investors. So they tend to buy into rising markets...until after those markets have peaked and begun a major decline. Conversely, fiduciaries tend to sell into falling markets until after those markets have bottomed out and begun a decisive uptrend.
In aggregate, therefore, pension fund fiduciaries tend to behave like novice investors – buying high and selling low. But since their momentum investing unfolds over such long timeframes, this group of investors tends to be very right during the middle of a big move – up or down – in any particular asset class.
The world's fourth largest pension provides a classic case in point. The California Public Employees' System (CalPERS) ranks fourth on the list of the world's largest pensions plans, with $181 billion of assets at last count. But it might rank first on the list of worst market strategists. Because between 1983 and 2000 the pension giant doubled its allocation to equities...just in time for one of the stock market's worst decades ever.
During the middle of this giant bull market, CalPERS was correct to up its allocation to stocks. But by continuously upping its exposure to a rising stock market, CalPERS eventually overdid it.
In September of 2000, as the US stock market was beginning its colossal collapse from the then-record highs set earlier that year, we highlighted the vulnerability of CalPERS' stock-heavy portfolio. In an article entitled "Golden State Bulls" we observed, "In 1983, with a moribund Dow Jones Industrial Average hovering around 1,200, the powers that be [at CalPERS] deemed 30% to be the optimal equity weighting for the fund. But 17 years and 10,000 Dow point later, the CalPERs...investment committee now allocates a whopping 67% of assets to equity investments.
Our pro bono advice, though unwelcome at CalPERS – as an 8th October 2000 story in the Sacramento Bee made clear – proved to be other than "dead wrong" as a spokesman called it. As things turned out, the S&P 500 Index has produced a total return of minus 12% from the end of September 2000 to the present.
Anybody can get unlucky, of course. And now that the bear market pony has frolicking outside the barn for several years, the CalPERS investment team is slamming the barn door shut, drastically reducing its allocation to equities.
As of last June, CalPERS reduced its equity target from 56% to 49%...the lowest such allocation since 1993. (Including "alternative" equity assets like hedge funds, the revised equity target would be 61.4%, down from 66%).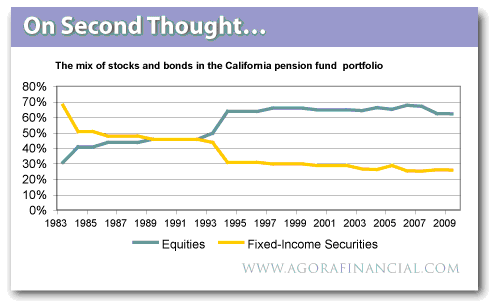 Net-net, CalPERS is now a seller of equities...or at least not a buyer. Most of the other pension plans in the US (and in the rest of the world) will likely follow CalPERS' lead.
"Equity assets in the UK fell to 41% of holdings at the end of 2008, according to data compiled by New York-based Citigroup," Bloomberg reports. "The last time British pension funds held so little in equities was in 1974..."
Meanwhile, Bloomberg continues, "Four of the world's seven largest pension funds...have cut their equity target allocations..."
It's probably safe to assume, therefore, that "caution" is the new buzzword in the halls of most pension fund managers. So it seems highly unlikely that they will exhibit their former exuberance for equities any time soon.
Demographic trends, as well as caution, will prohibit aggressive equity allocations. In California, for example, the baby boomer retirement wave is just beginning, which means that CalPERS must begin favoring capital preservation over "long-term growth." Ditto most other pension funds on the planet.
"The number of people worldwide 65 and older may jump to 1.3 billion by 2040 from 506 million last year," Bloomberg reports. "Their proportion of the total population will double to 14 percent in the same period, according to a June report from the US Census Bureau."
"[Since] the heavy equity weightings of public pension funds in this great land of ours comprise not only the mother of all sentiment indicators, but also a monstrous overhang of stocks, what if the funds sell?" your editor wondered in his mid-2000 article. "No sane fiduciary would choose to sell stocks of course – not if he or she wished to retain a comfortably feathered nest. But demographic trend may force the hand...Probably, the looming overhang is nothing to worry about – right now. But when the overhang threatens to break loose, remember: you heard it hear first."
That moment may have arrived.
Looking to Buy Gold online today? Make it simple, secure and cost-effective at BullionVault...