A Packed PDAC in Toronto
Saturday, 3/12/2011 10:45
Canada's biggest annual mining conference just gets bigger as gold and Silver Prices rise...


The ANNUAL Prospectors and Developers Association of Canada (PDAC) conference is underway here in the heart of downtown Toronto, writes Gene Arensberg for his GotGoldReport subscribers.

This is one heck of a big conference and the energy here is as high as in any conference we've seen over the years.

PDAC is a great place to judge the currently frenetic pulse of the mining industry, but frankly the conference – once a modest affair where grizzled prospectors brought in samples to show to business-suited developers and get their pet projects noticed or raise more money to continue prospecting...the conference where not all that long ago there might have been less than 5,000 attendees total – has become unwieldy in its size and scope according to long-time veteran PDAC members we talk to.

Word is that there will be more than 27,000 attendees at this year's confab, and we can attest to the claustrophobic feeling that comes when the aisles between exhibitor booths are jam packed and barely moving at times. The din of the crowd in the Exhibitors' hall makes it difficult to hear, so what do people do? They speak louder and that ratchets up the noise level to something on the level of a few simultaneous freight trains at high speed.

That makes communication "iffy" at times and we wonder how many people end up nodding and smiling, but not really connecting with the people they traveled long distances to see. Everyone seems to take the noise level in happy stride, though. Times are good right now in the mining space. They are good in Canada, and people here are friendly, full of life, environmentally conscious and they like to smile. We Texans appreciate that.

Make no mistake, PDAC is a great venue to see and talk to the management teams of the companies we are focused on. It's a wonderful place to seek out new opportunities – mainly because just about any company that has something worth talking about is probably here and probably talking, but it can be difficult to get the kind of one-on-one attention analysts and newsletter writers prefer to get when there are a half dozen or more people waiting patiently to speak to the company execs, standing right behind you, trying to eavesdrop and (at times) literally pressed up against your back to allow the crowd to pass.

Time seems extra precious here at PDAC, so what we end up doing more than we'd like is making eye contact with the folks we want to connect with, listening to the way-too-condensed version of their story, making a valuable few notes, attaching the scribbled notes to the CEO's or the VP Exploration's card for follow up later on when they and we have the time to delve into it more closely.

We began with a list of about 30 companies we wanted to investigate, to connect with and "see the whites of their Geo eyes." Surprisingly, we are well down that list now. A very few have received a "box" on their business cards and on their note pages. A box means we need to look more closely – with dispatch.

It seems that every hotel ballroom within a 2-mile radius of the convention center on Bremner St. is one big hospitality suite in the evenings, fertile ground for the latest "intel". Canadians, especially Canadian geologists seem to have quite a knack for being able to consume surprisingly large amounts of free spirits, but still manage to tell their story. Perhaps with a little more gusto.

We are unlikely to have more about the conference, other than to mention some of the new opportunities we see...later on, once we have had time to let the convention energy bleed out of them, and once we have had a chance to connect more in depth with their hopeful, competitive management brass over the phone...now that they have seen the whites of our eyes.

After PDAC, those with a truly compelling story are likely to be in much higher relative demand – if the world manages to hold itself together a while longer.

That is all from Toronto. Meantime, we note the Gold/Silver Ratio has now moved convincingly below 40 (slipping down to a 39-handle at the precious-metals' peak on Tuesday morning), while the open interest for New York silver futures has yet to move higher appreciably...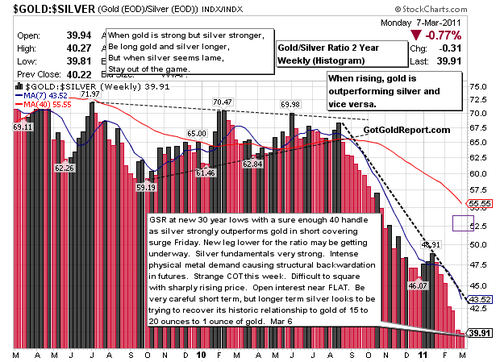 Open interest in silver is still under 140,000, and we note that more people are shocked at the Silver Price than have become believers, which is contrary bullish. We will likely be hearing a lot more about the larger cap gold and silver miners over the next little while than we have since about 2007 if what we are hearing here is any guide.

Remember, Vultures (aka Got Gold Report subscribers) know our target for the gold silver ratio is quite a bit lower, over time. And they know that our goal is to convert our silver into gold...in tranches, when the time for that seems "right" as we detailed in the GGR and on the web log a little while back.

We Vultures are a patient lot for things like that.

Buying Gold or physical Silver Bullion today...?