Oil, Power & Interest Rates
Monday, 11/12/2007 09:37
Who's to blame for the surging price of crude oil...?
The OPEC OIL CARTEL releases its monthly oil market report this coming Wednesday.
Its October report, in case you missed it, made an interesting point about oil prices. OPEC blamed the high oil price not on a lack of sufficient production by member nations, but on Ben Bernanke, chairman of the US Federal Reserve.
Well, that was the thrust of it, more or less.
OPEC said that Fed rate cuts accounted for oil's strong performance, arguing that "Fundamentals are improving. Downward revisions to demand forecasts, especially for the US, and the possibility of further revisions in the coming months, combined with rising OPEC production, have eased the perception of market tightness."
The report also cited the end of hurricane season and the start of autumn maintenance on North American refineries as dual sources of easing price pressure (refiners are the chief source of crude demand to make liquid fuels).
Yet even with minimal hurricane activity and lower refinery demand, oil prices did the opposite of what OPEC expected in October, as you can see here.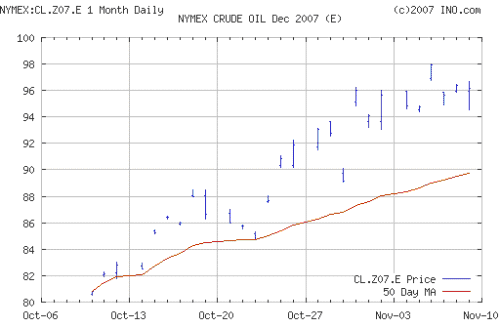 Not that OPEC is complaining about being wrong, of course.
Javier Blas and Roula Khalaf report in the Financial Times that revenues for crude oil producers "will increase even further in 2008 to a high of $762 billion, a 16% rise from this year, driven by continued strength in oil prices and further output increases."
All that filthy oil lucre is driving inflation in Gulf States whose currencies are pegged to the US Dollar. And of course the oil boom has created various infrastructure and building booms across the OPEC world, too.
It's also increased exploration and production budgets for some oil producers, which is good news for a few Aussie oil service firms. But the New Oil Barons have real political clout.
How else could a dingbat like Hugo Chavez be taken seriously? Oil money buys weapons and political power. So a massive bear market in oil might be a good thing geopolitically, effectively de-funding the growing class of socialist oil bullies.
For now though, oil is power.