All-Time Record High Oil Price
Tuesday, 6/10/2008 07:50
Just how did the price of crude oil get to break $139 per barrel last week...?
A PERFECT STORM of events combined to drive oil prices to new highs last week, writes Julian Murdoch for Hard Assets Investor.
First the numbers, for our cave-bound fans. Oil opened at $128.20 on Friday, climbed to a record $139.12 all-time high during the day and closed at $138.54 for a record close. That's an 8% jump in less than six hours. It was one of those "if only I'd had a crystal ball" kind of days.

To everyone without that crystal ball, the big jump in oil prices was a scary thing to wake up to with their Saturday morning coffee and newspaper, and even the newspapers seemed a bit confused on where to begin. Here's a recap on some of the competing theories.

Record Oil: Behind The Numbers

First of all, the US Dollar continues to get weaker and getting weaker. A long-term chart of the Gold Price would tell the same story, but the chart below is how the Dollar has been shaping up to the Euro for the past few months.

Not exactly a pretty picture.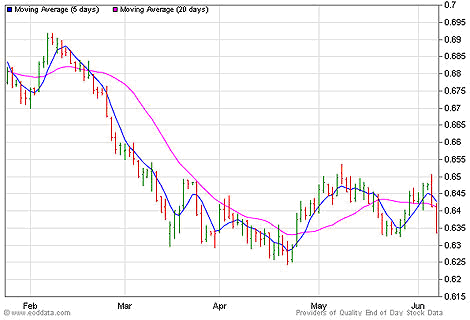 Since crude oil is priced in the US Dollars, of course, the price of crude rises in direct relationship to the Dollar's decline.

Think about it this way; those countries which produce the oil, and the companies working there, have to be able to pay their workers and their bills in local currency. So they have to raise their Dollar prices just to stay even.
Dollar down = Dollar-priced commodities up, in short.
But we're also big believers in simple supply-and-demand charts here at Hard Assets Investor, so let's look at the supply-shock theory.

Record Oil: The Supply Shock
First, there were rumors in Nigeria last week of a strike against Chevron. Not only would it affect existing production, but Chevron is scheduled to bring on-line an additional 250,000 barrels per day on June 15th.
Even though demand has actually finally started easing in some parts of the world, losing 250,000 barrels per day of new capacity still matters. Any new capacity that comes on-line will get used, and threats to supply, even rumors of threats, carry weight. Heck, 250,000 barrels is a quarter of what Senator Schumer is demanding of the Opec oil cartel.
More disturbing though, was the remark by Israel's deputy minister and transportation minister Shaul Mofaz. In an interview published in an Israeli newspaper and quoted in a Reuters article, he stated that "If Iran continues with its program for developing nuclear weapons, we will attack it. The sanctions are ineffective."
Of course, the government was quick to refute Mr. Mofaz's statements, but the damage to oil prices was done.
Record Oil: Evil Speculators
The big enemy in the current debate is definitely that most inscrutable of villains, the evil speculator – or even just the lowly investor buying the occasional commodity ETF in their 401(k).
Every pundit, myself included, has discussed the issue of speculation before. But this isn't like the tech bubble, where everyone and their Aunt Mildred was picking stock and investing.
Investing in futures is a sophisticated activity, and there are many barriers to entry (margin requirements, accessing the trading markets, etc). And if the craziness in the oil market was really the result of rogue futures traders, you'd expect it to show up in the volume. But here's the volume of crude oil (CL) contracts traded on NYMEX in the last year: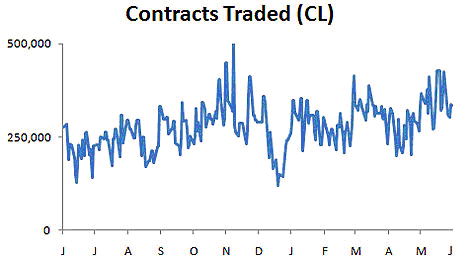 We see lots of volatility in the daily volume, and yes, it's a line with a definite upward slope. But there's no cataclysmic rise here. In fact, based on numbers available right at the close last Friday, there appeared to be around 2,000 fewer contracts traded than on the day before, and 9,000 fewer than the previous Friday.
The chart below is deceiving because it is a chart for July 2008 crude oil contracts, and many investors didn't start trading it until recent weeks; hence the apparent increase in trading volume. But even still, when oil was hitting its highs, the volume dropped off a bit.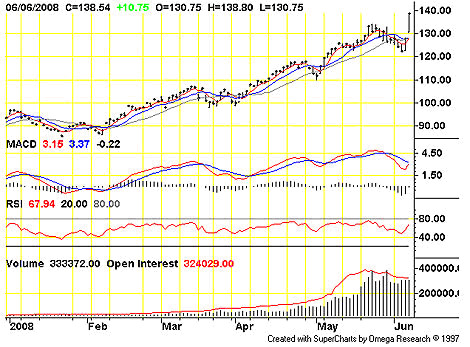 Does this "prove" anything? Perhaps not. But it does show a stark contrast to what's typically seen in the equity markets, where crazy price moves almost always coincide with crazy jumps in volume.
This is not everyone's grandma deciding to bet big in oil, and as anyone who knows the exchange-traded fund markets will tell you, if everyone decides to go buy a commodity index on a given day, this does not translate directly into the price of the futures contract moving higher.
The true test will be to watch what crude price and volume do in the first few days of this week – perhaps there's a time delay we're just not picking up.

Record Oil: Where to Now?
At this rate, it doesn't take a rocket scientist (or T.Boone Pickens) to call for oil at $140 or even $150 per barrel. And that's what we're seeing from most pundits – and even some of the producers themselves.
Reuters ran a story on Sunday with the following quote:
"I forecast that by the end of summer the price of oil will reach $150 per barrel," Mohammad Ali Khatibi was quoted as saying by Iran's state broadcaster, referring to the summer in the northern hemisphere. He's an important pundit to listen to, because he is Iran's Opec representative.
With Iran producing the fourth-largest amount of oil, this information could be viewed in a couple of ways – as a projection influenced by the status of the US Dollar and market in general, or as a threat or promise.
Ain't geopolitics grand?
The best call is likely to stay focused on supply and demand – these remain the cast iron posts to which commodities prices must ultimately be hitched. And as I said last week, I don't think the signs there are pointing to "lower" anytime soon.
At least, certainly not to the $60 per barrel forecast by the Dallas Federal Reserve.