Oil-Led Inflation Is Back
Wednesday, 5/23/2018 09:01
Oil rally could have further to run...
FOR MORE than a week now, West Texas Intermediate (WTI) crude oil has been trading north of $70 per barrel, writes Frank Holmes at US Global Investors.
That's a level we haven't seen since November 2014. Gas prices are likewise trending up, as I'm sure you've noticed. According to the American Automobile Association (AAA), the average cost for a gallon of regular gas was $2.88 on May 15, up nearly 25% from a year ago.
This will inevitably push inflation up even higher. In April, consumer prices advanced 2.4% year-over-year, their fastest pace since February 2017.
The good news is that energy stocks are also recovering. The S&P 500 Energy Index, which tracks heavy hitters such as Chevron, Exxon Mobil, Marathon Petroleum and more, is up almost 7% year-to-date, and 46% since its low in January 2016. As of May 15, energy was the top-performing sector for the three-month period, returning 14.5%.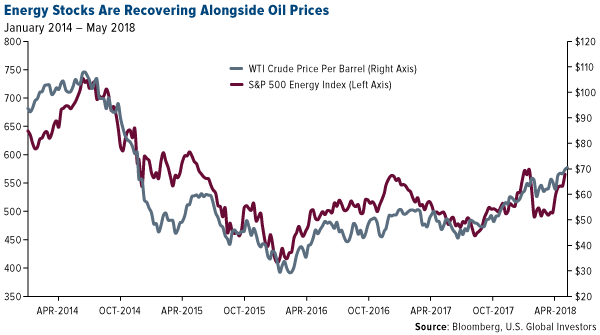 Those returns could grow even more, if Bank of America Merrill Lynch's latest forecast proves accurate. Analysts there believe the price of oil could climb back up to the $100 range as early as next year, which would add another $1 to the cost of a gallon of gas.
Speaking to CNBC last week, famed energy analyst Dan Yergin, winner of the Pulitzer Prize, said that Brent crude, the international oil benchmark, could reach $85 a barrel by July. This would serve as a "big stimulus" for US drilling activity, he noted. I would add energy share prices to that assessment.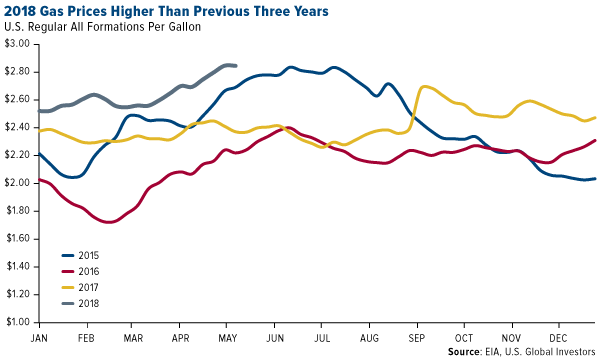 US gas prices peaked at $4.11 a gallon in July 2008, according to AAA, and if you're like me, you're probably in denial that we might have to start paying that again at the pump. We're not quite there yet, but it might be time to get your portfolio ready by adding to your energy exposure.
So what's driving the current rally?
Besides greater global demand – supported by a healthy, expanding economy – two things in particular are keeping prices buoyant right now. Number one, President Donald Trump's decision to pull the US out of the Iran nuclear deal has the potential to curb exports out of the Middle Eastern country, by as little as 200,000 barrels per day (bpd) or as much as 1 million bpd, depending on your source. Iran is responsible for about 4% of the world's supply, so the impact is not insignificant.
Global oil supply is also being squeezed right now by worsening economic conditions in Venezuela. A member of the Organization of the Petroleum Exporting Countries (OPEC), Venezuela sits atop the world's largest proven oil reserves – and yet its monthly output has been declining rapidly for more than two years. In January, the most recent month of data available, the South American country pumped only 1.67 million bpd. The International Energy Agency (IEA) estimates output fell an additional 60,000 bpd in February. That's a 31-year low with the exception of a brief period between December 2002 and February 2003 when oil workers went on strike, sending global prices soaring.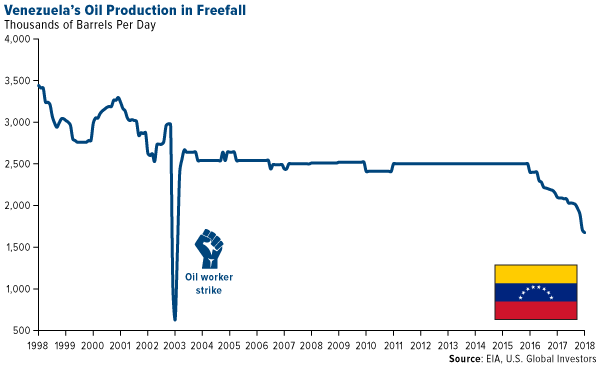 Venezuela's crumbling economy was top of mind this Sunday when its citizens went to the polls for the first time since socialist President Nicolas Maduro took power in 2013. Although hyperinflation has made the Bolivar more worthless than tissue paper, and food and medicine shortages are an everyday thing now, it was hard to imagine Maduro not walking away with a second term.
Venezuela is one of the most corrupt nations in the world, and the US plans to hit back with steep oil sanctions following Sunday's election. The beleaguered country is the third-largest supplier of crude to the US, following Canada and Saudi Arabia. Such sanctions would be a crippling blow not only to its oil industry but also the government's already-fragile budget.
As unfortunate as this is, it nonetheless presents an opportunity to energy and oil investors, with additional upside potential as the country's oil supply tightens even further