Why Energy Will Outperform Base Metals
Wednesday, 2/08/2012 10:56
Energy is replacing base metals as the world's most valuable commodity class...
LET'S examine some evidence that energy resources are replacing metals as the world's most valuable commodities, writes Dan Denning for the Daily Reckoning Australia.
Item one is BHP Billiton's half-year result. The company reported lower profits on higher revenues. Its half-year profit through December of 2011 was down 7% to $9.94 billion from $10.52 billion the period before.
Don't bother sending BHP CEO Marius Kloppers any flowers. $9.94 billion is a respectable result and still one of Australia's great half-year corporate profits. But what's interesting is that BHP is basically an iron ore and coal company trying to become an oil and natural gas company. It's hoping to diversify the structure of its earnings before iron ore and coal prices correct.
The company knows that China's metals intensive phase of industrial development is in the process of peaking. That's why BHP spent $17 billion on shale gas acquisitions in the US last year. It's also why the company spent $10 billion buying back its own shares. If the base metals and iron ore businesses were growth businesses, BHP would be expanding capacity and ignoring shale.
Mind you, iron ore still makes it rain for BHP. Earnings from the iron ore division rose 36% to $7.9 billion. BHP's iron ore assets are what Kloppers describes, as "tier-one, long-life, low-cost" assets. He's right. Scooping up giant piles of iron ore in the Pilbara and shipping it to China is a high margin business, especially with iron ore prices around $140/tonne.
With a 65% profit margin before income taxes, the iron ore division made up over 50% of BHP's total earnings before taxes. By contrast, underlying earnings at the base metals division fell 54% to $1.6 billion. This contrast is what probably caused the company to conclude: "In the longer term, we expect the rate of growth in steelmaking raw materials demand, particularly in China, to decelerate as underlying economic growth rates revert to a more sustainable level."
But let's look at exhibit number two in the great base metals peaking story. This morning we had a look at the Power Shares DB Base Metals Long Exchange Traded note (NYSE:BDG). That's a mouthful! Exchange Traded Notes (ETNs) are unsecured obligations designed to track the performance of an index. They usually use futures contracts to do so. In this case, the underlying index is the Deutsche Bank Liquid Commodity index tracking base metals.
It's easy to get bogged down in how ETNs and Exchange Traded Funds work. In fact, the more we looked at this one the more horrified we were. But if you read the fact sheet for the fund, it tells you quite clearly what the intention is: to provide investors with a cost-effective, convenient way to take a long, short, or leveraged view on the performance of base metals.
In other words, it's a way of gambling on the direction of prices in base metals. The ETNs aren't actually secured by physical metal. They hold futures contracts.
The share price of BHP's US listing neatly tracks BDG's performance over the last three years. That's the first thing you'll notice when you look at the charts side by side. This is a bit of a surprise. Despite BHP's concerted move into oil and gas, and despite the fact that its asset projects are more diversified than say, Rio Tinto's, BHP trades like BDG. And BDG tracks a base metals index.
BHP still with a heart of metal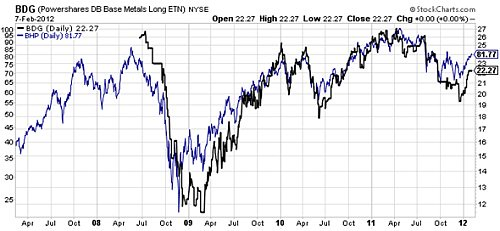 In terms of performance, BHP's US listing is up just over 5% since BDG first traded in mid-2008. By contrast, BDG is down 15% since its inception. But then, that's a whole separate point, isn't it? Look at when BDG started trading.
Wall Street offered investors a way to take a leveraged view on base metals prices about three months before Lehman Brothers went bankrupt. BDG began trading shortly after BHP made an all-time high. Do you think these things are coincidental?
The financial industry is in the business of selling you securities. That's why you should always be nervous when it's rolling out new products. The roll out of hot new securities almost always coincides with a top in markets. This is exactly why we're suspicious of the Glencore-Xstrata merger. It's a way of marketing the same business to investors in a new way. Meanwhile, the underlying business conditions – producing base metals and trading commodities – may have peaked.
That brings us to exhibit three in our case against steel and its metal brothers. The International Monetary Fund (IMF) said yesterday that China's GDP growth could decline by half as a result of the problems in Europe. The IMF expects China to grow at 8.2% this year, but says as much as 4% of that growth could disappear because of trouble with China's customers in Europe.
You can try and sell things to people who don't have money. It can work for a while, if they have access to credit. But even then, the willingness to spend money you don't have is a psychological and cyclical phenomenon. In the Credit Depression, we reckon frugality and thriftiness will be the in thing.
Buying Gold?...