Loonies vs. Gold
Tuesday, 8/18/2009 10:42
The mere threat of quantitative easing in Canada put a floor under Loonie Gold Prices...
BULLISH INVESTORS betting on a V-shaped recovery for the global stock markets are convinced the worst of the global economic crisis is over, writes Gary Dorsch of Global Money Trends.

Furthermore, they expect the emerging economic giants – Brazil, China, India and Russia (the BRICs) – to become the locomotives of global growth, with China and India leading the way. The notion of decoupling, where emerging markets advance faster than developed markets, even pulling the G-7 economies out of recession, is making a comeback.
Global speculators plowed a record $35.5 billion into emerging-market stock funds in the first half of this year, faster than at any other comparable time on record. By contrast, traders withdrew $61bn from developed stock market funds over the same period. Why? Because it's simple logic to invest in a stock-market index with a faster expanding economy, such as China and India, rather than invest in a contracting economy such as Japan, now experiencing its worst downturn since WWII.
Attracted to faster growth, global traders are chasing stocks in emerging markets at higher and higher prices, in a parabolic fashion. This often ends up in a high stakes game of musical chairs.
In Shanghai, the world's wildest casino, the average Price/Earnings Ratio reached 38 times in July. That compares with the MSCI Emerging Markets Index trading at 18 times earnings, the highest level since late 2007 when the global stock markets peaked, just before the big crash. Brazil's Bovespa index trades at 23.5 times profit, near the highest in five years.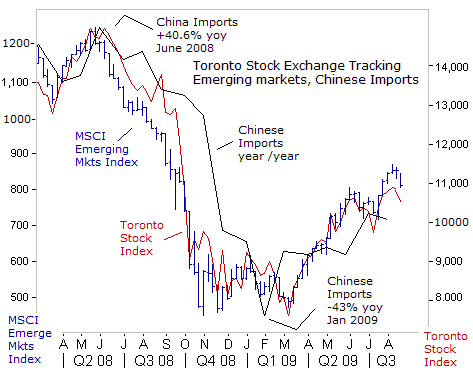 Emerging markets are more volatile than the G-7 markets, because "hot money" flows from foreign investors are often behind the exaggerated price movements. But when "hot money" decides to make a quick run for the exits, and speculators seek to convert paper profits into cash, the corrections on the downside can be violent.
Total returns are also impacted by currency fluctuations, often moving in the same direction, due to simultaneous unwinding of leveraged carry trades.
According to IMF data, the BRIC countries accounted for nearly half of global growth in 2008. China alone accounted for one quarter, while Brazil, India, and Russia were responsible for another quarter. Furthermore, the IMF notes that these economies accounted for more than 90% of the rise in consumption of energy and metals, and 80% of the rise in consumption of grains since 2002.
Resource-rich Canada is thus strengthening its trade ties with China in order to reduce its dependence on the US economy. Canadian exports to China increased 6.8% in the five months through May, while exports to the US fell 26%. But that means the gyrations of the emerging BRIC stock markets are of great interest to speculators in the Toronto Stock Exchange, the gateway to the world's seventh largest economy.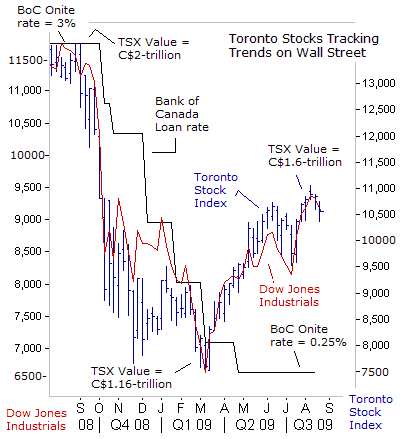 One middle-of-the-road approach to investing in global markets, taking a path between the high-flying BRIC acrobats and the tortoise like markets in Europe, Japan, and the US, is the Toronto Stock Exchange (TSX). It contains a wealth of natural resource and high-tech companies, and a sound financial sector.
So far this year, the Toronto Stock Index is up 20.5%, nearly double the S&P's 11% gain but trailing behind Brazil's 50% gain and Shanghai's 70% increase.
Canadian indices have outperformed their US counterparts this year, energized by a rally in natural resource shares, which were supported by massive stockpiling of crude oil, copper, iron-ore, and aluminum by China's Reserve Bureau. For foreign investors in Toronto stocks, there's been an extra bonus – a foreign currency gain – due to the Canadian Dollar's advance against the Euro, Yen and US Dollar, driven by resurgent base metal and energy markets.
Still, the Brazilian Real's 25% gain against the US Dollar leads the commodity bloc currencies, while the Chinese Yuan has gone nowhere, locked by Beijing at a fixed rate of 6.84 per US Dollar.
Roughly 45% of Canada's gross domestic product (GDP) is linked to foreign trade, and 77% of its exports are sold to the United States. Each day, more than US$1 billion worth of goods crosses the US-Canadian border. So it's not surprising that the Toronto Stock Index (TSX) usually moves in the same direction as the Dow Jones Industrials, most of the time. However, the TSX outperforms when commodities are rising, which in turn, pushes up the Canadian Dollar – also known as the Loonie, after the common loon bird that's shown the reverse of Canada's coinage.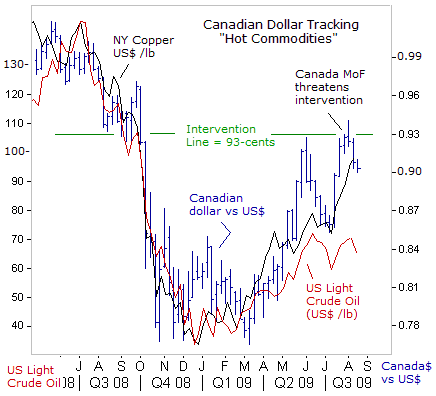 Because Canada holds the second largest oil reserves in the world, foreign capital inflows into and out of TSX energy companies are key drivers moving the Canadian Petro-Dollar.
Output from Alberta's oil sands region, the largest crude reserves outside the Middle East, will rise to 3 million barrels-per-day (bpd) by 2018, more than doubling over the next nine years from about 1.3 mbpd last year.
Canada has roughly 180 billion barrels of oil reserves, with all but six billion barrels locked in Alberta's oil sands, a mixture of sand, water, clay and bitumen that's too heavy to use without being heated. Oil must be priced at $65 a barrel for new oil sands projects to be viable, according to the Canadian Assoc of Petroleum Producers. Petro-Canada and Suncor Energy have joined forces to create Canada's biggest oil company, a merger expected to save C$1-billion a year in capital costs and C$300 million annually in operating expenses.
But Canada also controls huge resources in iron ore, nickel, copper, zinc, Gold, lead, silver, timber, fish, coal, petroleum, natural gas, and diamonds. Ironically, Canada's minerals industry, including smelting and refining, only contributes about 4% to Canada's GDP, yet lately, it's the direction of base metals, especially copper, that's increasingly influencing the direction of the Canadian Dollar, subtlety dethroning crude oil, as the Loonie's key lynchpin.
Canada is the third largest copper producer in the world, after Chile and the USA. It is also the world's largest zinc and second largest nickel and lead producer. A small number of producers, including Noranda, Inco, Falconbridge, Teck Cominco, Boliden and Hudson Bay Mining, dominate base metal mining in Canada. Inco, owned by Brazil's Vale, supplies a quarter of the world's nickel, and also produces copper, Gold and cobalt. Falconbridge and Noranda, owned by Xstrata Mining, mine nickel and copper at the world class deposits at Sudbury, Raglan and Kidds Creek.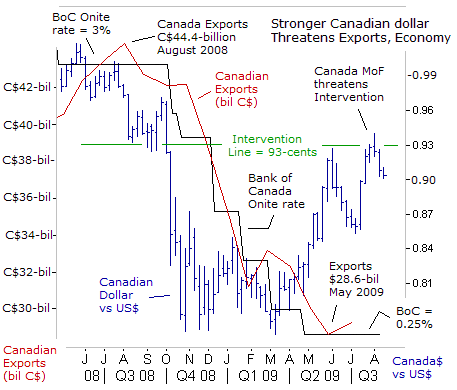 Over the past decade, Canada has also emerged as one of the leading nations in the high-tech and computer industry, mostly located in Ontario and Quebec. There is also a large industrial base which includes companies that produce pharmaceuticals, aerospace products, and telecommunications equipment.
About half of all Canadian manufactured goods are produced in Ontario, second only to Michigan, as the largest producer of automobiles and car parts in North America. So while capital flows into base metal miners and oil company shares, helping lift the Canadian Dollar 20% higher, the larger population of Canadian exporters – the backbone of the economy – are hard hit by a stronger Loonie, since they receive most of their sales revenue in US Dollars. Canadian exports rebounded only slightly to C$29.3-billion in June, standing 36% lower than a year earlier.
The Canadian central bank thinks the Loonie has run ahead of the trade weighted fundamentals. On August 4th Canada's finance minister, Jim Flaherty, raised the possibility of central bank sales of Loonies – the first since 1998 – if the Loonie's sharp rise puts the fragile economic recovery at risk.
"We are concerned with any rapid changes in the valuation of the Canadian currency vis a vis the US-currency. We watch that. There are some steps that could be taken to dampen that. There are, from time to time, indications of some speculation in the Canadian currency that is not justified in market terms."
Flaherty's warning blocked the Loonie's advance at US94 cents.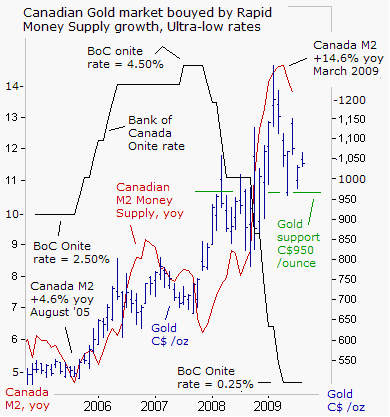 Last month, Bank of Canada (BoC) chief Mark Carney hinted at stronger action if the Canadian Dollar remained persistently higher than US87 cents, projected in the central bank's quarterly report.
The BoC retains "considerable flexibility in this regard, and will use that flexibility if necessary," he warned. The central bank has already slashed its overnight loan rate to a razor-thin 0.25%, and could resort to experimenting with the hallucinogenic drug of Quantitative Easing – the printing of vast quantities of Loonies, in order to buy government bonds.
The fact the BoC could choose to engage in a combination of quantitative easing plus sales of Canadian Dollars has in turn put a floor under the gold market in Toronto, holding it near C$950 an ounce. Interestingly enough, the threat of intervention has also provided a temporary lifeline to the ailing US Dollar, which is crippled by massive budget deficits for years to come, as well as nearly $1.75 trillion of quantitative easing injections by the Fed.
Thus, the Fed and the BoC are playing the old familiar game of competitive currency devaluation, where the appreciating currency is the least ugly. And although the base metals have captured the attention of "hot money" traders in recent months, one should not overlook the hibernating Toronto gold market.
The explosive growth of the Canadian M2 money supply, combined with an ultra-low Bank of Canada loan rate through mid-2010 of 0.25%, the possibility of unsterilized currency intervention, and quantitative easing injections, provide reasons for Canadian traders to Buy Gold on dips near support at C$950 an ounce in the weeks ahead.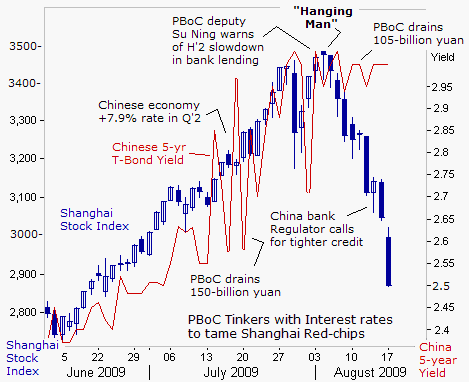 Trading in the Canadian Dollar could become more hazardous if China's central bank (PBoC) continues to issue more T-bills and restrains banks from lending recklessly.
Beijing has guided the 5-year T-Bond yield about 65-basis points higher since early June, to the psychological 3% level, and is warning of a slowdown in bank lending in the second half of the year. In doing so, Beijing has sliced 600-points off the Shanghai red-chip market over the past two weeks!
For speculators in base metals and crude oil, it's hard to believe that the PBoC would prick the Shanghai bubble, after working so tirelessly to re-inflate it. Chinese banks opened the flood gates this year, and are taking on more credit risk. China's chief banking regulator Liu Mingkang said at a closed-door meeting in Tianjiin in April that the maximum Chinese banks should lend out a year is 6 trillion Yuan ($878 billion), anything above that would be deemed as risky. During the first seven months alone, they lent out a whopping 7.7 trillion Yuan ($1.2 trillion).
On August 14th, Mingkang urged the country's top banks to closely monitor the flow of capital to prevent credit risk. New loans plunged to 356 billion Yuan ($52bn), less than a quarter of June's level. "We should be clear-headed that the current situation remains very grim," Liu warned. China Construction Bank, the nation's second-largest bank, also agreed to cut new lending by 70% in the second half to avert a surge in bad debt, President Zhang Jianguo said last week.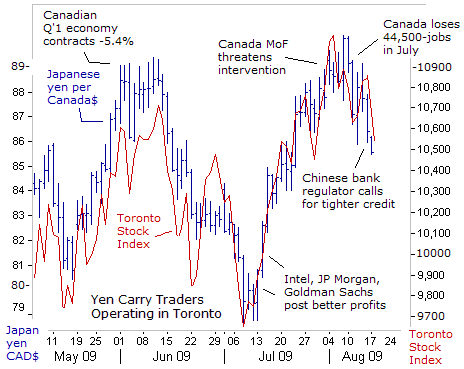 Of course, opinions in the schizophrenic currency and global stock markets can suddenly turn on a dime. After a doubling of the Chinese red-chip index, any unexpected bad news or signs of a deflating bubble can quickly trigger havoc in equity markets throughout Asia, rattle base metal miners and commodities worldwide, and in turn, trigger knee-jerk sales of Canadian Dollars.
Yen carry-traders operating in Toronto keep a close eye on commodity markets, and have perhaps noticed the appearance of a "Hanging Man" candlestick pattern – an important reversal top pattern – in the Shanghai index on August 4th.
Canadian Ministry of Finance chief Flaherty's threat to sell Loonies on August 5th blocked the Canadian Dollar's advance at ¥90. News that the Canadian economy lost 44,500 jobs in July, with the jobless rate stuck at an 11-year high of 8.6%, helped to knock the Canuck buck towards ¥85.50. The next shoe to drop was the TSX stock index.
Looking to Buy Gold today? Find out how to slash your costs with the maximum security at BullionVault...