Junior Gold: Caveat Emptor
Wednesday, 4/08/2009 10:42
The why's & wherefore's of picking junior gold-miner stocks...
EVERY SO OFTEN, you'll read that junior gold miners are where it's at for Gold Investment, writes Julian Murdoch for Hard Assets Investor.
The theory is simple: So-called "junior minors" – meaning mostly younger companies still in the exploration and discovery phase of developing gold mines – will either strike it rich on their own or become an attractive acquisition target for the majors.
But what exactly are these junior Gold Mining companies? And how do you tell the real deal from the fly-by-night operations?
It's a critically important question in this space. Because if you're not careful, you can end up acting like a newbie at a horse race – placing your bets based on the name of the horse or the flash of the jockey's colors.
First off, what exactly qualifies a company as a junior gold miner? Some analysts say that any company that's not part of the Philadelphia Gold and Silver Sector Index (XAU) or the Amex Gold BUGS Index (HUI) should be considered a junior. A more descriptive definition takes into account the resources a company holds, how far it is from actual metal production, or how much it has produced in the last few years.
That is to say, it's all a matter of opinion.
Where can you find these junior miners? Well, there are many analysts and gold sites out there ready and willing to take your $35 a month to send you a newsletter and tell you which relatively unknown gold companies you should be watching. Alternatively, you could just take a look at the Toronto Stock Exchange.
Toronto's Junior Gold Miners
As of the end of 2008, the Toronto Stock Exchange and TSX Venture Exchange had 1,427 mining issuers listed between them – 356 on TSX and 1,071 on TSXV.
Those 1,071 companies listed on TSXV are broken into categories such as mining, mining (non-oil and gas), mineral exploration/development, gold mining, etc. For our purposes, "junior gold miners" can (and do) fall into any and all of these descriptions – so this list is merely a starting place if you're looking for new and unusual opportunities.
The TSXV tends to have early-stage, small-cap companies; we're talking small small. Forty-five percent of the mining companies on TSXV had market caps between $1 million and $5 million as of December 31, 2008. Only 1% had market caps of $100 million or more.
For our purposes, the exchange is aptly named. As an investor in a junior gold miner, you are mainly acting as a venture capitalist – supplying money to keep the company searching for the next big find, enabling them to continue test drilling, or perhaps even funding the beginnings of mining operations. Getting in this early can have some advantages over big-ticket investing:
Many times juniors are cheap, especially now after the market has taken such large hits;
Ask a penny stock investor – when it works, the pops can be huge;
Pick the right horse and your shares could end up being worth a lot when one of the majors comes looking for gold resources. Mergers and acquisitions may be a more attractive way for big gold to add reserves than investing the time and resources to develop new projects themselves. Junior mining buyouts can and do happen.
There are more reasons not to invest in juniors, however:
Ask any penny stock investor: Just because a stock is cheap, that doesn't mean it can't go to zero.
Gold companies can fold in no time, for many reasons – lack of funding, test drills coming up empty, etc. These are small, risky bets;
With no proven track record, it can be difficult to evaluate new companies in the market;
If the company has no proven reserves, chances are high that its explorations may not pan out.
So how do you separate the wheat from the chaff?
The first rule is caveat emptor. In this day and age, a fancy web site does not mean a successful junior miner; it just means that a miner hired a good PR firm and web designer. As an investor, your job is to go beyond the web site to find out what is really going on at the company.
The prevailing wisdom is that the location of the Gold Mining properties, particularly the political stability of the region, as well as the level of gold reserves in the ground, are key indicators to look at if you are investing in a company for the long haul. But this is not fire-and-forget investing; this is making-phone-calls investing, and you have to stay involved if you want your investment to pan out.
Surveying Junior Gold Miners
To get a feel for the different types of companies in the sector, I picked a few nearly at random to look at. Let me be clear that I do not own these companies [nor does anyone here at Gold News or BullionVault, either]. So let's pretend that the lawyers inserted their favorite boilerplate disclaimer about risk, due diligence and all the rest here, and we'll proceed.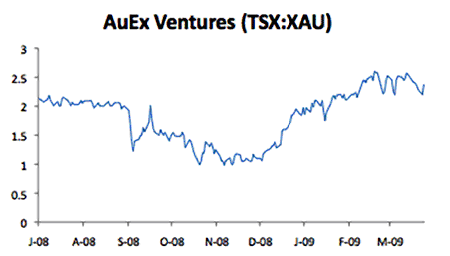 Let's start with a really simple one – a classic small miner with some prospects and some results – AuEx Ventures.
This company has interests in 21 exploration projects – about half 100% owned, and half in joint venture or "exploration earn-in", where the mining company works on developing the land and has an option to buy into the mineral rights if development work is successful.
With a steady stream of market-friendly press releases detailing test-drill results and successful private funding, the market seems to see AuEx as well positioned to take advantage of discoveries as they come along.
With its stock trading in the low-to-mid $2 range, you can really see the effect that news has on stock price. From March 2 to March 12, the daily stock price swung from down 10% to up 11% – with many bumps in between.
You may also notice that the data for the chart above only goes back to July of 2008. The company was originally listed on the TSXV and did its initial public offering back in June of 2005. In July of 2008, AuEx Ventures entered the big time, transitioning from TSXV to TSX. In other words, this is the success story.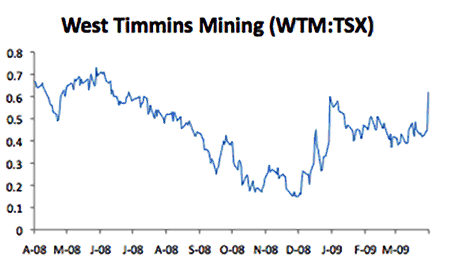 If you've ever wondered how powerful a press release can be, take a look at West Timmins Mining stock performance on March 31 – the last day on the chart above.
That's when West Timmins Mining reported positive news from the test drilling at its Thunder Creek joint venture with Lake Shore Gold in Ontario. The stock jumped 38% with 1.8 million shares traded.
One-point-eight-million shares may be no big deal for some of the big Gold Mining firms, but for West Timmins Mining, it's a record-breaking day. The previous day only saw 116,000 shares trade hands, and the day before that, a measly 15,700 were traded.
Note however that the big jump on March 31 only took shares in the company back to where they used to be a year ago. In fact, as of 1:00 p.m. on April Fool's Day, West Timmins Mining was trading around 68 cents a share, up 1.5% over year-ago levels.
The Gold Price is up around 4% for the same time period. Where's that infamous leverage?
All told, this is a pretty classic pattern for small speculative Gold Mining stocks, and indicative of a lot of the action in the junior golds. Up, down, up, down, up, down...with a focus on volatility.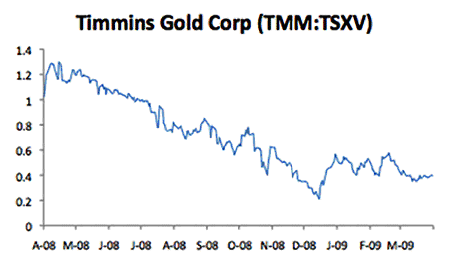 Not to be confused with West Timmins Mining, Timmins Gold Corp is a company that is focused on gold mine development and exploration in Mexico. The name confusion is also very typical – many of the juniors have similar names, connected to locations or mines.
This company is at a more advanced stage than the previous two companies. It recently announced various funding deals, and according to its Web site, is expecting to be producing gold out of its San Francisco mine in Sonora, Mexico, sometime during 2009.
Timmins Gold Corp. is also somewhat typical in how it has raised money over the years. Throughout 2008, Timmins was raising money through a series of private placements – 5 million here, 10 million there. Each of these is dilutive of course, and that new privately placed stock eventually ends up in the marketplace. This need for continuous funding can put significant gravity into a stock, even if things start going well.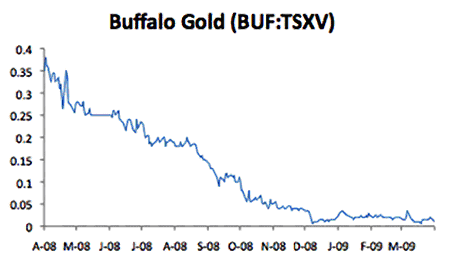 One word: Ouch.
Buffalo Gold is truly living in the land of the penny stocks, currently trading around $0.01. It offers an object lesson in how the ecosystem of gold juniors works.
Because this isn't a company that did anything horribly wrong, per se. Rather, they simply didn't strike it big fast enough to pay back investors. As a consequence, they've been forced to shrink their way to survival, selling off what projects they did have under way, taking partnership investments that dilute the stock.
It's not actually failure; it's survival. Which doesn't make you feel much better as an investor if you bought it at 35 cents and rode it down to, effectively, zero.
Junior Gold Miners: The Bigger Picture
With those archetypes in mind, let's look at the juniors as a sector – or at least, as much as we can.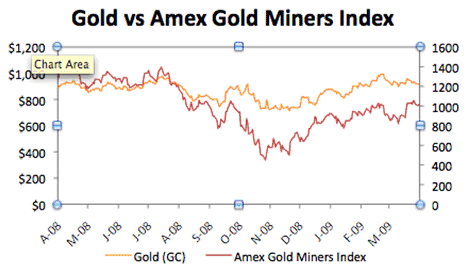 This chart may look familiar. We often compare the price of Gold Bullion to the performance of Gold Mining stocks. It shows what you'd expect of the relationship right now between gold and the picks and shovels that dig it.
But how in particular do our two (still-viable) small-cap junior golds detailed above compare with the metal...?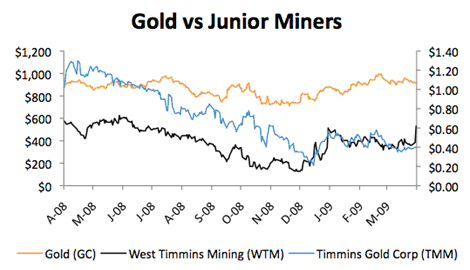 See the relationship? That's right, there is no relationship.
But then again, it's not that surprising. Most of these junior companies are in the business of exploring and finding gold – not necessarily pulling the shiny stuff out of the ground and managing its exposure to the market.
Junior gold miners may have gold production as their corporate goal in the next few years, but right now, their operations have very little to do with the actual price of gold, today.
In other words, high Gold Prices don't necessarily have a direct impact on the companies in the near term. It may make it easier for them to interest investors in the company or get loans from the banks, but until they pull gold from the ground, they don't directly profit from gold's price.
This is why investing in junior gold miners is so different from investing in the majors (well, that and the whole "going to zero" risk). Major gold companies like Barrick Gold and Newmont are exposed to the market movements of gold almost on a daily basis, because they physically own the gold and sell it to actual buyers on the open market.
In a market where inflection is everything, junior gold miners should be considered "Junior Miners" first and foremost. The "Gold" part is the dream.