JGB Sell-Off Caps Gold Rally
Thursday, 8/11/2016 14:35
Falling and negative bond yields 1 of 3 key planks in 2016 rally...
AS 2015
came to a close, most traders expected that 2016 would be a year dominated by a series of Fed rate hikes,
writes Gary Dorsch at Global Money Trends.
That conviction solidified in late-December 2015 after the Fed delivered on its promise – and raised interest rates for the first time in almost a decade.
In a widely telegraphed publication called the "Dots Plot", the Fed signaled that it would continue to normalize its monetary policy, and raise interest rates by a total of +1% thru 2016 to a target of 1.375%, a "gradual" pace and in line with previous projections.
On 21 December 2015 the Atlanta Fed chief Dennis Lockhart said "Moving up gradually means not at every meeting, in all likelihood," in an interview on WABE radio in Atlanta.
The more probable pace of upcoming hikes "will be more like every other meeting," Lockhart said, adding that he did not expect the turn toward higher rates to "snuff out" economic growth.
On 4 January 2016, San Francisco Fed chief John Williams said he saw a steady campaign of interest rate rises. "There are still pretty significant headwinds" facing the US economy from weak overseas economies, the strong Dollar and housing related issues, Mr.Williams told reporters. The most likely outlook for the nation means the Fed should "still have a foot on the gas in 2016" with low interest rates, he said. But it should also be "progressively taking it back" with a gradual course of rate rises.
When it comes to short-term rate increases, "I could easily see it be three or five or more or less depending" on what happens with the economy, said Williams.
On 6 January, Fed deputy Stanley Fischer warned the markets could expect three to four increases in the Fed funds rate this year. Speaking on CNBC television Fischer warned:
"If asset prices across the economy – that is, taking all financial markets into account – are thought to be excessively high, raising the interest rate may be the appropriate step."
Based on expectations of 4-Fed rate hikes to 1.375% by year's end, gold initially declined in the month of December to a six year low at $1054 per ounce. Most analysts on Wall Street figured the declines would continue thru 2016. However, as fate would have it, they were decidedly wrong.
Even though inflation – considered a cornerstone to gold's popularity – remained in check throughout much of the developed world, the price of gold suddenly surged 16% higher in the first quarter alone. It was the strongest quarterly performance in nearly three decades.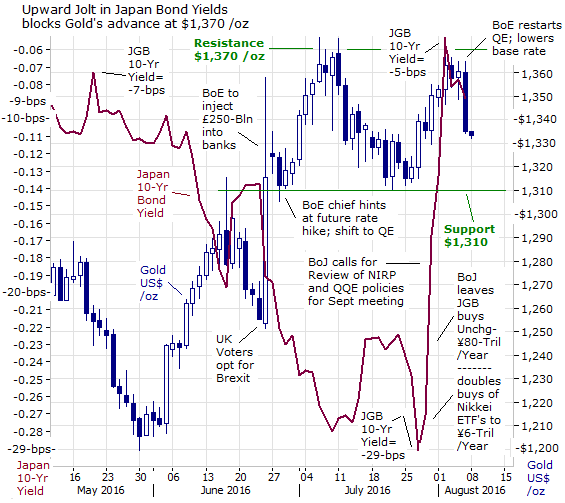 The World Gold Council attributed this rally to three principal factors:
the widening landscape of negative interest rates in Japan and Europe;
the devaluation of China's Yuan; and
the realization that the Fed was bluffing on hiking the Fed funds rate, and wouldn't dare take any action that could knock the stock market lower ahead of the upcoming November elections in the US for Congress and the Presidency.
As such, by June 2016, all of Switzerland's government debt, including its 30-year bonds, started trading at negative yields.
In all, a record US$11.7 trillion of global sovereign debt has dipped to sub-zero yield territory. This has only strengthened the rally in gold, and about $13-14 billion of money has made its way into gold exchange-traded funds (ETFs) as asset managers moved from fixed income into gold earlier this year.
The world's largest gold-backed exchange-traded fund, SPDR Gold Shares (NYSEArca:GLD), surged in its holdings to the most in six years, jumping to 983 tonnes, and global gold holdings in ETFs topped 2,000 metric tonnes for the first time since June 2013 following the Brexit fallout, when gold buying sparked even more gold buying.
Gold climbed to a two-year high at $1371 per ounce in July, convincing UBS Group to predict that gold is probably at the beginning of its next bull run. On June 30th, Bank of England chief Mark Carney said the economic risks from Brexit had started to crystallize, and he hinted at a resumption of QE, lifting gold to its biggest one-day surge in years after Britons shocked markets by voting to leave the European Union, driving investors toward safe-haven assets such as bullion. The gold price in sterling jumped 20% to more than £1,000 per ounce.
Now the 2016 gold bulls have bought enough equity-style gold in ETFs that these vehicles hold more than all but 4 nations' central banks and one global agency.
However, gold's spectacular rally found a stiff roadblock at the $1370 per ounce area when Japanese government bonds suddenly began to fall sharply into their worst sell-off in 13 years. On August 2nd the Bank of Japan shocked the markets and rattled gold traders by keeping its bond purchases steady, defying expectations it would buy even more.
Gold traders became even more nervous after the BoJ said it would re-evaluate its Negative Interest Rate and QQE policies in September. Some investors see the policy review as a tacit admission by the central bank that after more than three years of massive money printing, the BoJ could be ready to start tapering the pace of the QQE liquidity injections.
With an interest cut seen as off the table, shorter-term Japanese interest rates surged 20 basis-points higher as debt prices fell. The 10-year Japanese bond yield also jumped 20 bps higher; to its highest since mid-March and up 26 bps from a record low of minus 0.38% less than a week before.
Traders have begun to wonder if the BoJ's 'whatever it takes' has played out. If the BoJ moves to a policy of buying stock indexes, and begins reduce its purchases of JGB's, markets will interpret it as tapering. If that happens, the 10-year JGB yield could move upward into the positive territory.
Since the $10.4 trillion bond market in Tokyo is at the epicenter of the the negative interest rate world, if the BoJ begins to allow Japanese bond yields to climb by tapering its QE scheme, it could continue to rattle the price of gold – at least on a short-term basis. BoJ policy makers ordered staff to make a "comprehensive assessment" on the impact of its easing program and negative interest-rate policy ahead of the next policy-setting meeting on 20-21 September. Some traders suspect the review is aimed specifically at assessing the effectiveness of negative rates, potentially giving policy makers scope to declare the exercise unsuccessful.
On the other hand, policy makers may be looking for a broader assessment of their options, which could revive the discussion about helicopter money.