Japan's Inflation: Over Already?
Thursday, 8/06/2015 18:42
Deflation looms on machine tools makers' panic 'blow out' sales lists...
LET'S
begin with this message I got from a former associate (from my previous life as a manufacturer),
writes Gary Tanashian in his Notes from the Rabbit Hole...
"Just an update for you, some disturbing news has leaked out this week. Machine tool builders have put out blow out [lists] to all sales persons in the USA, not sure if world wide. Mori Seiki list has 600 to 700 machines on it WOW!!! never have i heard of such a huge list by any one Builder. Not sure what they see coming but it can't be good."
My comment?
"Mori is a big builder and when the big builders start blowing out it goes right down the food chain."
Concurrent with this NFTRH had been watching machine-tool builder Fanuc ever since projecting its upside in Q4 2014 (due to the Bank of Japan's Yen eroding monetary policy that would help exporters).
We watched Fanuc in particular because it has been getting hyped (on robotics) by certain suits (ie, financial types) who have probably never set foot on a manufacturing floor in their lives, let alone operated a machine tool. But also, I know first hand that Fanuc is a quality builder and I like a good and progressive company as much as the next guy.
When Fanuc was getting a hype bid we noted in NFTRH that it would need to come down and test support for a new buying opportunity to come about. But that was before the grim news shared by my contact in the industry.
Here is the current weekly chart of Fanuc for reference.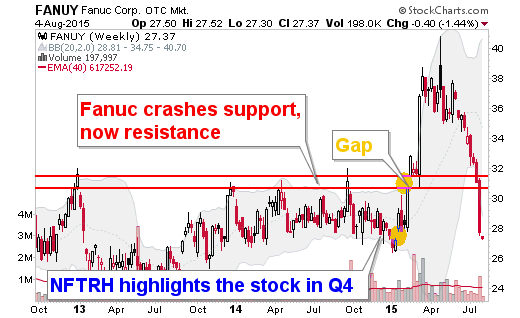 The Yen must be rising, right? Why else would large Japanese machine tool builders be blowing out inventory?
Well, not so much according to the daily chart of the Yen. There is nothing actionable here as a bullish indicator. It does not mean the Yen cannot rise, but this chart shows nothing in price or momentum that would indicate it (here I will note that we have been following an interesting 'USD historical' map for the Yen that calls for a rise in the Yen in and around this time). But, usually historicals and a buck 60 will get you a cup of coffee.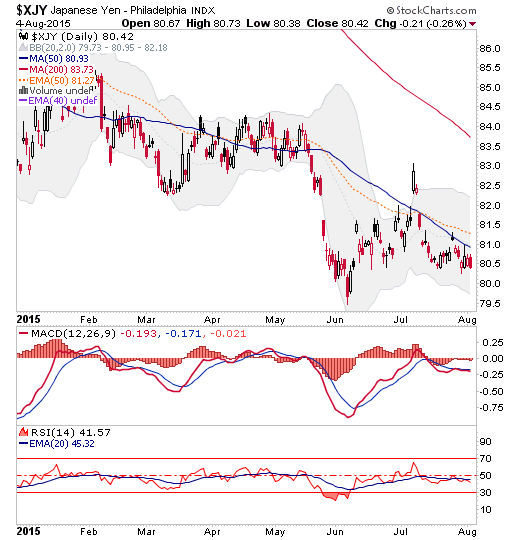 Meanwhile, the Japan 'currency hedged' fund DXJ must be bullish, right? Well, not until it crosses the 50-day moving averages with a higher high to July's high. Short of that, it is rolling over.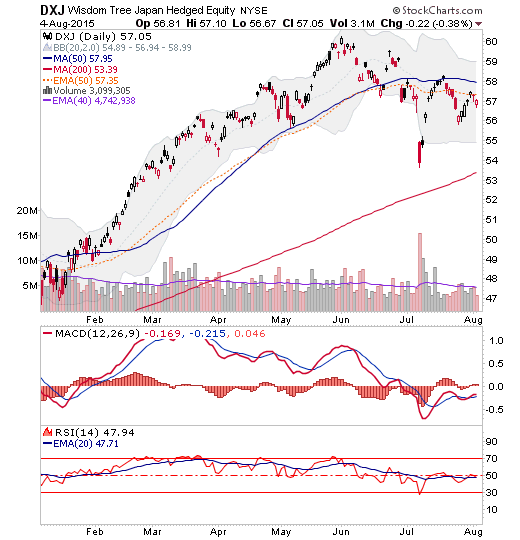 So the question is, if Japan's primary industrial export sector (Machine Tools) is blowing out inventory at all costs (and again, in my multi-decade experience, when the builders blow 'em out they blow 'em out at a loss if needed with the only objective being 'get this **** off the floor!) and the Yen is still weak, is the inflation starting to fail?
If the Yen were to catch a bid it would likely be on short-covering and a flight to liquidity if the Japanese economy starts to roll over, despite the currently weak Yen. That would match well with a bounce in the USD 'historical' Yen noted above.
Regardless, either Yen is going to continue weak and Japanese business and market activity will rebound or the inflation of the Yen, so well ingrained into the mindsets of market participants the world over, is going to fail; at least temporarily. I cannot imagine a scenario where that could be seen as positive in any way for the world economy.
Because the inflation rate is dropping...despite increasing money supply...and while exports were okay in June, we must be looking forward (ref. the Mori Seiki 'whisper' news and Fanuc results above).
Japan's GDP has been weakening and unlike the US, this is not a 'consumer economy'. Thus, a firmer Yen would not stimulate consumption the way a strong US Dollar does in the US.