Italy Votes, Bank Stocks Threatened
Tuesday, 11/29/2016 09:03
Anti-establishment fever sweeps into Italy...
AFTER Brexit and Donald Trump, investors are focusing on Italy, as they position themselves ahead of what could be the latest political event to rattle markets and upend politics, writes Gary Dorsch at Global Money Trends.
Italy's prime minister Matteo Renzi has called for a referendum, to be held on December 4th, that if approved would curb the powers of the Senate and bring greater stability to a political system that has seen 63 different governments since World War II.
However, Renzi has promised to quit if he loses, and so the vote has turned into a referendum on his premiership for many Italians, just as his personal popularity is declining.
"I'm not capable of staying in the swamp," Renzi said in an interview on state-owned RAI television on Sunday evening. "You stay in power as long as you can change things."
The premier stopped short of saying explicitly he would quit if he loses, saying: "Politics isn't the only thing that counts in life."
If the Dec. 4 referendum in Italy is rejected, it has the potential to send the country's bank shares tumbling, push bond yields up and further weakening the Euro. The referendum is "setting the tone for 2017" on the political and investment climate in Italy and across Europe.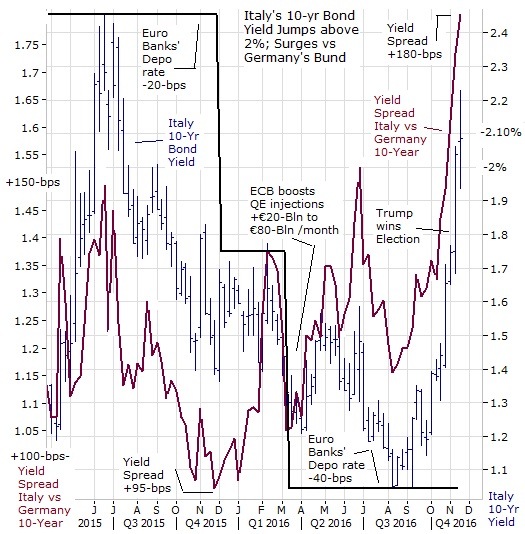 Recent polls put the "no" vote +6% ahead, on average, with more than 20% undecided. That has unnerved investors, who worry about political instability in a country that is one of Europe's most indebted, still grappling with battered banks, years of economic stagnation and increasing Euro-skeptic sentiment.
"If a 'no' vote wins, everything remains as it is," Mr.Renzi said in a radio interview this past week. "In this way, Italy will remain a system that favors instability and backdoor dealings." If the prime minister – considered one of Europe's most reform-minded leaders – steps down, the most likely outcome is the establishment of a caretaker government.
But that could also bring forward parliamentary elections now slated for 2018. At the forefront of the "No" campaign is Five Star. Founded as a maverick web-based movement in 2009, the party has risen to become one of European Union's biggest insurgent forces.
Echoing the anti-EU stand of populist parties like France's National Front, it wants a referendum on Italy's membership in the Euro currency. With 5-Star polling at about 30%, it has a chance at leading a new government. The party's economic platforms include renegotiating Italy's debt and calling a nonbinding referendum on the Euro, issues that would destabilize the region as a whole.
If the 5 Star Movement came to power and called a referendum on the Euro, the Stoxx Europe 600 index could fall as much as -20%, Deutsche Bank estimates. Referendum jitters have already unnerved Italy's government-bond market, the fifth largest in the world. While bonds globally have sold off since the US-election, Italy has been among the steepest decliners, with the yield on the 10-year note topping 2% for the first time in more than a year, on track for its worst month since 2012, and the yield on the 50-year Italian bond rising as high as around 3.5% this past week from around 2.9% in mid-October.
The spread between Italy's and benchmark German 10-year Bund yields has widened to around +180-basis points, near the highest in two years. The annual cost of insuring against a default on $10 million of Italian debt for five years using credit-default swaps rose to about $170,000 this week from $97,000 at the start of the year.
Most investors expect a further sell-off in Italian bonds and a knock-on effect on stocks if the referendum is defeated. That political stress could also further weigh on the Euro, which has fallen steadily against the Dollar for 10 straight sessions – its worst losing streak on record, to below $1.0700.
With the populists' efforts to topple Prime Minister Matteo Renzi gaining traction, and Five Star running neck-and-neck with Renzi's Democratic Party in polls and having already seized control of city halls in Rome and Turin this year, -investors are taking Five Star much more seriously and are beginning to fear the anti-establishment wave of Brexit and Trump might also sweep up Italy.