Bad Leaders Send Investors Running for Cover
Monday, 9/26/2011 10:21
Europe's leaders are slow – while America's are downright awful...
THE WHOLE WORLD is running for cover – and mostly into US Dollars, notes Gene Arensberg's GotGoldReport.
Pick an asset – there are many more sellers than buyers. Worse, some of the sellers literally have to sell, or they are being liquidated by margin clerks into a weak or almost no bid situation. Everywhere across the landscape from horizon to horizon is bad and worsening news to reinforce the already-factored-and-priced-in fear shown in the markets.
Inevitable Greek default looms; big bank dominoes are lined up across the pond and some are leaning precariously if we can use their stock prices as a guide. Europe has a gaping head wound but European leaders seem to want to apply a tourniquet around the neck of the banks to "cure" them, while blaming everything except the root cause of the problem – which is that governments have overspent themselves into insolvency and used or set up the very banks they are now throttling, to carry and finance their socialist 'water.'
The "social model" of government is an infection, a colossal blood-sucking, self-perpetuating malignant disease, sapping the life out of the people it purports to serve.
We cannot yet see how, but we have to believe that soon, very soon now, the European leadership is going to stumble into the realization that the problems they face today can no longer be swept under a giant rug of collective denial. They, like the 'leaders' here in the US, are being forced by the markets into concluding that the old ways of solving this current debt-based crisis of confidence – with ever more debt – will not work much longer. And, as we have seen, markets move much faster than bureaucrats can react in a crisis.
Meanwhile, the poisonous atmosphere in Congress and a now "twisted" Federal Reserve (Operation Twist with an MBS kicker) have delivered yet another scare in the investor confidence 'theater' on this side of the Atlantic, even if most traders and investors do not understand why. All they know is two things generally. The Fed is going to attempt to drive already historically low interest rates even lower and that must mean the Fed governors don't like what they see in the tea leaves. Secondly, the Fed itself used the word "significant" to describe the risks to the downside. Yikes! Run, run for the exits, fire, fire, fire!
And run people did! Using our best, clearest indicator, the S&P 500, we see that the Big Markets are once again challenging the August lows. So far those lows have held, but we actually expect them to give way – a little.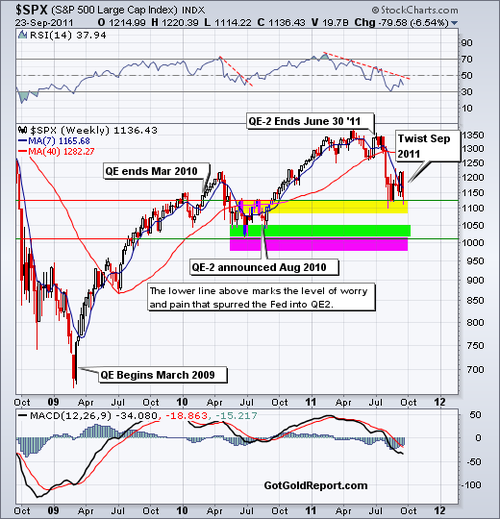 (S&P 500, 3-year, weekly)
If the current formation looks familiar it should. It is similar to the frightening downturn last year that led the Fed to implement QE2. Except that this year's example looks more akin to a "bear flag" pattern than the inverted head and shoulders example of last year – so far. Whatever pattern one chooses to "see," the August low of near 1,100 is ground zero for technical-minded market watchers just ahead. If 1,100 gives way and is not immediately (in the same week) corrected, that sets up a test of the 2010 lows around 10% lower.
And then? Well, if the S&P were to take out 1,000 some support might be found near 950, but by then perhaps there would be enough political will on both sides of the Congressional aisle to support a new version of QE. Frankly, we don't want to go there if we can avoid it, but after 950 lies the abyss, a likely re-test of the March 2009 lows again.
How is it that we are now in the midst of a continuing revolving crisis here in the US instead of the amazingly resilient American economic engine reviving as it should following a collapse? The reasons are many, but one of the most apparent to anyone who is sentient and intellectually honest is a huge error by the electorate in 2008.
We Americans elected a community organizer with an attitude when we needed a rock-solid, business-savvy, crisis-fighting, confidence-inspiring governor or the equivalent. We Americans elected Jimmy Carter under similar "anyone-but-the-same-party" circumstances and paid dearly for that error. However well intentioned, Carter was horrible for business confidence and American pride. (Ditto today.) Carter confused and backstabbed both opponents and supporters. He succeeded in alienating both. (Ditto today.)
Everyone can reach their own political conclusions, but as far as we are concerned, if Carter is/was our past measure of "bad" in the leadership department, the Washington Crew we have in place today is much, much worse – exponentially so. The chief executive is in way over his head and the world suspects as much.
The current US administration could, that's could, have risen to the challenge it faced in 2009 with policies that would have actually helped a beaten up and scared private sector. The Obama-Crew could have seen the wisdom of the first rule of medicine – first do no harm – and saved the mind numbingly confusing and frightening gigantic, super-costly changes of 'Obamacare' and Dodd-Frank for later, when the economy and the housing industry were once again on a sound footing.
Instead, not wanting to let a crisis go to waste, a way-left-of-center, business-hostile collection of pols went for the social jugular vein, ramming and jamming their 'social model' ideology through, punishing, over regulating, confusing and badgering the very class of people that had any chance of creating enough jobs to matter – entrepreneurs.
We elected a left-of-center ideologue with a social agenda completely out of step with the changing, challenging times. We elected an opportunistic man willing to take advantage of hardship and crisis for the benefit of just some of the American people (the political and government-connected class), punishing, taxing and ridiculing all the rest.
The Big Markets are our best measure of collective confidence on the planet and they are speaking to us now as they always do. We believe the Big Markets are attempting to discount the headlines of early next year right now and what the market sees must be grim. There can be little doubt of it now.
We are indeed paying the price for a very sorry collective "anyone-but-Bush" election error – Big Time. Unfortunately, only under very rare exceptions are there ever any "do-overs" in the election game. There is only time to be marked and endured between them.
Unfortunately once confidence is mistreated and lost it takes a great deal of change and often a good measure of heartache before our innate American optimism reasserts itself. Rest assured it will though. It always has.
Having said that, this is late September. It won't be long now before markets everywhere will begin to discount something entirely different than early next year. It won't be all that long now before the markets will have already factored in the worst case scenarios the current Crew in charge can do (and have already done to us) – we sincerely hope so, at least. Meanwhile great crisis, fear and panic equals tremendous opportunity for investors with ice water in their veins.
Looking to Buy Gold today? Get the safest gold at the lowest prices at BullionVault...