Why Gold is STILL Under Owned
Tuesday, 8/30/2011 09:50
Institutional investors remain stuck in previous bull markets...
EACH YEAR since 2002, Gallup pollsters have asked 1,000 or so Americans what they believe is the best long-term investment.
This year, for the first time, gold was added to the list of possibilities... along with more "conventional" assets like stocks, bonds, bank CDs and real estate, writes Addison Wiggin for the Daily Reckoning.
This year, gold assumed the top spot:

Not a majority, to be sure, but a convincing plurality.
Even more noteworthy was the demographic breakdown. Gold tops all political affiliations, income levels, age cohorts and genders: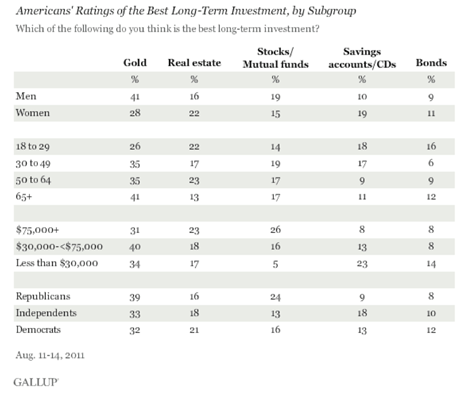 The age progression is what caught colleague Byron King's eye. "Age is correlative," he says. "Baby boomers are turning into gold bugs," and so is Generation X. The older Silent Generation? "They're already there."
Meanwhile, real estate is waaaaay out of favor. So much for "buying as much house as you can afford," as many old-timers were thought to have believed until yesterday.
On any ordinary day, we might be inclined to view the Gallup poll with suspicion...even derision. Even the pollster seemed skeptical of the results: "That one in three Americans see gold as the best long-term investment," said Gallup chief economist Dennis Jacobe, "may indicate a bubble in the value of this precious metal."
But the numbers might well have been skewed by when the poll was taken. Stocks had just reached 11-month lows, while gold had been on an almost nonstop run-up for seven weeks, from $1,500 to $1,750.
Gallup's website doesn't post the results from previous years, but somehow we suspect Mr. Jacobe was not saying the same thing about real estate in 2006...nor would he have of tech stocks in 1999, were there a survey taken that year.
Perhaps the most compelling argument from the polling data to refute the "bubble" argument: the breakdown by income. The middle class sees gold as the best long-term investment by a far wider margin than those polled with higher incomes.
How many people living on middle-class incomes have actually bought gold?
The pollsters didn't follow up...but our scientific wild-ass guess is "not much." Folks with incomes of $30,000-75,000 aren't responsible for pushing gold into record territory this month.
The conventional "smart money" is still investing in the last bull market...and, comparatively, loaded up on equities, and even real estate. Worldwide, the percentage of financial assets comprising gold bullion, ETFs and mining stocks is minuscule: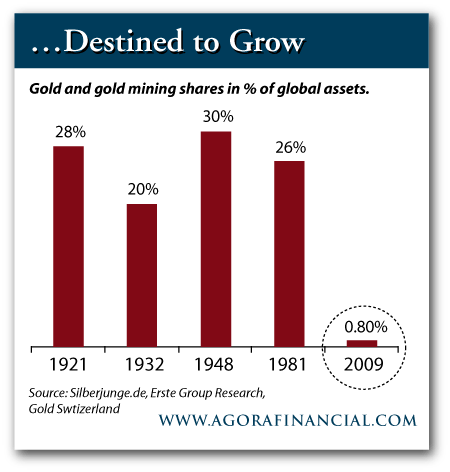 That tiny bar on the right doesn't even begin to approach those previous peak levels until institutional investors get back in the gold game.
"Expectations of dramatic monetary easing in Europe and more QE from the Fed will keep a strong bid under Gold Prices," our friend and short strategist, Dan Amoss, writes. "These bids for gold are coming from institutions and the central banks of emerging markets."
Indeed, central banks purchased 69.4 metric tons of gold during the second quarter of 2011, according to the World Gold Council. That's quadruple the year-ago figure. Mexico and South Korea were the big purchasers.
With these factors gathering, Dan concludes, "it's easy to imagine gold trading in a range of $1,800-2,200 in 2012."
Thinking of Buying Gold? Find out how BullionVault and cut your costs and make it safer...