Following the New Trend in Gold
Monday, 1/14/2008 10:24
Trend-following investors have a problem, unless they buy gold...
"TODAY'S CLOSE will be important to watch...
"Traders using programs are more worried about the stock market's closing levels than intraday lows. If the ASX/200 closes lower today, it could be the signal for another sell-off, since the index is just now outside its long-term upward trend channel."
Or so said Gabriel here at the Daily Reckoning Australia this morning before we'd even finished our coffee. The editorial team spent the first hour of the day digesting the same data from last week that you probably saw yourself this morning.
Gold Prices up...the Dow down by 246 points.
The futures pointed to a lower opening on the local Aussie stock market this week. So what tune is this market dancing to? The credit bubble blues or the rebound rumba?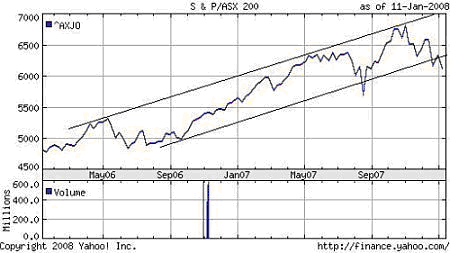 Trend-following investors have a problem. The dominant trend – a bear market in credit – simply doesn't add up to higher stock prices. That's why investors ignored the first wave of aftershocks in August and bought on reflex. They acted as if nothing was wrong and spent their money accordingly.
Now, with financial stocks hemorrhaging capital, the market is rethinking and re-pricing things. It will look for some sign of a turn around this week when Citigroup, JP Morgan, Intel, and General Electric all report earnings. Financials, industrials, technology...surely one of those sectors can rise to the challenge and lead the market higher.
But don't count on it! Our guess is that precious metals are becoming popular as an investment theme. The StreetTracks Gold ETF – which trades as paper on the New York Stock Exchange – now holds US$18 billion in investment cash. The exchange-traded trust fund's vault in London is bulging with 641 tonnes of bullion. That makes the trust (rather than its investors, who only hold shares in the fund) a larger holder of gold bullion than the governments of China and Russia.
But whatever the finer detail of property rights and gold ownership, the emergence of commodity-related ETFs has unlocked retail investment demand for commodities themselves, as opposed to investment-demand for commodity producers. John Spence at MarketWatch.com says "The stunning rally in precious metals appears to know no boundaries as gold futures continued an inexorable rise, with prices touching the vaunted mark of $900 an ounce on Friday for the first time."
Nothing is inexorable. But the Gold Market would seem to have some of its best days ahead of it. So far it's been mostly gold bugs and institutional investors hedging against the stupidity of central bankers and the inflation they breed.
When the broader market truly falls in love with gold, watch out!