Here Boy!
Monday, 3/30/2009 16:44
Are gold stocks – like Lassie the dog – trying to tell us something...?
FEW DAYS AGO, billionaire hedge-fund manager John Paulson spent $1.28 billion on a chunk of AngloGold Ashanti, the large South African gold miner stock, notes Eric Fry in his Rude Awakening.
That in itself wasn't much of an indicator. But Paulson paid $32 a share for an 11.3% stake in the company. And the following day, Fed chairman Ben Bernanke delivered the shocking news that the US Federal Reserve would buy up to $1.2 trillion of US Treasury debt.
Just like that, the price of gold soared, as did the price of AngloGold – handing Paulson a prompt $240 million profit. But we're guessing Paulson will hang around for awhile longer.
And we're also guessing that the savvy investor looking for a double on his investment or more might like to follow this indicator to doing the same.
"Apparently, Mr. Paulson sees a solid-gold opportunity," observes Byron King, the man who urged the subscribers of Outstanding Investment to buy AngloGold three weeks before Paulson made his high-profile purchase.
"And Paulson, you may know, has pretty good eyesight, investment-wise. He's the hedge-fund manager who made $10 billion in 2007 and 2008 betting that the subprime mortgage market would implode.
"Mr. Paulson's purchase of AngloGold Ashanti is, in essence, a $1.3 billion bet that the US government is pursuing a long-term policy to debase the Dollar," Byron continues.
"Seems like a winning bet to us."
AngloGold is not Paulson's only wager on the yellow metal. He also owns 4.1% of Kinross Gold. Likewise, David Einhorn, the hedge fund manager famous for predicting the demise of Lehman Bros., is prioritizing Gold Investment.
"Dollar debasement will doubtless trigger inflation," Byron insists. "Over time, this will cause a flight from paper currencies to gold. I've already predicted gold at $3,000 within 30 months. I've heard other gold analysts forecasting gold at $4,500 within three years. So there's a lot of room on the up-side."
It's true; the bullish case for gold has rarely seemed more compelling. But every investor has cause to wonder whether the bullish case for gold is also timely. Sure, gold could soar to $3,000 an ounce. But will it drop to $600 an ounce first...and stay there a while?
No one knows the answer, of course. Not Byron King, an experienced geologist and student of financial history, and not even John Paulson, a guy who knows how to make a few billion dollars by betting against the crowd. Nor does David Einhorn, an investor with an eye for profiting from adversity. But we're inclined to trust the instincts of all three. We are also inclined to trust the "instincts" of the market itself, tracking a little-known indicator of Gold Price action.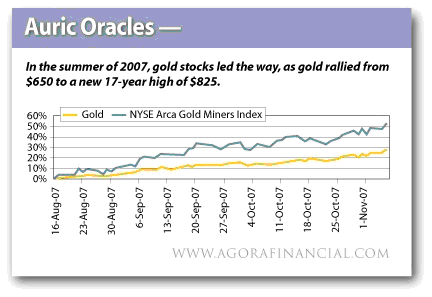 Six times during the last six years, gold stocks charged out ahead of gold bullion, signaling an imminent gold rally.
The chart above illustrates this phenomenonal indicator. Veteran observers of the gold market understand that major rallies usually BEGIN with gold stocks; not with the metal itself.
In August of 2007, for instance, Gold Mining stocks advanced nearly 20% in three weeks, while the Gold Price barely budged. But during the next three months, gold soared from $650 an ounce to a new 17-year high of $825 an ounce.
A similar divergence has unfolded during the last two weeks of March. Gold stocks have jumped 30% – or double the gain of the S&P 500 Index – while gold, itself, has advanced only 4%.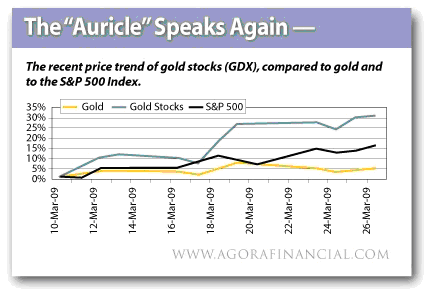 Are gold stocks – like Lassie – trying to tell us something? We aren't certain. But if we understand what the gold market is trying to say, either Timmy fell into a well or Ben Bernanke has incited the greatest inflationary episode in America since the 1970s.