Following Gold in Sterling and Dollars
Friday, 11/06/2009 09:15
The Gold Price has diverged for US and UK investors, but the net effect is the same...

FOLLOWING the US Federal Reserve this week, the European and British central bankers held interest rates at their current record lows of 1.0% and 0.5% respectively as they struggle to come out of recession, writes Brad Zigler at Hard Assets Investor.
Things are especially tough in Old Blighty. Last month, while the US reported real growth in its gross domestic product for the first time in a year, Britain's third-quarter statistics showed recession still gripping its economy. Eurozone figures, due out next week, are widely expected to exhibit growth.
Gold has been a bellwether in this differential economic calculus. The metal may have reached new heights in Dollar terms, but it has actually fallen from the early 2009 pinnacle reached against the British Pound and the Euro.
Year-to-date, gold's appreciated by 21.9% when measured in Dollars. Versus Sterling, the metal's gain is 7.8%, and much of the difference is due to inflationary expectations. The US has been just as aggressive with its monetary fiddling as the UK, but the stimulus is apparently having a salutary effect on the American economy, and fears of the future liquidity mop-up abound. The Brits are playing catch-up in this race.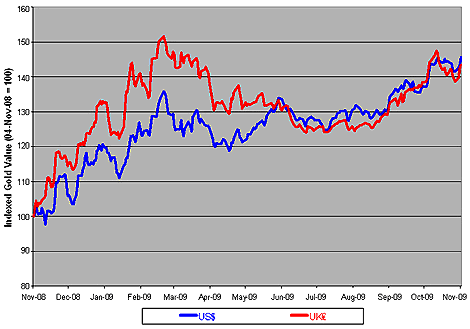 Look over the course of a full 12 months, however, and you'll see gold appreciation in Dollars and Pounds is pretty much even-steven.
Since November 2008, gold's gain against the greenback has been 45.7%; in Sterling, gold is up 43.4%.
It's been quite a roller coaster ride for the Pound, however, as you can see from the different paths taken by the Gold Price above. And if history is any guide, there'll be more thrills and spills to come.

Looking to Buy Gold in Dollars, Sterling or Euros today? Make it simple, secure and cost-effective at BullionVault...