Gold / Silver Ratio
Tuesday, 5/27/2008 14:51
The consistency of the Gold:Silver Ratio stands out amid the current Gold Market turmoil...
WITH ALL THE TUMULT in the Gold Market recently, it would be nice to count on something constant, writes Brad Zigler of Hard Assets Investor.
And while the Gold Silver Ratio isn't immutable, it's been mighty steady while metals prices have been roiling.
Gold-Silver Ratio: Metals Outpacing Stocks
For last week, June Gold futures contracts moved up more than $38 an ounce, or 4.3%. And for a change, gold mining stocks went along for the ride. The 16-stock Philadelphia Stock Exchange Gold/Silver Index (PHLX: XAU) put in a weekly 3.8% gain. It was trumped by a 4.2% surge in the broader American Stock Exchange Gold Miners Index (AMEX: GDM).
The Market Vectors Gold Miners ETF (AMEX: GDX), which tracks GDM, also gained 4.2% for the week.
But after briefly over-taking the price of Gold in early 2006, the major gold mining shares are still only just about tracking the Gold Price, rather than delivering any serious leverage.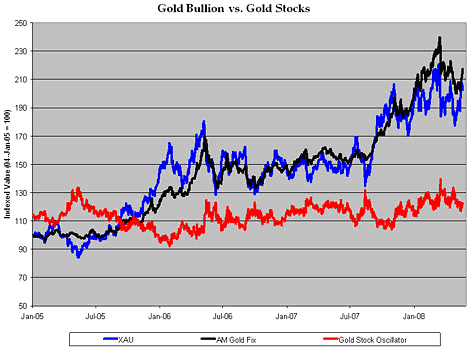 Gold stocks are now playing catch-up with bullion, but the metal's lead has been shrinking lately. Accordingly, professional investors playing the exchange-traded funds – and trading shares in a gold-owning trust, rather than owning physical Gold outright in their own name – are eyeing the spread between the streetTRACKS Gold Shares (NYSE Arca: GLD) and the GDX portfolio.
Gold/Silver Ratio: Weakening Short Sales
The price ratio – measuring GLD over GDX – declines as the mining stocks' performance relative to gold improves. The ratio peaked in late April, but has only grudgingly given ground.
Gold's strength is due, in part, to weakening short sales by the big commercial traders. They've been unwinding their "hedges" at a quickening pace over the past month, making upside resistance levels more porous.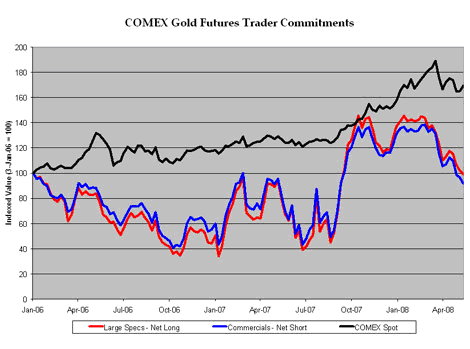 With last week's gain in the Gold Price, leveraged gold bears were made a little poorer. The DB Gold Double Short ETN (trading at the NYSE Arca as DZZ) slipped 9.6% as of Thursday's close. And silver was even more buoyant than gold.
Gold Silver Ratio: Two Months of Stability
The iShares Silver Trust (AMEX: SLV) closed Thursday with a 7.4% gain for the week. So over the past two months, gold and silver have settled into a comfortable relationship, as displayed by the Gold Silver Ratio.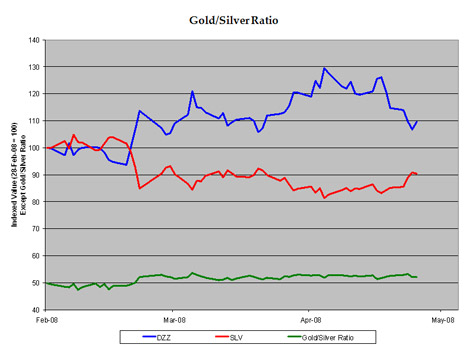 Measuring the number of ounces of silver needed to buy one ounce of gold, the Gold:Silver Ratio has risen far above its long-term historic level according to many silver bulls.
But so far since April, the prices of Gold and silver have settled to find a 52-to-1 ratio just right. We'll have to wait and see how long that lasts.