Trading Spreads in Gold/Silver Ratio
Thursday, 9/30/2010 23:46
September was a good month for betting on a decline in the Gold/Silver Ratio...
WHEN WE FIRST looked this month at the potential for a breakout move in the ratio of gold to Silver Prices, it then stood at 64.4, writes Brad Zigler at Hard Assets Investor.
In other words, one ounce of gold was the same cost as 64.4 ounces of silver. But since then, both gold and silver have climbed, only at different paces. As of Monday's settlement, December Gold Futures have risen 4.0% vs. silver's 10.7% gain.
Not bad for 17 trading days. And the outsized appreciation in the white metal has pushed gold's price multiple down to 60.5, lining the pockets of spread traders. The return on margin – assuming Comex futures' exchange minimums were obtained – has been 133%.
That's better still for scarcely 3 weeks in the pits.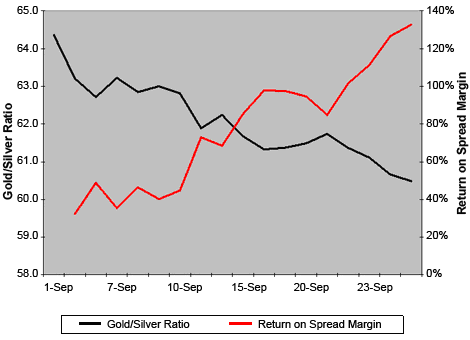 Of course, the $64,000 question (well, make that the 133% question) is where the spread is headed now.
Gold Futures spread traders who took money off the table mid-month needn't be so concerned, but for others who are still "all in", the prospect of future price volatility in both gold and silver may be worrisome.
So here's the scoop. Technically, the ratio seems to be aiming for the 50-to-1 area. A tumble to that level won't happen tomorrow, if it happens at all. Remember, there are no guarantees in this business, even with more-forgiving spreads. And a reach to the 50 level in the Gold/Silver Ratio won't necessarily be easy, either. There's some key numbers along the way that need to be punched through.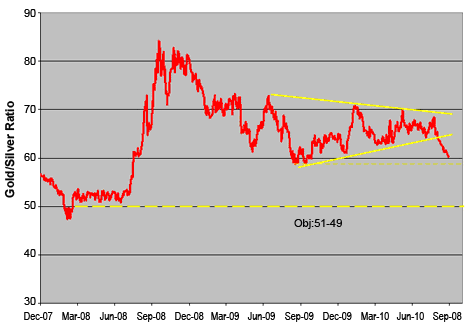 Currently, the floor under the Gold/Silver Ratio looks to be around the 58-59 area reached last September. That area served as the anchor for the wedge formation from which the ratio's just broken.
Our 50-level objective traces back to levels immediately preceding the financial meltdown of 2008. In all likelihood, a roll from the December Gold Futures and silver contracts to the active February or April futures will be necessary to capture the entirety of the move.
Again, if it happens. Which it very well might not.
Want physical gold and Silver Bullion rather than leveraged credit contracts...? Go to the world No.1 service for private investment at BullionVault...