Gold-Silver Ratio Approaching Lows
Thursday, 4/21/2011 18:10
Silver has answered gold, and then some...
THE WEAK US DOLLAR helped buoy gold and silver Wednesday, a day on which the gold/silver ratio moved lower, writes Gene Arensberg in his Got Gold Report.
The uncommonly weak US Dollar Index (DXY) closed Wednesday at 74.37, within "sniffing" distance of its November 2009 turning low of 74.23. As we write this, the DXY continues lower, currently trading through the 73.80s, which is, of course, below the lows of 18 months ago. So the Dollar index has already cut a lower low, at least intra-day today.
Should the "Dixie" not rebound and rebound substantially today, that leaves only the 2008 nadir of 70.70 as a "support suggestion" on the 27-year monthly history of the Dollar just below.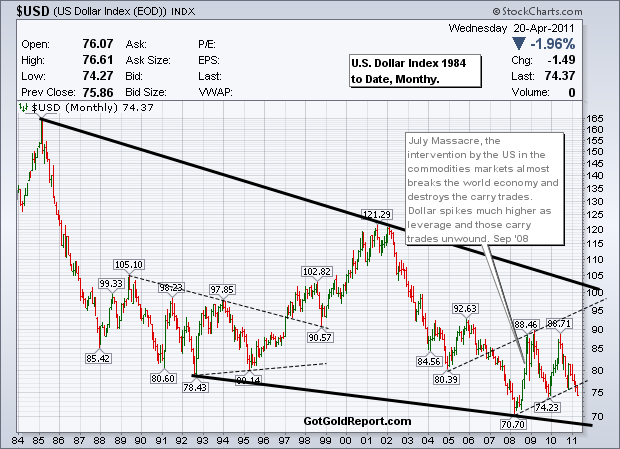 (Dollar Index, 1984 to date, monthly. If any of the images are too small click on them for a larger image.)
Clearly the US Dollar is under heavy pressure as the world seems eager to trade Dollars for just about anything else at the moment. Let us not forget that the DXY is a measure of the greenback versus a basket of six other fiat currencies.
It is not a measure of the Dollar versus gold. Gold, of course, is such a measure and gold has managed to gain a tentative toehold above the psychologically important $1,500 USD level, trading at $1,507 and change at the moment. Gold closed Wednesday, April 20 at $1,502.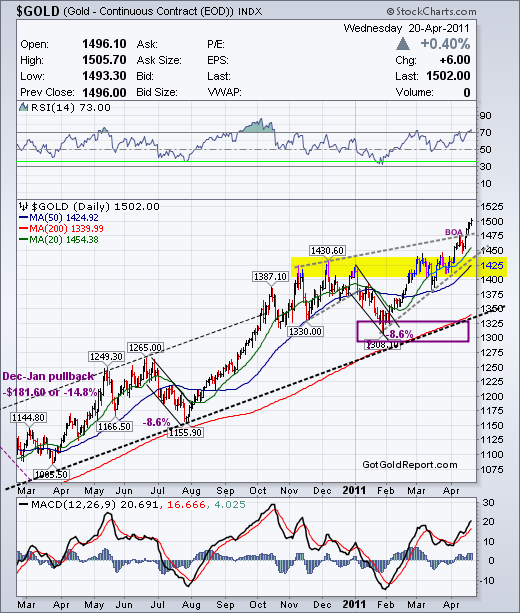 (Gold, daily since March, 2010.)
Silver has answered gold and then some. Indeed silver is outperforming gold by leaps and bounds. The current "definition move" for silver is by far the most robust and most decisive dash higher for the second most popular precious metal of this bull market. As we write, silver has eclipsed $46 to the upside. The chart just below was as of the New York close yesterday, $45.22 on the Cash Market.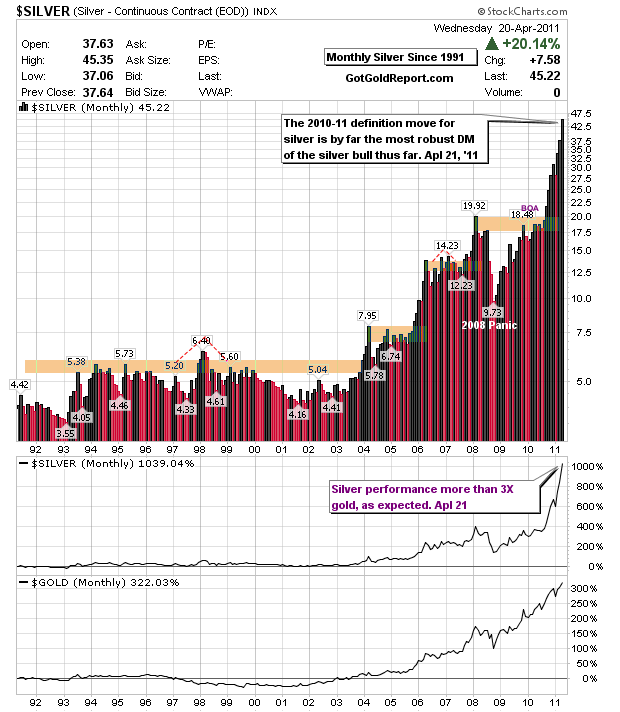 (Silver, since 1991, monthly. Note that the tremendous outperformance of silver to gold is a relatively recent development.)
The action has been "good" for the gold/silver ratio (GSR), as or better than we expected as shown in the gold/silver ratio chart just below.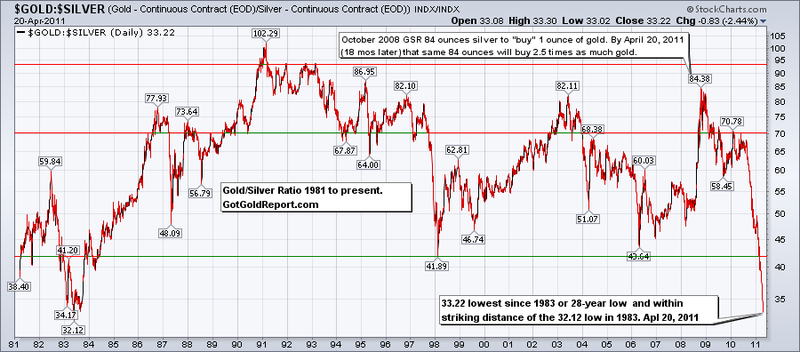 (Gold/silver ratio since 1981, daily.)
Note that the GSR is within striking distance of its 1983 low of 32.12 ounces of silver to "buy" one ounce of gold metal. As we write, with the sun just a hint in the eastern sky and the lake calling to us sweetly (we are, after all, on vacation), we mark the GSR in the 32.60s, new 28-year lows and within a "whisper" of new 31-year lows.
Buying Gold or Silver?...