Gold, Oil, Silver & Inflation
Monday, 1/26/2009 16:55
Tracking monetary gold, industrial silver and inflation after the crash in oil prices...
A NUMBER OF interesting queries filled our mailbag this week, writes Brad Zigler at Hard Assets Investor.
First, Jim's missive asks why we recently focused on the Gold/Oil Ratio when we'd also said silver would underperform gold. "Wouldn't I be better off trading the Silver/Oil ratio," asks Jim – going short of gold and long of oil – "than the gold/oil ratio?"
But actually, Jim, we said that silver's fortunes are determined by its utility as both an industrial metal and as a precious metal. Gold Bullion, in contrast, is used lightly in industry.
That, we reasoned, meant silver's price path was more likely to be nudged by recessionary expectations, as would oil's. In essence, the three commodities represent a spectrum with silver occupying a middle ground.
Indeed, when you look at the price path of gold and silver over the past six months, you can see the correlation of silver to oil is tighter than the relationship between yellow and black gold.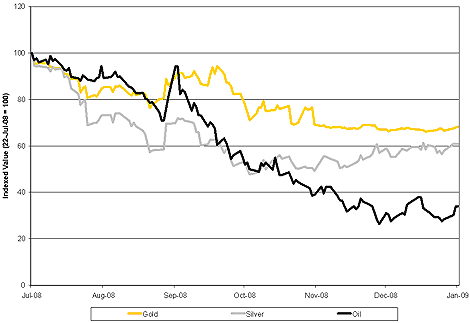 Granted, the correlations aren't high, but their differences are nonetheless significant. The gold/oil coefficient is 11%. It's 18% for silver and oil.
So over the past few disinflationary months, silver's lagged behind, stuck between both its industrial oil and monetary Gold Investment anchors. Yet, the performance gap between silver and oil has been widening. That's improved the prospects for a silver/oil ratio trade.
In short, Jim, the answer really depends upon your outlook for the Gold/Silver ratio. If you expects silver's buoyancy to continue, then yes, a silver/oil trade makes sense. And speaking of inflation – or the lack thereof – Pat wrote in to ask:
"Your real-time inflation indicator is still positive, but the latest Consumer Price Index reading was negative. Please explain how inflation can be both up and down at the same time."
It's a matter of perspective, Pat. The CPI reading you reference was December's -0.7% posting. Despite this, and the previous month's negative index, the annual rate of inflation is still, albeit modestly, positive (0.1%). The rate of inflation may have been ratcheting down month by month recently, but prices are still higher than year-ago levels.
So it is with our indicator. There's still year-over-year inflation, though it's headed southward.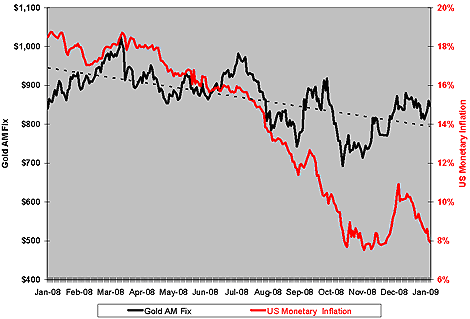 Our indicator here at Hard Assets Investor, by the way, doesn't measure domestic price inflation like that measured by CPI. Instead, it proxies monetary inflation, a wholesale indicator of worldwide Dollar purchasing power. And that continues to fall, even as the official US data points to an uptick in the Dollar's real value.