Gold vs. Silver
Thursday, 9/18/2008 15:36
Gold vs. silver in the monetary-vs.-industrial markets...
I JUST GOT a rather cranky response from a reader about a column at Hard Assets Investor, Deflating Inflation, writes Brad Zigler.
In it, I contrasted monetary inflation measured by the relative value of gold in the currency market with the US government's price inflation metric, the Consumer Price Index.
"If you're going to measure inflation in terms of Gold," went the plaint, "why not silver or platinum?"
Well, why not indeed?
There's a lot of ink...well, electrons...devoted to talking about gold as a store of value. Gold's a precious metal after all. So is silver. And yet we're plainly biased in gold's favor when it comes to talking about monetary value.
There's plenty of stuff written about the gold/oil ratio though. We've been tracking it with greater interest since it showed signs of bottoming this summer. The metric reveals investors' relative taste for the two commodities.
Gold was ascendant through the beginning of 2007, but began a long slide in relative value through June this year. Yesterday, however, marked a breakout as the gold/oil ratio rocketed above its 200-day moving average, propelled by the force of the Lehman Brothers-Merrill Lynch-AIG implosion.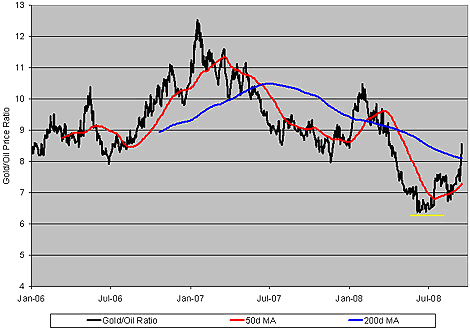 And what of silver? Has silver also bottomed and resurged against oil?
In a word, nope.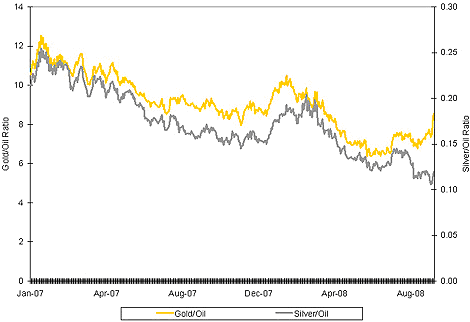 In fact, silver diverged from gold's path in August and trended lowered, reflecting a tectonic shift in the gold/silver ratio. The ratio, which lollygagged in the 52-to-1 area for much of the spring and early summer, bolted into the 70s as fear became the market's currency.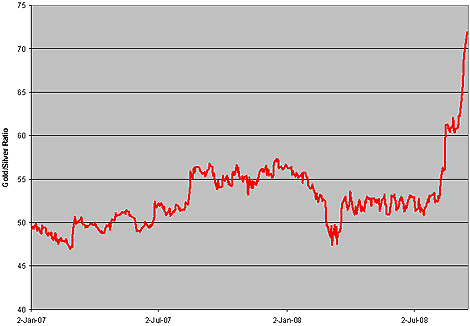 And that, dear reader, is why we're biased. Gold is more "money like" than silver; because demand for the white metal is partly industrial, and therefore subject to relative glut, it's not quite the repository of value that gold offers.