Gold Beating Silver
Friday, 7/17/2009 10:35
The gold-silver ratio says the dearer metal might continue to outperform...

GOLD TRADERS had a good day Wednesday. Silver traders wished their day could have been better, writes Brad Zigler at Hard Assets Investor.
August Gold Futures closed up $16.60, near session highs, at $939.10 in Comex floor trading. Fresh two-week highs were scored as critical outside markets – oil, equities and the Dollar – gave gold bulls a chance to stretch their legs after some short covering.
Bargain hunters then powered gold's advance past the $940 mark, but the momentum couldn't be maintained into the close. Later, gold eased on modest profit taking in the overnight market. Even so, technically speaking, gold's trying to switch gears from its month-long malaise. RSI and stochastics have turned bullish, but the MACD indicator's still pointing southward.
Whereas silver...?
On Wednesday, the active December contract got a jump start with a gap-higher opening but, after closing 35.5 cents higher at $13.245, still hadn't broken out of its summer doldrums.
While the technical indicators (MACD, RSI and stochastics) look similar to gold's, silver's price action's been weaker. Silver still remains under the 62% retracement level of the April-June rally, a mark surpassed by gold.
The cheaper metal's performance disparity is summed up in our chart of the gold/silver ratio. It looks like the 73-to-1 ratio that hemmed in silver from March to May has reasserted itself.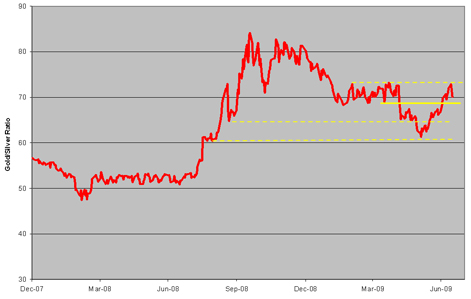 And with gold remaining strong versus silver, even as Gold Prices trend sideways in the summer doldrums, silver bulls have their work cut out for them if they want to break above the December contract's technical resistance at $13.50.