Hi-Ho Gold/Silver Ratio!
Friday, 2/11/2011 12:13
The ratio of gold to the Silver Price has sunk to mulit-year lows...
THE LONE RANGER means nothing to my kids, writes Brad Zigler at Hard Assets Investor.
They have no memory, as I do, of that masked man putting spurs to his steed with a hearty "Hi, Ho Silver!" and then galloping away down some dusty trail in pursuit of bad guys in black hats.
But no matter. The kids have noticed another fast-moving silver. No doubt you have, too.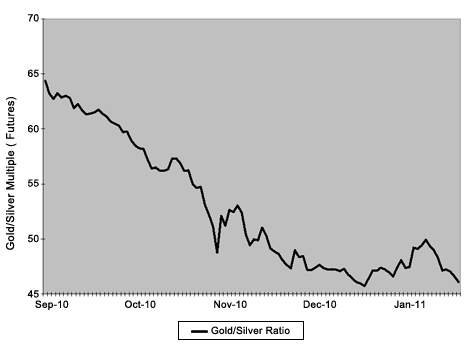 Silver Bullion has run ahead of gold in the recent precious metals rally. With that, the Gold/Silver Ratio has resumed the downward trajectory it began last September.
Where it's headed isn't so clear, but we've got a better idea of where the ratio's not going. In late September, we puzzled on the ratio's direction and projected an interim target around 50-to-1. That target was hit by November and, after dawdling some, was finally penetrated with a dip down to the 45-to-1 level at year's end.
The bump in the trail you see above was a test of the 50-times multiple, with one ounce of Gold Bullion then costing 50 times the Silver Price. Now, in contrast, that old support level at 50x has now become overhead resistance.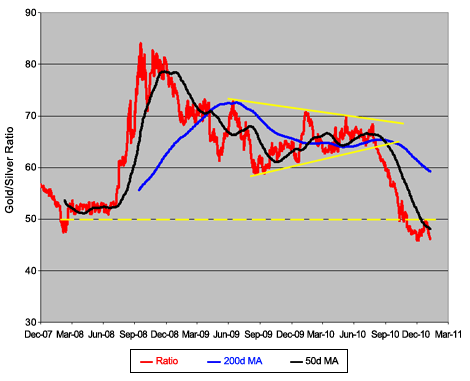 Low multiples are typically thought of markers of a bull market in precious metals. This has got my kids – along with many other investors – wondering if the recent metals sell-off has run its course.
Buy Silver at the lowest prices, and store it securely at the lowest costs using the award-winning Bullion Vault...