14 Trillion Problems with "Now Analytics"
Tuesday, 1/11/2011 11:03
Getting air-time on US finance TV now means saying the Gold Price is a bubble...
The U.S. NATIONAL DEBT now has a "14" handle, as in $14 trillion to start 2011, writes Gene Arensberg from Houston, Texas in his Got Gold Report.

Good thing for the US Dollar that the current focus of sovereign debt angst is across the pond on the PIIGS in Europe. Those serious debt worries have cut the legs out from under the Euro (again), giving an "assist" to gold and silver bears in US Dollar terms, with the metals already under profit taking pressure.
We Vultures (Got Gold Report subscribers) expected this pullback or correction and have prepared for it by lightening up on mining share high flyers and laggards in November and December, building up a bargain-hunting ammunition stockpile of ready cash. Short-term in the metals, and as the first week of January closed – a week which saw the European common currency pummeled almost 3.6%, inviting the equally troubling US Dollar Index to advance over 200 basis points by default (the Dollar isn't all that much more attractive, but at least it isn't in Europe) – we marvel that our trading stops for Gold Futures and Silver Prices survive to enter week two of January.
The action suggests to us that there is more physical metal dip buying than even we thought possible after such a fabulous, high-percentage run in 2010. We also believe it is merely a question of time before the sovereign debt anxiety focus once again shifts back across the Atlantic. We can give up to 14 trillion reasons why we think so, and that is not the whole debt-ridden, broke-back, three-legged blind dog of a story.

Notice, please that we see silver "outperforming" gold to the downside, just as it "should" outperform gold to the upside. Notice also that in US Dollar terms both gold and silver put in slightly higher highs last Monday and then both traded to lower weekly lows. That's a technically bearish weekly "outside reversal" and it gives gold and silver bears in the New York futures market comfort. Notice also, however, that in Euro terms, the Gold Price was near flat for the week, losing a tiny €1.29 per ounce.
Nevertheless, over the past couple days the "coverage" of gold and Silver Prices on televised financial media is a study in what we like to call "Now-Analytics". That is, of course, the "study" of what is happening now and then extrapolating that into the future while sounding authoritative. Indeed, we wonder now if it helps to get air time if one thinks that gold and silver have been in a "bubble" and are willing to say so. As we are sure that most analysts do, we have looked into the idea that gold or silver are in a bubble. We don't have the time or the inclination to discuss it at length today, but our conclusion is that gold and silver are a very long way from being bubbly.
Last week, for instance, in a conversation with Bill Haynes, owner of CMI Gold and Silver in Phoenix, the subject came up in the context of buying/selling patterns from the public. Haynes remembers the last mania for gold and silver, which is also the last precious metals bubble in the late 1970s. Near the end of that event the public was buying much more than selling – to the point where it seemed that no one wanted to sell gold and silver, but everyone, including the ordinary man or woman on the street wanted to buy. Gold and Silver Prices rose in a steep parabola in 1979 because of a combination of unprecedented and wide-spread demand and a lack of selling of physical metal by the public.
People then were widely confident that gold and silver could not fall in price. Sound familiar? It reminds of Fed chairman Ben S. Bernanke's 2007 comment that "we have never seen housing prices fall on a national level." Even the Fed Chief was apparently convinced that real estate was not in a bubble when, in hindsight it clearly was in one – with a great deal of the public confidently involved.
When compressed into a 20-year graph, the rise for gold is indeed steep, but it is not yet parabolic. It cannot be yet because the "global general public" is still not all that interested or involved.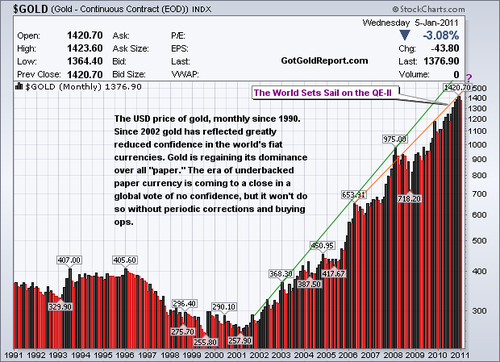 Haynes believes that when we enter the last stages of this Great Gold Bull – a time he figures is still years in the future – the scene will be similar to the late 1970s. Great bull-market tops and bubbles are marked by massive positive popular sentiment and widespread involvement by a large percentage of the population. Yet Haynes noted that there have been weeks lately where he and other bullion merchants have had equal amounts of public selling and public buying and even some where the public was more selling than Buying Gold.
Seeing the public selling as much or more gives Haynes a great deal of confidence that "We are nowhere near a bubble in gold or silver yet."
Buy Gold at live spot-market prices using the world's No.1 online, BullionVault...