Gold: A 'Normal' Summer Ahead?
Tuesday, 6/16/2009 10:08
Speculative gold buying is easing back right on cue for a summer lull in prices...
SUMMER OFFICIALLY STARTS next Sunday, writes Brad Zigler at Hard Assets Investor, but speculative traders are already making their traditional exodus out of gold.
We've highlighted gold's seasonal tendency to sell off through July before. And last week we thought a breakthrough close through $864.50 on the June Gold Futures could aim the market to the $941-$947 level.
But Friday's gold settlement near session lows for the Comex futures was followed by weaker trade in the overnight market. June gold slipped below the $940 handle and dawdled around $931 in electronic trade before short covering set in ahead of the day session open. By Monday's AM Gold Fix in London, the price had sunk to $932 per ounce, representing a $40 month-to-date decline.
The notion of seasonality raised hackles among some gold aficionados who read Hard Assets Investor's columns. One commented, in mostly capital letters: "This is not your nomal market or normal summer. It would only take one 'problem' and there are so many waiting in the wind, you could be left in the ditch this summer."
Others dialed down to a somewhat lower pitch and chimed in saying: "Safe-haven investment is the sole driver of the market now. The historic seasonal demand trends are thus absent and invalid."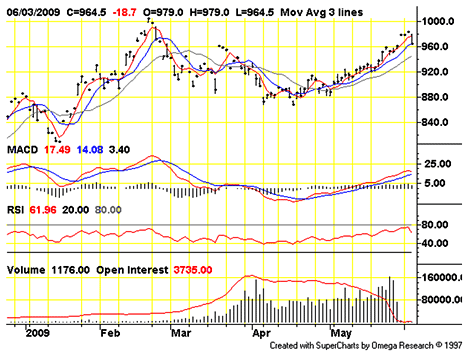 Now, there is a valid point there. Gold buying has been greatly influenced by fear lately. The vagaries in the metal's price is testimony to that. What we're seeing now is the return of the market's risk appetite. The major trend in equities, for example, has turned bullish, aiming the S&P 500 toward tests above the 1,000 mark. So what we're seeing is the evaporation of fear.
And gold? What of its trend?
The monthly charts show technical weakness as measured by MACD and RSI. Stochastics reveal an overbought market. The weekly chart shows these technical indicators heeling over in a bearish direction, most notably because the "net long" position held by speculative traders is lagging the "net short" held by commercial industry dealers.
Put simply, speculative aggressiveness on the long side is waning, similar to setups at the February '09 and July '08 tops.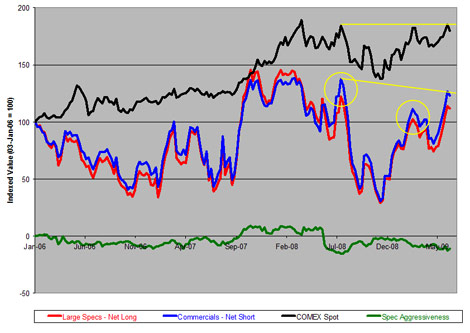 No, gold isn't simply a day trader's market, but you ignore the charts at your peril when buying and selling metal these days.
One month or one summer isn't going to affect gold's utility as a key asset allocation. There are just better times to be buyers and other times when the advantage runs to sellers. By the end of July we should know who had the biggest edge this summer.