Gold Makes New All-Time Highs
Monday, 10/20/2008 15:35
No, not a typo. Gold Prices are hitting new records right now...
THAT HEADLINE isn't a typo, writes Brad Zigler of Hard Assets Investor. The Gold Price may be trading in the international "spot" market 20% below its all-time record versus the US Dollar.
But provided you have the right perspective, Gold Bullion just keeps pushing higher. And to make sense of this, you've got to first look at the crude oil market.
Crude oil closed near session lows last Thursday as mention of the dread "R" word (recession) was raised above the whisper level once more. Last week's flat Consumer Price Index data in the United States has even got average Joes (Six-Pack or Plumber, take your pick) thinking inflation has peaked, too.
Gold fell as well, and it fell further on Friday. But even the yellow metal's decline couldn't put the brakes on the ascent of the Gold/Oil Ratio, now within spitting distance of the ratio's January 2007 peak.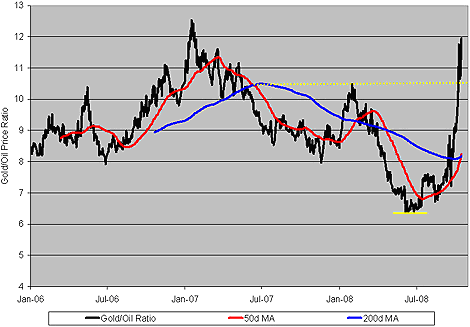 And if gold couldn't quite score a new record against oil last week, it made up for its failure with its performance against Gold Mining stocks.
The ratio of Gold Prices to the Market Vectors Gold Miners ETF (AMEX: GDX) rocketed above 3.5 as investors left a trail of mining certificates in their wake on their way to the exits.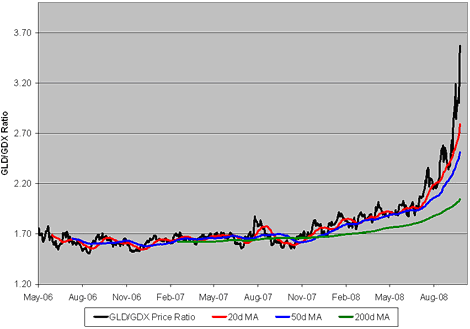 Who said Gold Bullion was done making new highs?