Gold Prices and U.S. Dollar Correlation
Wednesday, 1/11/2012 14:36
The Dollar is far from the only factor driving gold...
IT HAS BEEN a bullish start to 2012 for gold, as Gold Prices rally swiftly off the lows set late last year, writes Sumit Roy at Hard Assets Investor.
From the perspective of technical analysis, it looks increasingly likely that gold put in a double bottom at $1532 in December, but a decisive break of $1642 will be required for confirmation.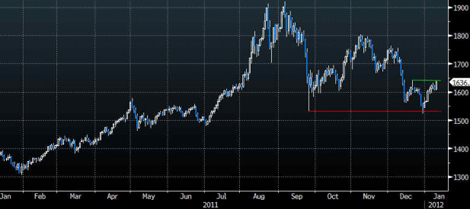 An upside breakout bodes well for a continuation of the 11-year bull run in Gold Prices and an eventual retest of the metal's record high above $1921.
Meanwhile, silver has been following gold in lock step. Prices retested support at $26 late last year before bouncing aggressively to last trade just above $30, where the first level of resistance lies.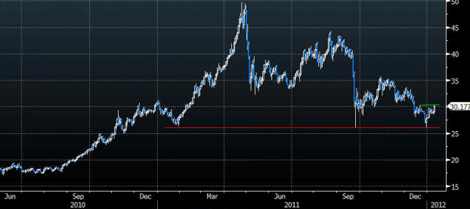 It's important to note the context in which Gold Prices have been rallying, and this is the big story of the year thus far. Up until very recently, gold had been moving inversely to the US Dollar.
The connection was severed this past week, as both gold and the greenback rallied. Indeed, the US Dollar Index hit a 13-month high last Friday, but gold barely flinched.
The correlation between gold and the US Dollar is now close to zero over the past month, after a month of extremely strong correlations in December.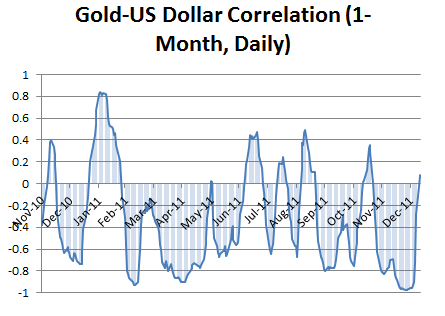 But as can be seen from the chart above, it is not uncommon for Gold Prices to go through periods with no correlation or even positive correlations with the US Dollar. While it is more common to see the two assets move in opposite directions, what we are seeing is not unusual.
Longer term, gold is not strongly correlated with any other asset. In fact, this is what makes the metal so appealing to many investors. For example, while gold has risen in each of the past 11 years, the US Dollar has fallen in only six of the past 11 years. Thus, gold has rallied while the Dollar has risen, and rallied while the Dollar has fallen.
Gold is seen as a safe haven against many factors, including currency depreciation; sovereign debt default; inflation; economic ills; and even geopolitics. It's even a play on emerging market growth; China and India use the metal as a savings vehicle.
The US Dollar is thus only one of many factors that influence gold, and not even the most important.
Looking to make a Gold Investment today?...