Winter Sale in Gold Price Protection
Friday, 3/04/2011 17:29
Gold Price puts via the SPDR Gold Trust have sunk by 60% since New Year...
EVERY WEDNESDAY, my local newspaper gets delivered with scads of grocery store ads offering all kinds of cheap goods, writes Brad Zigler at Hard Assets Investor.
It's darned hard to miss them when they clatter to the floor. And the grocery stores aren't the only marketplaces offering sales, however. The option market is having a big sale, too. Traders are virtually giving away puts – the right to force someone else to buy from you at a pre-agreed price in the future. Specifically, puts on the SPDR Gold Shares Trust (NYSE Arca: GLD) are on sale.
The cost of near-the-money puts has nose-dived since the top of the year. Like a punctured balloon, all the air's leaked out of the contracts' volatility premium as Gold Prices have seesawed.
All told, in fact, protective put costs have sunk nearly 60% since early January.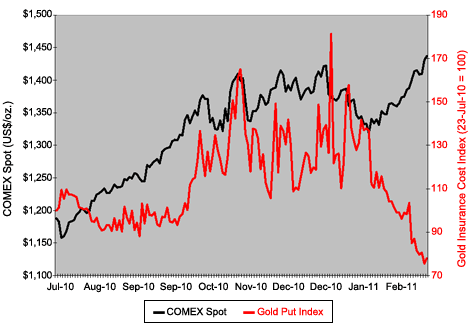 Now, a deflation in option premiums isn't all that unusual. This episode is different, though. It's a notably one-sided sale. Puts are getting cheap, but calls – the right to buy – aren't.
Expected volatility, as measured by the CBOE Gold Volatility Index, has eased a bit since January, but nowhere near as much as the decline in the Gold Put Index. The CBOE index is derived from call and put prices; the put index, as its name implies, looks only at puts. The indexes, in fact, have diverged in the past two weeks as the put index continued to slide while the CBOE index rebounded.
So what's the big deal? What's the significance of cheap puts? Well, for one thing, it speaks of trader complacency with Gold Prices. Puts are cheap because demand has diminished. Puts get expensive, like any insurance contract, when risk is elevated or when competition for cover heats up. Traders and investors are willing to hold naked gold now; they feel little need for insurance. Now, but not forever.
There will be a time when put prices rebound, when hedging begins in earnest again. We'll be keeping our eye on the put index for signs of that. For now, however, the sale in gold-price protection continues.
Get the safest gold at the lowest prices using world No.1, BullionVault...