The Wrong Side of Peak Gold
Monday, 8/10/2009 12:04
Without new Gold Mining discoveries, supply will fall even as demand rises...

THE RECENT Gold Investment Digest from the World Gold Council held few surprises, notes Julian Murdoch at Hard Assets Investor.
Released every quarter, the digest takes a look at all sorts of lovely gold statistics concerned with physical investing. The latest report, released in late July, still contained some interesting tidbits for anyone interested in Gold Investment.
Non-surprise No.1: Gold didn't gain all that much during the second quarter
In the second quarter, the average Gold Price was $934.50 per ounce – only $18 more than in Q1. Other commodities performed much better comparatively; in fact, only the S&P GS Livestock Spot Index had lower returns than gold.
Some of the winners include such glamorous metals as nickel and tin, along with crude oil. Nickel gained 70.2% in the quarter and crude 46.5%, with tin following close behind with a 43.4% jump. But what's interesting is that although gold's quarter-on-quarter gain was only 2%, it came out on top in terms of year-over-year gain – even though that increase was less than half a percent.
Even tin's mighty second-quarter growth of 70.2% wasn't enough to bring the metal back up to 2008 levels.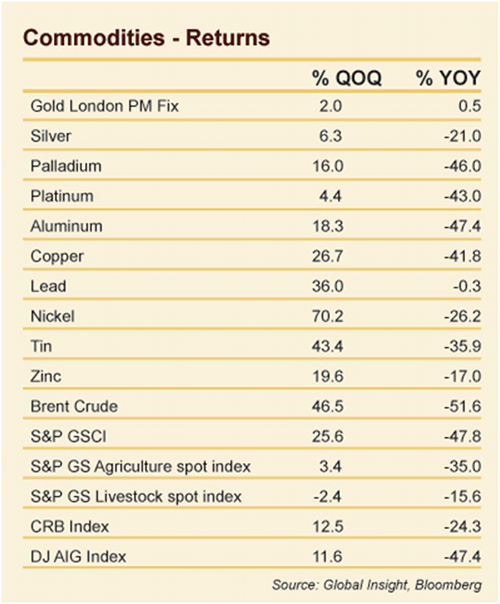 Non-surprise No.2: Gold continues to flow into Gold ETFs...but only just
Although investors are still buying exchange-traded gold funds like the SPDR Gold Trust (NYSE Arca: GLD), the flow is a mere trickle compared with the rush we saw earlier in the year.
During the first quarter, ETFs snapped up 459 tonnes of gold, but in the second quarter, that figure plummeted to only 46 tonnes. Of course, the difference could have a little to do with David Einhorn's move: His withdrawal of $400 million or so from GLD shifted some bars around. But by my calculation, that's a deficit of under 13 tonnes.
Gold ETFs weren't the only Gold Investment vehicles that saw declines from the record levels of Q1, however. Fewer Gold Coins made their way under people's mattresses too, with the World Gold Council reporting a 40% decrease in the number of coins sold in Q2 compared with Q1.
Non-surprise No.3: Gold jewelry demand was down everywhere except China
Data on jewelry and industrial demand is released with a delay, so the most recent numbers available are for Q1 2009.
And given the global economic situation, plus gold's Q1 average price of $916.50 an ounce, is it any surprise that most of the world purchased less gold jewelry last quarter?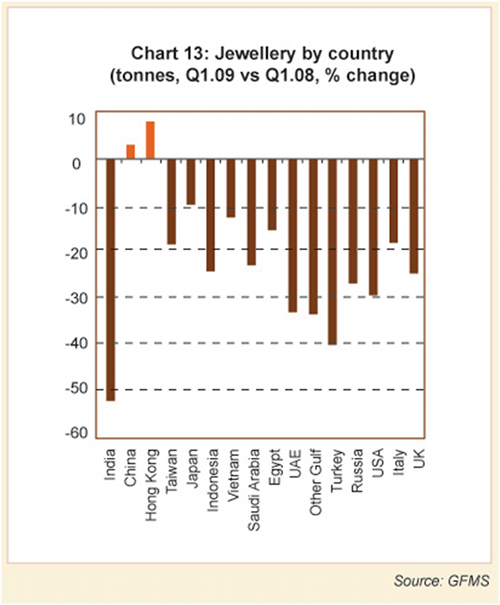 Oddly enough, that also includes India. Traditionally, the country has been the world's largest consumer of gold jewelry; in 2008, it ate up 501.6 tonnes of the shiny yellow stuff in the form of chains, rings and bracelets. But during the first quarter of 2009, India's gold purchases dramatically decreased by 52%. The Bombay Bullion Association puts the number at 54% since the beginning of the year. That's unbelievable demand destruction.
Although we'll have to stay tuned until August to find out what the second quarter looked like according to the World Gold Council's next update, there is some indication that maybe Indian demand has recently begun to turn around. As the country heads into festival season, India gold traders have already begun stockpiling gold, even though prices are still high. Brisk trading during the festival and wedding seasons could redeem the gold industry after disappointing sales during April's Akshaya Tritiya festival, when sales were down 20-40%.
Then there's China. With its outlier status as the only country that increased consumption in a quarter-on-quarter basis, could we be seeing a new top dog in gold demand? In a Bloomberg article, Hou Huimin, deputy head of the China Gold Association, said that "There is a possibility that China might overtake India as the world's largest gold consumer this year...China's consumption is growing and this year's will surely be more than last year's."
To meet that growing demand, China has increased production from its domestic mines, and is expecting to produce 290 tonnes of gold in 2009 (up from last year's 282 tonnes). Russia also increased its gold output in the first quarter. But as the Gold Investment Digest notes, there has not been a major gold discovery (meaning over 2.0 million ounces) since 2007.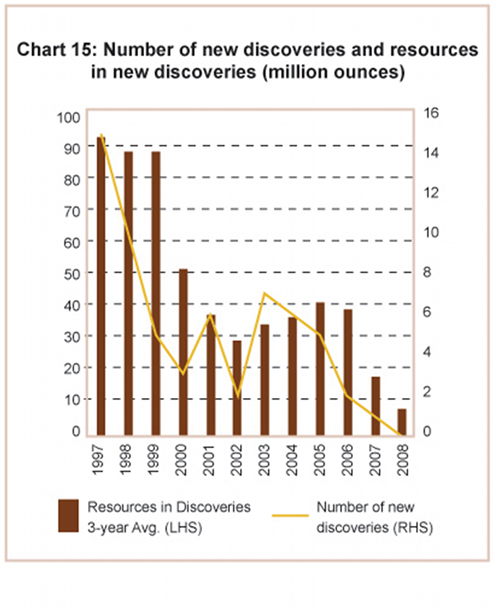 As long as the Gold Price continues to climb, mining companies can and will mine harder-to-get-at deposits, stretching out the life of their mines. But without new discoveries, the supply is finite.
Does anyone else think we may be on the wrong side of a peak gold curve, with supply now failing to rise in line with demand because the remaining deposits just can't deliver?