Beacon of Hope? Beacon of Terror!
Friday, 10/10/2008 11:25
Gold lights up as the world's stock markets crash...
IF THERE ARE TWO COMMODITIES that act as beacons for hard asset investors, writes Brad Zigler of Hard Asset Investor, they'd have to be gold and oil.
Over the bull market run starting in 2002, the two seemed – to the casual observer at least – to move lockstep with one another.
To other analysts, however, divergence in the Gold and oil price trajectories act as tea leaves that, when sifted, portend the future. We just analyzed the importance of a bottoming in the Gold/Oil Ratio late in Sept. The ratio tracks gold's purchasing power expressed in barrels of oil. Bottoms have been predictive of the last five US recessions.
The, um, bottom line is this: Bottoming ain't good. Well, not so much the deck scraping itself. It's really the implications of the rebound that are dire.
The bounce in the Gold/Oil Ratio from a historic summertime low around 6.5 reflects more oil's decline than gold's resurgence. More on that in a moment.
Spot WTI oil futures are off 7.3% for the year, while gold, measured by the London morning fix, is up 9.2%. Oil, of course, is a bellwether of industrial and consumer expansionism. Falling oil prices reflect waning fuel demand as noted in this week's US Energy Department report.
Gold, meantime, has been crisis medicine, prescribed for private capital in need of a safe haven amid the current financial tumult.
The Gold/Oil ratio hit the 10.3 level on Wednesday, just shy of a momentum crossing level reached in June 2007. A breakout above the 10.4 level could set up a test of the 12.5 high reached in January 2007.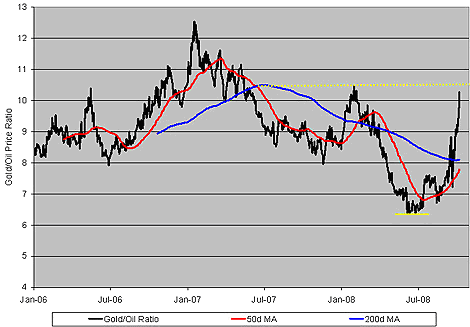 Trading the ratio is relatively easy through the derivatives market. Just buy Gold Futures and sell oil contracts short.
Trading the ratio with exchange-traded funds – such as the Gold ETF – and thus without margin is tougher. There's only one inverse oil product extant in the domestic United States, the MacroShares $100 Oil Down (AMEX: DOY). It's gained 19.4% since July 22, while NYMEX spot futures dipped 30.7%.