Gold-Oil Ratio at 15 and Rising
Monday, 2/01/2010 15:28
What the New Year's sell-off says about Gold and oil trading in 2010...

BOTH OIL and GOLD started 2010 a little black and blue thanks to a post-New Year sell-off, writes Brad Zigler at Hard Assets Investor.
Truth be told, however, oil's been taking most of the punches. Nearby crude contracts are off nearly $8 a barrel, or 9.5 %, since the top of the year; spot gold's slipped only $16 an ounce, or 1.5 %.
Oil's poorer fortunes are reflected in a rebounding Gold-Oil-Ratio. One ounce of gold can now buy nearly 15 barrels of crude.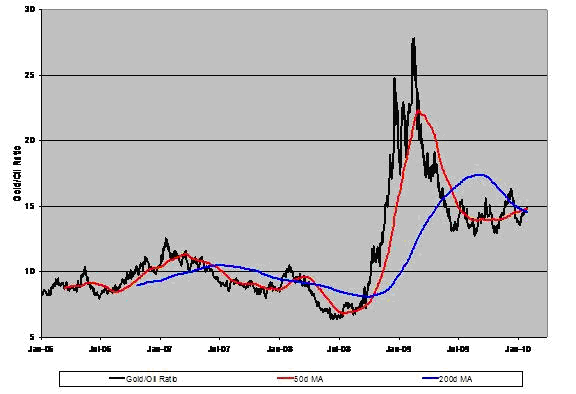 That, in itself, isn't so significant. After all, the ratio got up above 16-to-1 back in December, but that level couldn't be sustained.
It's different now, however. Presently, there's momentum manifested by the ratio's 50-day moving average crossing above its 200-day average – a technical signal pointing to further rises ahead.
Further upside in the ratio would likely be due more to oil's weakness rather than gold's strength, we guess. After Friday's book squaring, March Comex Gold Futures broke through their 100-day moving average at $1087.70 an ounce, forcing traders to warily watch for a close below $1080.
A breakthrough of that level, some technical analysts reckon, could set up a 50% retracement of the July-December rally.
With London forward rates hitting new lows, as the cost of borrowing Gold Bullion falls for major institutions, sellers are at the market's helm. Long liquidation, driven by money managers, has featured heavily on the Comex data, figuring prominently in the 7.2% decline in total open interest last week.
But selling's even stronger in the oil market. Commercial oil traders have been aggressive on the short side since New Year's, contributing to a 12.5 % build in Nymex open interest. March crude contracts have long since sailed through their 100-day moving average (well, on Jan. 21, anyway) and on Friday last week, they dipped below the 200-day mean.
US crude oil prices have now retraced the entirety of the December-January rally, putting us in sight of last Sept.'s reaction low at the $67 level. That would also represent the 50% retracement level for the intermediate run-up launched in March 2009. To get there, bears are going to have to first push prices below support at $71.21 per barrel, but they won't have far to go. The March contract settled at $72.89 on Friday.
In short, oil's technical picture is a mess; gold less so. That's a pretty good way to posit a rising value for Gold Bullion in terms of raw energy input for the economy.

Investing in gold today? For the cheapest, fastest & most secure route to solid Gold Investment simply register for a free, no-obligation account at BullionVault now...