Gold's gain, the Middle East's loss
Friday, 9/28/2007 16:12
Soaring inflation & French talk of war is causing a rush into gold in the Arab oil kingdoms...
GOLD HAS BEEN patiently waiting for the Bernanke Fed to cry uncle, and start cranking-up its money printing machines, writes Gary Dorsch in a snippet from the latest edition of Global Money Trends...
Since the Federal Reserve halted its two-year rate hike campaign on 25th June 2006, the Gold Price has climbed by 32%, and for most of this year it has been relatively stable amid strong demand in Asia and the Middle East, and steady inflows into exchange traded funds, such as StreetTracksGLD.

Expectations of an easier Fed policy crushed the US Dollar, and discouraged other central banks from raising their interest rates, adding new sparkle to gold against all paper currencies. On August 6th, with gold trading at $670 per ounce, Newmont Mining's Pierre Lassonde said, "There is very strong demand right now so we are setting ourselves up for an attack on the $750 /oz level in early fall this year."

Lassonde also said that jewelry consumption in China and India suggested prices could top all-time highs of around $850 per ounce next year. India – the world's largest gold buyer – boosted its demand for gold by 72% to 528 tonnes in the first half of 2007 compared to the same period last year.

According to the World Gold Council, India's demand for gold in all of 2007 is expected to be at least 50% higher than last year. If realized, India's gold demand would exceed 1,000 tons for the first time.

Meantime in the United Arab Emirates, gold demand rose 14.6% in the second quarter to 29.8 tonnes from the same period in 2006. In India and the UAE, the M3 money supply is running 20% higher from a year ago, which is attracting investors to the yellow metal.

Gold demand in Saudi Arabia rose 30% to 42.5 tons in the second quarter of 2007 from 32.6 tons the year earlier, as oil prices climbed above $70 per barrel and the Gold Price struggled to recover its May 2006 highs.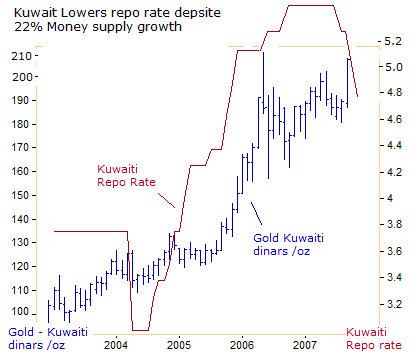 Come mid-Sept., Kuwait's central bank cut its repo rate by 50 basis points to 4.75%, adding to its 25 basis-point cut of a week earlier. Kuwaiti rate cuts can also increase credit growth, liquidity and the M3 money supply, which will add to inflationary pressures.

Inflation in Kuwait is at a 12-year high of 5%, and its M3 money supply hit 18 billion Dinars at the end of July, up 22.5% from a year earlier.

Kuwait's central bank blamed rising inflation on the Dinar's peg to the US Dollar, which has fallen to a succession of record lows against the Euro, raising import costs. Kuwait pays for about a third of its imports in Euros.

In Qatar, inflation is raging ahead at a 12.8% annualized rate, and is 6% higher in Oman. Saudi inflation surged to a seven-year high in July of 3.8% on higher food prices and rising rents, relatively restrained following the collapse of its stock market.

Can Saudi Arabia contain crude oil at $80 per barrel?

It's no accident that gold demand from the Arabian Oil kingdoms is rising, with the price of crude oil climbing above $80 per barrel and the US Dollar index is sinking below the psychological 80-level, stoking higher inflation in the Persian Gulf.

Most ominously, the US Dollar is sinking to 15-year lows, even before the Bernanke Fed speeds up the growth of the M3 money supply into the "Twilight Zone".

Though world oil prices have quadrupled since 2002, when adjusted for inflation the price is still below the $90-a-barrel peaks of the Iranian Revolution in 1979. Could this explain why the Dow Jones Industrials and other global stock market indexes have not shuddered at the sight of crude oil soaring to $82 per barrel?
Remember, when oil prices hit $40 per barrel it sent global stock markets into a frightful tizzy.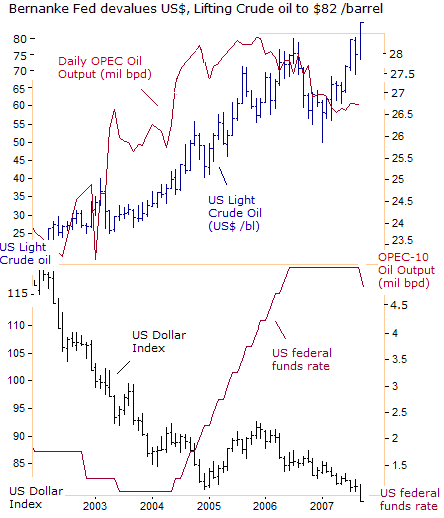 OPEC has agreed to boost its oil output by 500,000 bpd to temper any speculative rally in crude oil above $80 per barrel.

But such action won't take place until November, when global demand for crude oil is expected to spike sharply higher, during the heating oil season. So far, the initial reaction in the oil market to Riyadh's gesture is "too little, too late," with crude oil moving above $80 per barrel.

"I think higher oil prices have a lot to do with risk premium from geopolitical uncertainties," said Saudi central banker Mohamed al-Jasser on Sept 12th. "There is no shortage of oil in the market and we have not turned back anyone who demanded oil from us," he said.

If correct, then oil companies might be hoarding oil. Why?

Well, the world must "must prepare for the worst" – including the possibility of war – over the Iranian nuclear crisis, said French Foreign Minister Bernard Kouchner on Sunday, Sept 16th.

"We have to prepare for the worst – and the worst, sir, is war," Kouchner told LCI television and RTL radio. "We will not accept that such a bomb is made," he declared.

Kouchner was later quoted by the French daily Le Figaro: "Iran does whatever it pleases in Iraq. One cannot find in the entire world a crisis greater than this one."

Kouchner's comments follow a hawkish statement by French President Nicolas Sarkozy, who candidly said in August that a diplomatic push by the world's powers was the only alternative to "an Iranian bomb or the bombing of Iran."

Kouchner also said Paris had advised French oil companies not to respond to tenders in Iran and repeated a call for greater pressure on Tehran over its nuclear program. "We have already asked a certain number of our large companies to not respond to tenders, and to prepare for eventual sanctions outside the United Nations, which would be European sanctions," he said.

Israel destroys military site in Syria on Sept 6th

Details of Israel's attack into Syrian airspace at the start of Sept. were reported on Sept 15th in the UK's Sunday Times. According to the Times, an Israeli commando team directed laser beams at a Syrian facility, aiding the attacking Israeli F-15I and F-16 warplanes.

The Israeli commandos arrived a day earlier, taking up positions near a large underground depot. Soon after, the Syrian installations were in flames.

According to unnamed Israeli sources, preparations for the attack began last spring, when Meir Dagan, the head of Mossad, presented Israeli PM Olmert with evidence that Syria was seeking to buy a nuclear device from North Korea. Dagan feared such a device could later be mounted on North-Korean-made Scud-C missiles.

The Israeli satellite Ofek 7, launched in June, was diverted from the skies above Iran to Syria. It sent out high-quality images of a northeastern area every hour and a half, making it easy for the Israeli air force to spot the facility, the Times reported. "This was supposed to be a devastating Syrian surprise for Israel," an Israeli source told to the Times.

"We've known for a long time that Syria has deadly chemical warheads on its Scuds, but Israel can't live with a nuclear warhead."

The Israeli warplanes were equipped with Maverick heavy missiles and 500 pound bombs. The operation "can be seen as a dry run, a raid using the same heavily modified long-range aircraft, procured specifically from the US with Iran's nuclear sites in mind," the report said.

Equally important, the Pantsyr-S1E missiles that Damascus purchased from Russia to repel attacking warplanes failed to down the Israeli jets that swept across northern Syrian airspace from the Mediterranean the night before. The new Pantsyr missiles leave Syrian and Iranian airspace vulnerable to hostile intrusion.

Information on Russian missile consignments to Syria or Iran is vital to any US calculation of whether to attack Iran over its nuclear program.

Fed response to an "Oil Shock" of $100 per barrel?

If the end game with Tehran over its nuclear weapons program is finally around the corner, how would Mr Bernanke, the radical inflationist, react in a "Twilight Zone" episode in which crude oil jumps to $100 per barrel?

Would it preclude the Fed from lowering the fed funds rate due to spiraling inflationary pressures?

Nobody knows for sure, but on October 21, 2004, Mr Bernanke responded to such as question, "I would argue that the Fed's response to the inflationary effects of an increase in oil prices should depend to some extent on the economy's starting point."

"If inflation has recently been on the low side of the desirable range, and the available evidence suggests that inflation expectations are likewise low and firmly anchored, then less urgency is required in responding to the inflation threat posed by higher oil prices. In this case, monetary policy need not tighten and could conceivably ease in the wake of an oil-price shock," Bernanke said.

So don't be surprised if "B-52" Ben argues that a weak US economy and doctored inflation statistics, justify a further easing in Fed policy, pouring more gasoline on the flames of inflation, in the event of a confrontation with Iran.

This article is just the Tip of the Iceberg, of what's inside the Global Money Trends newsletter. Only $175 per year for "44 weekly issues"...including access to back issues and future audio broadcasts during Asian trading hours...click on the hyperlink below and order now: