Gold & Oil
Tuesday, 5/20/2008 16:43
Crude oil, like Gold, is now defining strength and wealth amongst world powers...
THE PRICE OF OIL has – in the last few years – become a major influence on the Gold Price, and quite rightly too, says Julian Phillips of the GoldForecaster.com.
Both represent an unalterable marker of power and value. But of late, the price of Gold has lagged the oil price, setting the gold/oil ratio adrift.
We see this as a temporary situation, which will persist until the "big" global picture forces itself onto the realities of our daily life in our local communities.
Once this happens, we believe, the Gold and silver price will catch up and reassert themselves, not as a 'Gold Standard' (since governments will manage such a system, as they currently do paper currencies), but as a measure of value and power in the monetary system.
Here we look at the oil crisis, which is not fully appreciated by its audience, yet which is staring us in the face.
Gold & Oil: A Genuine Crisis
For many years now, we have included in our weekly email service a section we have persistently called 'The Oil Crisis'.
This began in the days of yesteryear, when oil prices were around $50 a barrel and the industry was telling us prices would not rise because there was more than sufficient oil to go round.
When was that? That memory is lost in the midst of time somewhere near the start of this century.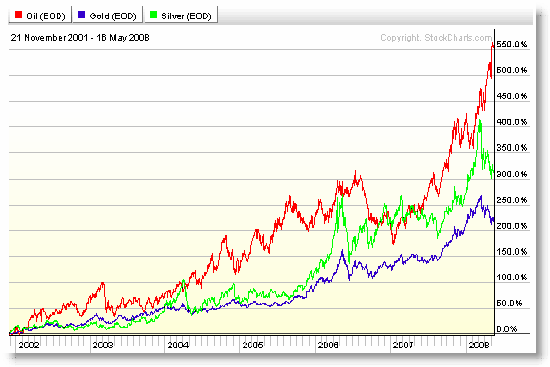 The oil price is currently around $128 a barrel. As recently as last year we were being told that the price would probably not make it over $100.
Now we are being told there's plenty of oil, so the oil price should drop to $100 or lower. These platitudes are sounding pretty empty as we are told that Opec – the international cartel of oil producing states – cannot supply any more than they are at present.
What is not clear is the long-term effects of an oil price forecast to move as high as $200 a barrel. This will be a major crisis in itself.
Gold & Oil: Who Benefits from High Oil Prices?
First, there's Russia – It is clear that because of the huge taxation of Russia's oil producers, netting out at around 92% for the government, there is little incentive to develop new fields.


This despite the fact that Russia could more than double its oil production based on total reserves (including current oil-producing fields) of around 180 billion barrels.
Few companies want to subsidize the Russian government with fresh investment. But it would still take some years before such developments came on stream anyway, even if they were started today.
As it is, Russian oil production fell for the fourth month in a row in April '08. It is now over 2% below the peak of 9.9 million barrels per day (bpd) reached in October last year. This is a continuation of a slowing pattern of production that began last year.
The industry believes that Russia's production will never top 10m bpd. So Russia is out of the running as a source of new supplies in the near term. And it is therefore reasonable to assume that Russia's government will want to see oil prices rise further, so their oil income will benefit accordingly.
Saudi Arabia – Irrespective of the reserves it has and the added fields now coming into production, Saudi Arabia has lost the appetite for increasing oil supplies to a world that it believes has sufficient already, simply to bring down the price.
We would be surprised if President Bush came away with any more than a face-saving gesture from the Saudis in response to his request for more oil.
Other Oil Producers – Whether Middle Eastern, South American or Canadian, oil producers both inside and outside Opec are all happy to receive today's far higher levels of payment – far above what they ever imagined previously.
The current price of oil represents considerably more power and influence; as a result, there is no incentive sufficient to counter national interests that could persuade them to lower prices.
Gold & Oil: Why Isn't Demand Falling as Prices Rise
Today oil prices are rising on a smooth, steady path to higher levels, despite reassuring words from so many talking-heads that prices must come down.
The oil shocks of the 1970s pale into a minor crisis compared to what lies just ahead of us now.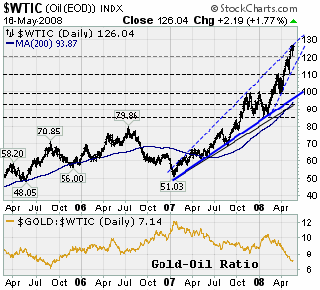 Why? Because the developed world, in the 1970s, was all powerful. It could, behind closed doors, lean on the Middle East and make them realize that they needed the developed world to maintain their own sovereign integrity as well as to have happy customers.
The Bush presidencies attempted to reinforce this perception by might, first in "Desert Storm" in Iraq and then in threatening Iran. But the globe has changed in the last few years.
Half the world's population is now emerging out of poverty onto a plain where they need oil just as much as the developed world. Now $2,500 cars are now becoming available in China, India and the rest of Asia, on top of a steady 10% growth in GDP each year that's set to continue for the next decade at least, confirming that demand for oil will not slow at all but continue to increase still more.
Now all oil producers have a choice of customers and are certain that the demand will remain at a level where supply is met by just enough demand to balance it, irrespective of the price. It's tough on those nations who can't afford these prices!
And what are we seeing? Oil demand has become remarkably price insensitive, as if its pricing mechanism has broken down in large parts of the world.
Only in the US and a few small countries is there still an efficient market transmission mechanism operational. With minimal tax burdens on their oil products, crude oil prices do drive pump prices, changing demand dynamics.
Even so, US oil demand is barely down 2% so far, while Europe has so heavily burdened oil products with indirect taxes that changes in crude oil prices have minimal impact on pump prices and therefore demand. The continent's public transport systems are well developed, and as in the past, offer an acceptable alternative to using one's car in most metropolitan areas.
In some fast-growing emerging markets in Asia, consumers are shielded from crude price changes through elaborate subsidies and price controls. Oil users have no incentive to change their demand if they don't experience changing prices.
And in many oil-producing countries like Saudi Arabia, crude for domestic use is priced at $10 per barrel. In the Persian Gulf, a liter of coke costs more than one liter of petrol.
All these market structures have to change first before any semblance of a true demand/supply situation impacts the oil price. So global oil demand rises higher and higher now at 85 million barrels daily. It will move up and down on a seasonal basis, as well as when some national users make short-term efforts to reduce demand. These will give way to satisfy internal demand eventually.
Meantime, the threats that this situation implies will have many investors – not least in the oil-poor West – turning to precious metals as a haven in the storms that look certain to come.
In the second part of this article we look at why oil supply is not rising with higher prices, before summarizing the effect on silver and Gold Prices. For the full report with conclusions, please subscribe to the "Gold Forecaster – Global Watch"...