Gold Mining Risk
Tuesday, 11/02/2010 12:11
Risk on or risk off in Gold Mining stocks...?

BACK IN 1984, Mr. Miyagi famously intoned "Wax on. Wax off," to his Karate Kid pupil, writes Brad Zigler at Hard Assets Investor.
The training mantra for the hero of the eponymous flick could well be adapted to the 2010 market as "Risk on. Risk off".
Judging from the Gold Miners Ratio – the price multiple of the Market Vectors Gold Miners ETF (NYSE Arca:) over the Market Vectors Junior Gold Miners ETF (NYSE Arca: GDXJ) – investors flipped the risk switch to the "On" position in July and have kept the light burning ever since.
The price of the larger-cap producers' funds was once twice that of the junior portfolio, but that premium's been chipped away as buyers bid up GDXJ. The ratio's chalking up a new low at 1.58, signaling a new high in mining aficionados' risk appetite. Think of an investment in GDX as an analog to a blue-chip stock purchase, while GDXJ is akin to a venture capital play.
Since the beginning of the year, the GDXJ portfolio's gained 41%, while the GDX fund's appreciation has paced that of gold at 24%.
That's an important distinction. GDXJ's relative strength to gold shot up this summer after being whittled away by the senior stocks in the spring.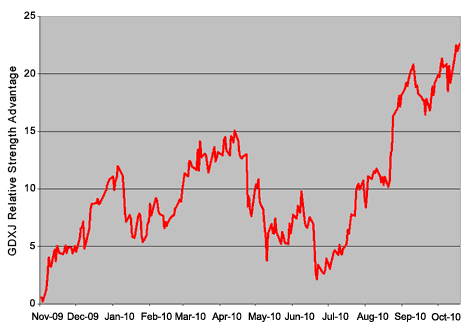 The present advantage enjoyed by GDXJ, however, is due more to a weakening in GDX's strength rather than increased vigor in junior issues. GDXJ's raw relative strength has actually been stalled over the past month.
GDXJ is now trying to regain the high ground reached at $36.77 in mid-October. Last week's price action was constructive after a rebound from the $34 level. Shares were worth $36.18 as Friday's trading wound up.
There was a bullish crossover in the fund's RSI indicator last week, but its momentum oscillator weakened along with Friday's 1.8% gain. The wobble in market momentum has got some traders worried, especially in light of the capital outflows seen in September. The fund's Money Flow Index fell precipitously then as prices reached their present plateau.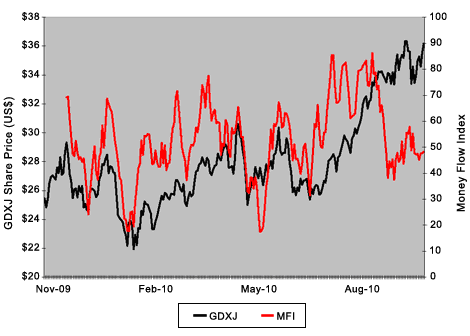 This indicates that, while the risk trade is on, investors have their hands on the switch plate while they await the week's election results and the outcome of the upcoming Fed meeting.
Wednesday, when the Fed announces its QEII decision, ought to be fun.

Want to Buy Gold – the physical metal outright – and store it securely in the world's safest locations for just $4 per month...? Start with this free gram at BullionVault now...