Gold Mining Stocks vs. Gold (Again)
Tuesday, 6/22/2010 17:48
Recent history's not on the side of Gold Mining stocks...

OVER THE PAST four years, gold producers tracked by the Market Vectors Gold Miners ETF have grown at a 9.1% compound rate, writes Brad Zigler at Hard Assets Investor.
Over the same period, Gold Bullion's Dollar price has appreciated at an annual rate of 16.3%.
The risk of owning gold mining shares, to boot, has been a lot higher than owning bullion. Price volatility in the Gold Mining stocks comprising the GDX portfolio is now being clocked at a 51.6% annual rate. For bullion, it's only 23.6%.
The volatility figures project the statistical variance in an asset's price. To put the number into perspective for the GDX portfolio, there's a roughly 2-in-3 chance that GDX's share price will end up – after a year – in a range between 51.6% above and 51.6% below its average price. A stock with a higher volatility is simply more unpredictable than a low-vol issue.
With that in mind, the reward-to-risk ratio for bullion is 0.69 (the 16.3% annualized gain divided by its yearly volatility). Gold Mining producers provide a ratio of only 0.18. Gold Bullion, then, has been nearly four times better at yielding – and allowing investors to keep – gains.
Nothing, of course, says that this condition isn't mutable. Things can and do change. But recent history's not on the side of Gold Mining stocks. The Gold-GDX ratio – a measure of bullion's pricing power over mining stocks – started at the 1.75 level and peaked at 4.41 in October 2008.
Right then was the time to jump on Gold Mining stocks. Because since the fall of '08, the ratio contracted to hover between 2.00 and 2.50.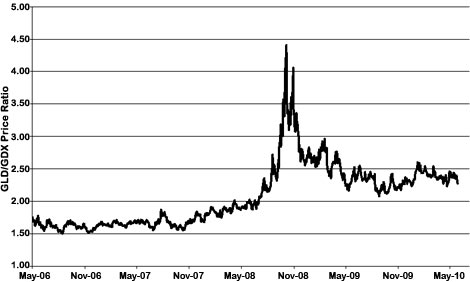 If you want to exploit Gold Mining stocks' leverage, you've got to recognize the side bet you're making on the ratio. At this point, wagering on Gold Mining stocks implies a belief that the ratio's going to fall toward or below its historic 2.00 average.

How best to Buy Physical Gold today? "If there's an easier way, I've yet to find it," says one BullionVault user...