Gold vs. Gold Stocks
Monday, 2/16/2009 09:48
Gold is outshining Gold Mining shares so far in 2009...

ANYONE looking for a bright spot in today's dark stock-market landscape – and who isn't – will have noticed a certain golden glint on the horizon, says Brad Zigler of Hard Assets Investor.
Gold Bullion has gained 7.7% so far this year. The Gold Mining shares that comprise the Market Vectors Gold Miners ETF (NYSE Arca: GDX) have also chalked up that same year-to-date gain as well.
But despite the numbers – and despite institutions flocking to Buy Gold via the SPDR Gold Shares Trust (NYSE Arca: GLD), another "exchange-traded fund" but one which securitizes gold into shares – these two assets, gold and miners, are hardly performance twins.
Until recently, gold lagged behind the GDX Gold Miners. That started in late October, when the ratio of Gold ETF shares to the GDX peaked at 4.4. (That is, when GLD shares – which aim to represent 1/10th of an ounce of gold – traded for more than four times the value of GDX.)
From there, Gold Mining shares then started to shine as bullion stalled and stuttered. The ratio consequently fell as the relative value of the miners increased. But now, with the ratio stalled at the 2.6 level over the past 15 trading sessions, people are starting to wonder "Whither gold stocks?"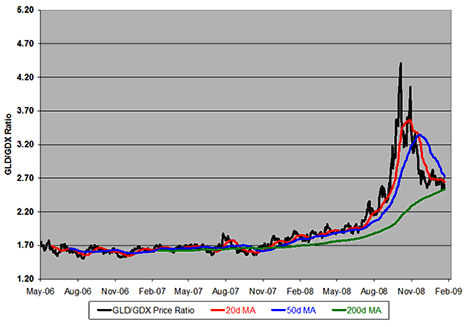 GDX sold off hard from the $52 level back in July, taking just three months to scrape a bottom under $16.
The mining ETF has been battling back since October, but has now reclaimed half the ground lost in the fall. That puts an interim (month's end) target of $38 in view for the GDX trust fund, we think.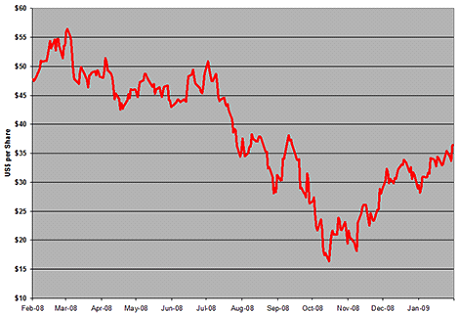 But failing to close convincingly above the $38 level within the next couple of weeks turns the question of "whither" into "whether". At the very least, it portends more shoring-up work for mining bulls.