Cheap Gold...or Cheap Gold Miners?
Thursday, 9/04/2008 09:44
The ratio of Gold Prices to gold-mining stock values today...
ONLY TWO out of the nearly three-dozen stocks comprising the AMEX Gold Miners Index (AMEX: GDM) are trading above their 200-day moving averages right now, notes Brad Zigler of Hard Assets Investor.
And those two winners are only clinging on by the thinnest of margins.
Denver-based Royal Gold (Nasdaq: RGLD) specializes in the acquisition of low-risk, long-term cash flows through royalty interests in metals mining properties in the United States, Canada, Mexico, Africa, Argentina and Chile. It recently bought $150 million of royalty assets from Barrick Gold (NYSE: ABX), the world's largest listed Gold Miner.
Ever-increasing mining costs and a tight credit environment are forcing producers like Barrick and others to sell more royalty interests to obtain the capital needed to pursue their development projects. Royal Gold's stock closed Tuesday at $32.91, 4.8% above the stock's 200-day moving average.
The other Gold Miner Index constituent remaining above water is Canadian producer Eldorado Gold Corp. (AMEX: EGO), now at $7.83 per share. Eldorado is trading 4.4% above its 200-day moving average. The company's holdings include Turkish and Chinese properties where low labor rates have helped keep a lid on production costs. It also company boasts an average cash-cost for gold of $229 per ounce to date, though that figure's expected to rise to $255 or $260 by year-end.
The remaining 30-odd stocks in the Gold Miners Index are collectively down 28% from their 200-day moving averages. Little wonder, then, that the price of Gold Bullion, while under pressure, is still so expensive relative to mining issues.
The SPDR Gold Trust (NYSE Arca: GLD) – a bullion proxy – is selling for 2.3 times the price of the Market Vectors Gold Miners ETF (AMEX: GDX), very close to a historic high watermark attained in August.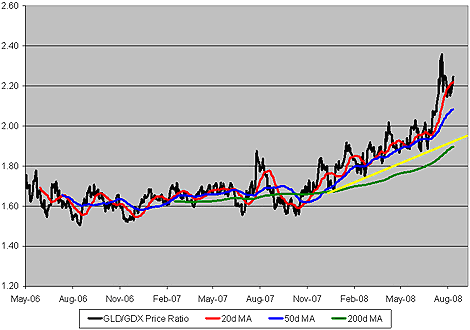 A couple of weeks ago, we reported an in-the-money gold spread recommendation made by option-trader, Larry McMillan. Banking on gold stocks to regain ground against bullion, McMillan proposed buying GDX December $32 calls together with GLD December $86 puts for a combined premium of more than $16 per share ($1,600 per spread).
Calls permit their owners to buy the contract's underlying shares at the stated price any time prior to expiration. Puts permit their owners to sell shares at the strike price.
And at last look, the spread was worth $14 per share ($1,400). McMillan's followers, I'm sure, are hoping that the end-of-year holiday season will be studded with gold. Rising Gold Stocks, that is...