G-6 Topples the Gold Market
Thursday, 8/28/2008 15:24
But a bigger financial crisis is brewing...
The GROUP of SIX central banks, which oversee 40% of the world's economy, decided early this summer to slow their fast growing economies, in order to keep commodity prices in check, writes Gary Dorsch of Global Money Trends.
Their rapid fire tightening moves over the past two months contributed to the crash in the Gold Market since July 15th. India, the biggest consumer of gold, imported just 30 tonnes in July, some 56% less than a year ago. Saudi Arabia and the United Arab Emirates also bought less gold in the second quarter, showing resistance to Gold Prices above $900 an ounce.
Gold Dealers detected a binge of buying from India, however, after prices fell below $800 an ounce, helping to stabilize the market after a brutal 25% correction from its all-time highs of $1,035 hit in mid-March.
The Gold Market could now encounter resistance until Sept. 27th, the end of the fiscal year for 15 European central banks to sell as much as 500 tonnes of gold under the nine-year old Central Bank Gold Agreement.
So far, these 15 signatories have sold only 320 tonnes.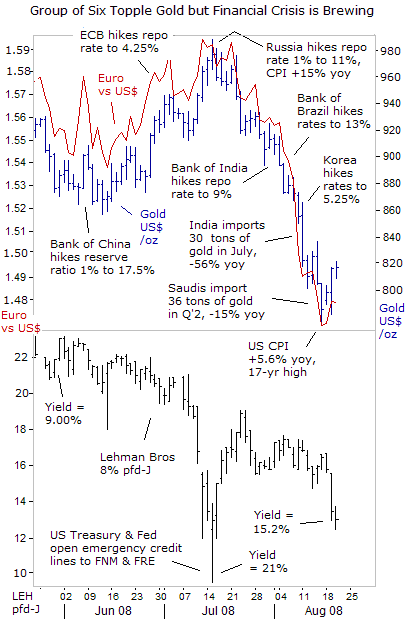 Moreover, Gold's role as a safe haven in times of financial crisis might come into play again if the Fed is forced into another round of rate cuts, aimed at fending off a systematic meltdown in the US credit markets.
On August 18th, Kenneth Rogoff – former chief economist at the International Monetary Fund (IMF) – warned that "The worst is yet to come.
"The financial sector needs to shrink. I don't think having a couple of medium-sized and small banks going under are going to do the job. Like any shrinking industries, we are going to see the exit of some major players among the big investment banks."
Shares of Lehman Brothers plunged to $13 per share on August 19th amid growing fears the company will be forced to sell assets or take other capital-raising measures. It needs to offset mortgage-related losses in the third quarter worth as much as $4 billion.
In a major sign of distress, LEH's preferred J-shares have lost nearly 40% over the past two months, lifting its yield to 15.2%. That's now deep into "junk" status territory. And where there is smoke, there usually is fire.
Shares of mortgage finance companies Fannie Mae and Freddie Mac meantime fell to as low as $4.74 and $2.84 respectively on August 20th, and investors are convinced that the stocks will drop to 1¢ in a US government bailout.
Fannie's stock is down 87% so far this year, while Freddie has lost 90% of its value, and their combined market capitalization is less than $8 billion.
What might this mean for the Gold Market? "A sound banker, alas, is not one who foresees danger and avoids it, but one who, when he is ruined, is ruined in a conventional way along with his fellows, so that no one can really blame him," as John Maynard Keynes wrote in 1931.
To read the full story, go to Global Money Trends now...