Whatever Happened to Leverage?
Tuesday, 5/20/2008 10:24
Gold mining stocks "ought" to deliver bigger gains than the Gold Market alone...
HOW ARE Gold Prices performing right now? Looking at last week (May 12-16), the answer depends upon your definition of Gold, says Brad Zigler of HardAssetsInvestor.com...
Bullion, as measured by the London Morning Fix, eased 0.2% for the week. Gold miner stocks, however, ended the week on a modestly positive note. The PHLX Gold/Silver Index of mining share eked out a 0.1% gain while the broader AMEX Gold Miners Index picked up 0.2%.
On the futures side of the Gold Market, bullishness waned on COMEX as large speculators liquidated 4,168 long-side positions. Commercials, on the other hand, added 5,514 contracts to the short side.
But a week's price history, of course, tells us little. The longer-term picture provides an interesting insight. Market leadership shifted to large speculators in late 2007, presaging the run-up to new highs in Gold Prices.
Large speculators include institutional traders and funds. So while the level of bullishness has backed off since the March price peak, market dominance can still be claimed by bulls.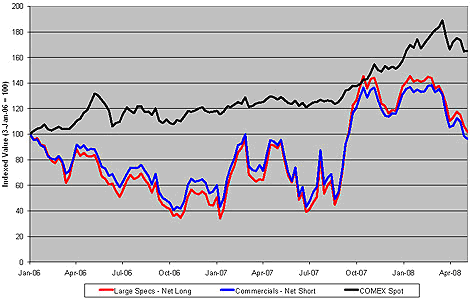 If you hold gold mining stocks as your exposure to the metal, meanwhile, you've been paying a high volatility price.
Since January 2005, gold stock prices, measured by XAU, have grown at an annual compound rate of 22.3%. Bullion, basis the London morning fix, has appreciated at a 23.8% clip over that time.
Pretty similar returns in exchange for the risk – and my oh my, but the mining stocks have been a real roller coaster ride! Annualized volatility for XAU is 34.5% compared with 19.5% for the metal itself.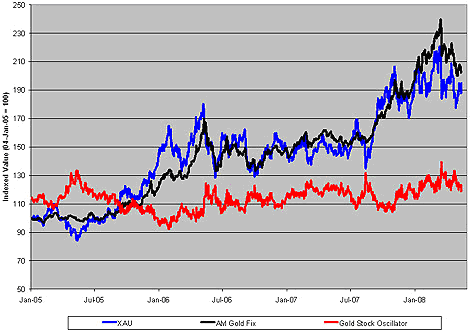 While Gold and mining shares, at any given time, seem headed in the same general direction, there are times when bullion is the better performer and others when stocks fare best.
Right now "ought" to be a time when stocks outperform metal. But keep the word "ought" in mind. It's a suggestion, not a guarantee. Translated into real-world terms, the Market Vectors Gold Miners ETF (AMEX: GDX) rose 0.3% last week, while the streetTRACKS Gold Shares – which are supposed to track the Gold Price, but only allow live dealing inside US stock-market hours – lost 0.3%.