Gold Exits Doldrums
Tuesday, 7/01/2008 15:46
After recovering a 7.5% loss in June, has Gold moved decisively higher...?
HAS GOLD FINALLY pulled out of the stalls, asks Brad Zigler at Hard Assets Investor.
Well, things have certainly improved for gold bulls. A look at the chart of August Comex futures shows a gap-up trading session last Thursday that promised a breakout from June's doldrums.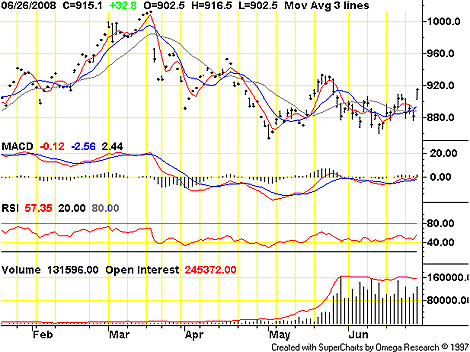 There was follow-through in the overnight market too, and then again on Friday, before Gold jumped further early this week.
Gold's buoyancy owes a lot to the oil market, which stretched its bullish muscles again. A lot of investors are voting with their feet, fleeing equities for the greener...or rather, blacker and more golden...pastures of commodities.
Oil continues to trump Gold in bullishness, however. The Gold:Oil Ratio has found some support at the 6.4-to-1 level, but hasn't yet indicated it's ready to turn upward.
The ratio, which measures gold purchasing power in barrels of oil, plummeted at the start of the year.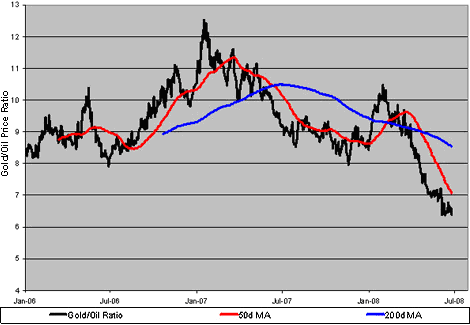 As for Gold Miners, the gold/mining stock ratio – as determined by dividing the Gold Price by the GDX index – turned sharply in GDX's favor.
Still at 1.96-to-1, it's well-entrenched in the stair-step pattern established early this year.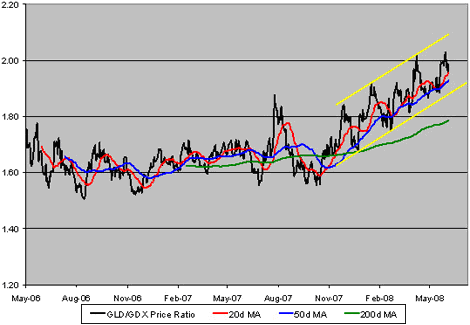 If that pattern persists, the GDX index of Gold Miners will overcome the rising costs and struggling output hitting mining companies, rising faster than the price of Gold Bullion itself.