Good News for Long-Term Gold Investors
Tuesday, 11/02/2010 11:52
Both Gold Investment AND jewelry demand are rising...

WHEN LAST we looked at the fundamentals of gold supply and demand back in August, we commented that "the third quarter is traditionally a good one for gold demand (2009 aside)," writes Julian Murdoch at Hard Assets Investor.
"Perhaps higher demand – and higher prices – lie ahead."
For the moment, all evidence points to that trend continuing, albeit at a modest pace. In the July-Sept. quarter of 2010, Spot Gold rose from $1242 per ounce to $1308. Since then, in just a month, gold has gone up another 4.7% to hit a high of $1369 per ounce. And although prices have since eased off a bit, the rise still suggests an acceleration of demand.
But why is gold back on such a tear, and why right now? Clearly, macroeconomic issues are at play; the Fed's inevitable impending round of QE2, not the least among them. But is there more to the story here?
Last week, the World Gold Council released its quarterly digest of Gold Investment news, providing exactly the under-the-hood look gold investors need. While updated supply and demand numbers won't be published for another few weeks, this investment report usually gives us a sneak preview of what the data dump will contain.
To see how gold demand has evolved from last quarter, a natural first step is to look at exchange-traded trust-fund demand, as precious metals ETFs (like GLTR, the new precious metals basket from ETF Securities) make it easier than ever to access the physical space.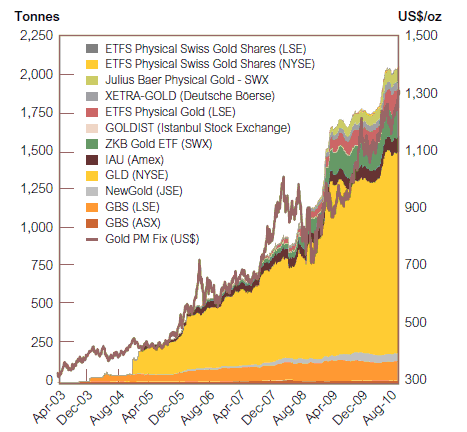 Gold ETF investment may be up, but notice how purchasing flatlined last quarter. This contrasts with previous periods (like Q1 2009), which saw huge spikes in gold purchases from ETFs. But for last quarter, at least, that buying seems to have been quite modest, at 28.3 tonnes (bringing the total ETF holdings to 2,070.1 tonnes at September 30).
In fact, it doesn't seem that the October rally has been spurred by ETF demand. Based on our calculations, last month, ETFs worldwide actually sold just under 8 tonnes of gold from their vaults.
But gold's rising price must mean demand coming from somewhere. Our bet? Jewelry demand is traditionally a huge driver of Gold Prices, ranging on either side of 50% in any given year or month. And of that demand, India remains king
Considered some of the savviest buyers in the market, Indian consumers drive anywhere from 10% (in a bad quarter) to over a third of global jewelry demand. Still, entering the quarter, buying looked a little light in India, with year-over-year demand in the country actually slightly negative. But any slack had been more than made up for by other Asian countries, including Hong Kong, Japan and Russia: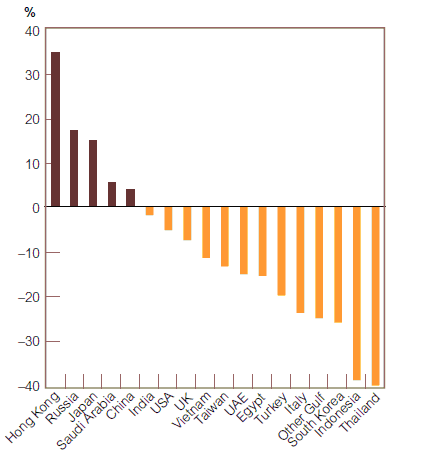 While we don't have hard numbers on how exactly the classic September-October pre-festival buying season panned out in India, we do have this nugget from the World Gold Council's report...
"The first half of Q3 2010 witnessed robust sales in both rural and urban markets, supported by a normal monsoon season. However, with prices staying above the Rs 1,775.00/g (approx. Rs 57,000 per ounce) level for most of the third quarter, jeweler sales seem to have contracted in September. The WGC expects demand to pick-up further in the fourth quarter with the commencement of the main festive season from early October until November (Diwali-Dhanteras festival)."
It's easy to miss the subtlety here. September usually marks the pickup in Indian demand, but a surge doesn't always happen. In 2007, for example, Q3 Indian demand crashed along with the regional economy, while in 2008, Indian buying made a major resurgence ahead of the wedding and festival season. In 2009, the first half of the quarter started weak, as Gold Prices remained extremely high, but then demand surged in late September and into October.
But it's worth noting that while much of the rest of the world's economies are struggling with stagnation, 2010 has been a very good year in India. Its economy has grown at nearly 9%, and both inflation and government deficits are under control.
For gold bulls, this demand shift away from predominantly US Gold ETFs and back towards jewelry is, I think, a good sign. If Gold Prices can remain high on the back of declining ETF demand, then should significant QE2-driven inflation fears revive ETF demand again, that would just pile US fear on top of Indian exuberance.
In which case, get out of the way of that charging bovine.
The caveat, of course, is that ETF demand has proven fickle, and prices remain at all-time record highs. On an inflation-adjusted basis, you'd have to go back to the Carter administration to find prices like this. And remember, back then investors faced a Fed funds target rate of 20%, and an inflation rate of 14%.
If that's enough to temper the bull – well, we just calls 'em like we sees 'em.

Buying Gold amid the worst real returns to cash savings since the late '70s...? Start with a free gram of fine gold at BullionVault now...