Gold Investing: East vs. West
Friday, 8/26/2011 18:12
Gold Investing is being driven by Asian demand, not by a Western "bubble"...
EVEN THE MOST AVID of gold investing "bugs" – busy stockpiling vast quantities of the barbaric metal for decades – were probably in a surreal state of "shock and awe" this week watching the price of the yellow metal soar to within 1% of the psychological $2,000 per ounce level, writes Gary Dorsch, editor of Global Money Trends.
It's as if somebody launched a rocket on the Fourth of July. Since then, Gold Investing demand has pushed the price $400 higher per ounce, zooming upwards in a parabolic pattern.
After all the bullish chatter on the blogosphere over the past decade, gold – the so-called barbaric metal – has triumphed over the stock peddlers on Wall Street.
Undoubtedly, there will always be snake oil salesmen who will tout blue-chip stocks as an effective hedge against currency debasement, and a hedge against inflation. Money managers, whose livelihood depends upon selling equities have been taken aback by gold's historic surge, and are at a loss to explain to their clients, why they missed the move.
"Gold doesn't have any intrinsic value," a bewildered money manger declared. "Investing in gold is irrational, compared to buying a blue-chip stock whose value rises and falls based on what the company produces, and the profit that it earns," the equity salesman says.
Thus, for all the talk of Gold Investing being in some type of speculative bubble, that could burst at a moment's notice, a contrary argument points to the fact that vast legions of money managers, have yet to participate in gold's long-term secular bull market. Furthermore, there seems to be a misunderstanding about what drives the Gold Price, which essentially is the reciprocal of the public's trust in the world's central banks, and their paymasters – the corrupt and inept politicians, who drive their economies deeper into debt.
Undoubtedly, the skeptics who find comfort in holding paper currency will soon be writing articles in the media, warning that gold's latest upward explosion of $400 per ounce in just seven weeks, to $1900 per ounce has all the characteristics of a classic bubble that's bound to burst. Late comers to the game would be left holding a bag of "Fool's Gold", and could suffer big losses if purchases are made now, and losses that might never be recouped – the skeptics say.
Yet the most recent buyers might not be small retail investors, but rather the powerful Asian central banks that control more than $5.5 trillion of foreign currency reserves. They might be shifting their portfolio holdings, from troublesome Euros and US Dollars, and into Gold Bullion.
On July 28, Xia Bin – an adviser to the People's Bank of China (PBoC) – said Beijing should speed up reserve diversification away from US Dollars to hedge against risks of the US currency's long-term decline. Chinese officials have long pledged to broaden the mix of the country's $3.2 trillion currency stash – as much as 70% of which are now in US Dollar assets, but the process has been gradual. "We will continue to diversify the asset allocation of our reserve assets and continue to optimize the holdings based on market conditions," China's Administration of Foreign Exchange said on July 28.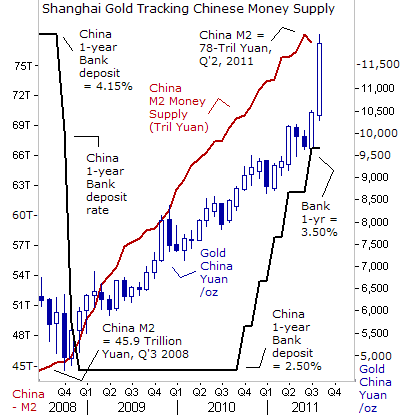 What many reporters in the Western media, and what many money managers on Wall Street – who are wedded to equities – fail to realize, is that 57% of the gold sold in the first quarter of 2011 was shipped to anxious buyers in China and India.
Asian giants India and China are the world's two biggest buyers of the precious metal, because paper money is increasingly worthless in economies where there is runaway inflation.
India imported 959 tonnes of Gold Bullion in 2010, up 72% from a year earlier. India's wholesale price index is currently 9.5% higher than a year ago. China's gold demand is on pace to increase by 20% this year to around 700 tonnes, from 570 tonnes in 2010. China's M2 money supply has increased 70% over the past three years, expanding at an annualized 23%, far exceeding the 9.5% annual growth rate of the Chinese economy.
As a result, Chinese consumer-price inflation is reportedly 6.5% higher from a year ago, but China's citizens say the true rate of inflation is higher than the government reports. Beijing has lifted the 1-year bank deposit rate 125-basis points higher to 3.50%, but that's still 3% less than the so-called official inflation rate of 6.5%.
Therefore, the frenzy for Gold Investing has prompted the Chinese central bank to step up sales of gold Panda Coins to some half-million one-ounce gold coins, or 66% more than its earlier target of 300,000. It also tripled sales targets for half-ounce, quarter-ounce, 1/10-ounce and 1/20-ounce gold coins to 600,000 each from 200,000 earlier.
Continue reading at Global Money Trends...or learn how to buy the safest gold at the lowest costs using BullionVault...