Gold: Inflation & Fear
Tuesday, 5/12/2009 20:22
Buy Gold as pure inflation protection and you might not get what you hoped for...
LOOK AT A PRICE CHART of recent moves in Comex Gold Futures, says Brad Zigler for Hard Assets Investor, and you'd see how gold has seemed stuck in a trading range.
You might, if you were technically inclined, also note that certain indicators are turning neutral even as gold's closing price inches up. For chartists, divergences like that hint of turning points.
Accordingly, odds now are being laid that a short-term top is forming.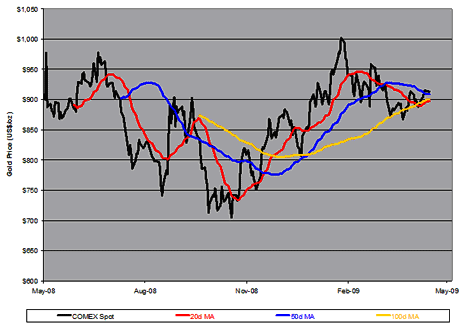 There's yet another example of diversion on the inflation chart. Inflation's leading edge seems to be pointed upward, but gold seems trimmed for descent.
Since March, Gold Bullion has stair-stepped downward with lower lows while real-time inflation (i.e. monetary inflation, meaning the rate of growth in the money supply) ratcheted upward.
Notice the yellow trendlines on the chart below.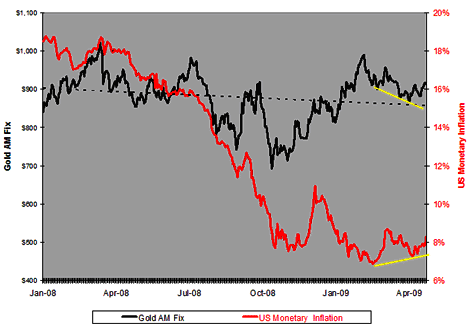 Two things account for the disparate trends. Item one is an increasing appetite for risk among investors. That's diminishing bullion's appeal as a safe haven.
A resurgent Euro is item two. The world's second reserve currency has historically been a foot dragger in the inflation race. The European Central Bank is an, um, reluctant rate cutter, whilst its American cousin, the Federal Reserve, is more than happy to keep money cheap.
A reduction in the fear index also has dampened the global appetite for dollars. Traders and investors are looking for higher-yielding currencies again. Yet gold's relative weakness has been nettlesome to those who think bullion moves in lockstep with inflation. As we've seen, there's no perfect match. In fact, we've seen gold fall far short in recent decades as an inflation hedge.
Sure, gold is a store of value. It's just a better barometer of fear.